Putin Loses 2,600 Soldiers, Lengthy List of Weapons Within a Week: Ukraine
Invading Russian forces have lost an estimated 2,600 combat soldiers in less than one week as the country struggles to retain its foothold in Ukraine.
According to combat loss statistics shared by the Ukrainian Defense Ministry Friday, Ukrainian forces killed approximately 350 Russian soldiers on Friday alone. The total represents the slowest day of casualties this week.
Since Monday, Ukrainian soldiers have killed an estimated 2,600 enemy troops including a high of 710 on Tuesday, bringing the total number of Russian dead to 83,460 since the Russian invasion of the country commenced in February.
Russian losses this week also included several tanks and armored vehicles, while Ukrainian forces reported the shooting down of several dozen drones and cruise missiles bound for various targets around the country.
On Tuesday alone, Ukrainian forces shot down an estimated 73 cruise missiles in a fraught week that included an inadvertent strike on a target in Poland, killing two and escalating tensions on both sides.
Newsweek has contacted the Kremlin for comment.
The numbers appear to be an underestimation of the 100,000 estimated Russian casualties suggested by Joint Chiefs of Staff Chairman Mark Milley at the Economic Club of New York earlier this month.
The numbers underscore the scale of human losses involved in the war thus far, which has resulted in the deaths of an estimated 40,000 Ukrainian civilians and resulted in billions of dollars in damage. The Office of the United Nations High Commissioner for Human Rights has verified fewer than 7,000 of these casualties, however.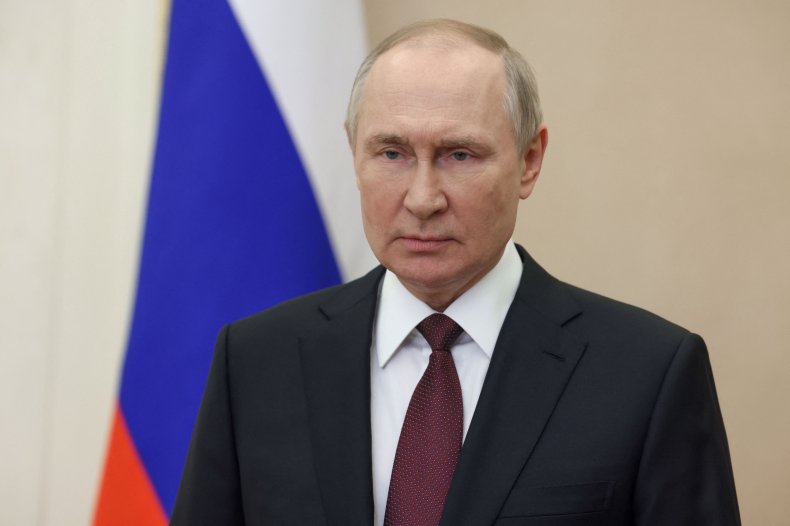 It is also a sizable uptick in the rate of military casualties in the war, once estimated by the Ukrainian Defense Ministry at around 200 per day for the Ukrainian side back in June.
Dating back to the war's official start in 2014, the death toll of the Russia-Ukraine war already ranks close to that of the U.S.' 14-year campaign in Iraq, though estimates vary widely.
Russia has offered little indication it is prepared to draw down its invasion of Ukraine anytime soon, even after its strategic foothold in key cities like Kherson has appeared to dissipate.
Earlier this week, Russia launched a renewed barrage on strategic and civilian targets across the country and in the Ukrainian capital city of Kyiv, killing dozens.
Meanwhile, Russian President Vladimir Putin has largely disappeared from public view, the Associated Press reported, leaving his lieutenants to deliver news about the war as Russian citizens have faced increasing levels of censorship and Russian morale on the front lines appears to hit new lows by the day.
In a Thursday briefing, Hanna Malyar, Ukraine's deputy minister of defense, said some Russian conscripts are resorting to extreme measures to avoid combat after receiving insufficient training for battle, including "mass abuse of alcoholic beverages" as well as cases of suicide or "deliberate self-mutilation by representatives of the Russian military."