Putin Says Russia Has 'Done All We Could Using Peaceful Means' in Ukraine
Vladimir Putin told Russia's top security officials that Moscow has "done all we could using peaceful means to resolve all the differences" in Ukraine, during an unscheduled Security Council meeting as fears continue to grow of a Moscow-led invasion of Ukraine.
In his opening remarks on Monday, the Russian president said Kyiv had shown "no intention to implement" Russia's Minsk Accords, which prevented the use of heavy weapons between Ukraine and Russia-backed insurgents in eastern Ukraine.
Russia has repeatedly claimed Ukrainian forces have fired on Russian military ouposts near the border, although international journalists on the front lines with those forces have not verified those claims.
"Russia is still making attempts to resolve all these complications, all these tragic events, with peaceful means. But we have what we have," said Putin, who still has phone calls with Western leaders scheduled this week.
Russian-backed enclaves—"Donetsk People's Republic" (DNR) and "Lugansk People's Republic" (LNR)—had asked Moscow "to recognize their sovereignty and their independence," Putin said.
These matters, he said, were "closely related to security issues in the world," as he suggested Western powers were "using Ukraine as a tool of confrontation" that would be "a big threat to Russia," which has demanded Ukraine not be allowed to join NATO.
At the meeting, Russia's spy chief, Sergey Naryshkin, asked Putin not to "rush the decision" regarding the Donbass, and to "give another chance to our Western partners."
Putin asked Naryshkin to clarify his comment and speak plainly, who responded: "I support the inclusion of the DNR and the LNR into the Russian Federation
Putin riposted: "We are not discussing that, we are talking about recognizing their independence."
Naryshkin replied: "I support the move to recognize their independence."
However, Putin also suggested diplomacy, rather than fighting, was still Russia's preference.
"For us, it's our priority for our country—not a confrontation, but enhancing security and providing necessary conditions to continue to grow," he said.
"If Russia is going to face this threat, like Ukraine joining NATO, then the threat to our country will increase tenfold, as there is Article 5 of the treaty organization, and it says that all the allied countries have to join the military actions on behalf of one of its members if there is aggression against its member."
Ahead of the meeting, Kremlin spokesperson Dmitry PeskovKremlin declined to confirm whether the leader has agreed to hold a joint summit with U.S. President Joe Biden.
It comes after White House Press Secretary Jen Psaki said on Sunday night that Biden has "accepted in principle" a meeting with Putin, but only "if an invasion hasn't happened."
"We are always ready for diplomacy," said Psaki. "We are also ready to impose swift and severe consequences should Russia instead choose war."
Peskov told reporters that it's "too early to talk about concrete plans for organizing any summits."
Putin "also has several international phone calls today," he added.
"The situation is really extremely tense. There we see no signs of a decrease in tension. Provocations and shelling are becoming more intense," claimed Peskov. "Of course, this is of great concern."
It comes as shelling in the breakaway Luhansk and Donetsk regions have intensified in recent days, prompting separatist leaders to announce a mass evacuation of their residents.
Separatist leaders backed by Moscow in the Donetsk People's Republic and its fellow breakaway Ukrainian enclave, the Luhansk People's Republic, have claimed, without evidence, that Ukrainian armed forces could launch an attack on the separatist regions.
The Ukrainian government has pushed back against the allegations, while the Biden administration has warned that Russia may fabricate a "pretext" to justify an invasion of Ukraine.
On Friday, the Organization for Security and Cooperation in Europe (OSCE) said the two self-proclaimed regions in eastern Ukraine recorded more than 1,400 explosions. One civilian died in Donetsk, it said.
There were 553 explosions in Donetsk, and 860 reported in Luhansk, according to the OSCE's Special Monitoring Mission, which is deployed in the conflict zone.
Reporters on the ground have yet to find any evidence that Ukrainian armed forces are shelling residents in Luhansk and Donetsk.
Upwards of 61,000 residents from the Donbass region have been evacuated so far to Russia's Rostov Oblast, Alexander Chupriyan, the acting head of the Russian Federation's Ministry of Emergency Situations, told reporters on Monday.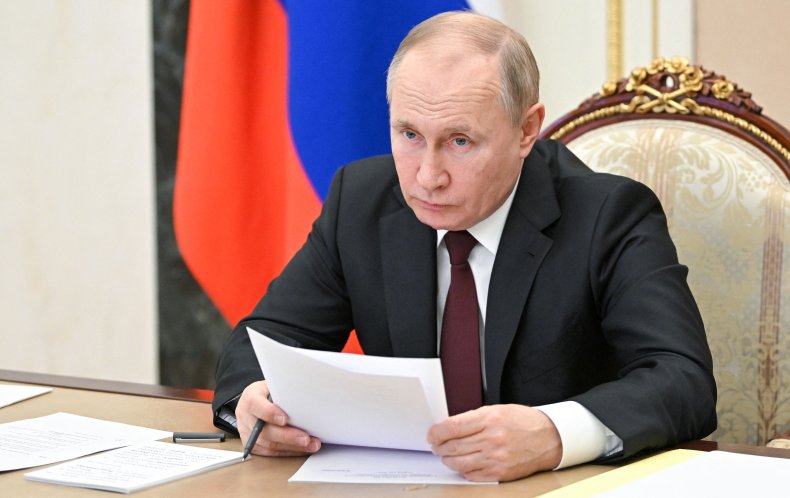 Update 2/21/22, 11:51 a.m. ET: This article has been updated with quotes from Russia's Security Council meeting.