Vladimir Putin Says After Afghanistan 'Catastrophe' U.S. And West Still Have Not Learned
Russian President Vladimir Putin has said the U.S. left behind a "humanitarian catastrophe" in Afghanistan and that he hoped for a quick integration of the Taliban into the international community to avoid the country's further collapse.
Addressing the Eastern Economic Forum in Vladivostok, Putin also said that he believed despite a legacy of failure following the 20-year conflict in Afghanistan, "the West" had not learned any lessons about intervention in other countries.
"It is a catastrophe. It is true. It's not just my words. These are remarks made by American analysts," Putin said on Friday, according to news agency Tass, about the U.S. presence in the country and its rapid withdrawal.
"It is a catastrophe because Americans, very pragmatic people, spent more than $1.5 trillion for this whole campaign and what is the result?"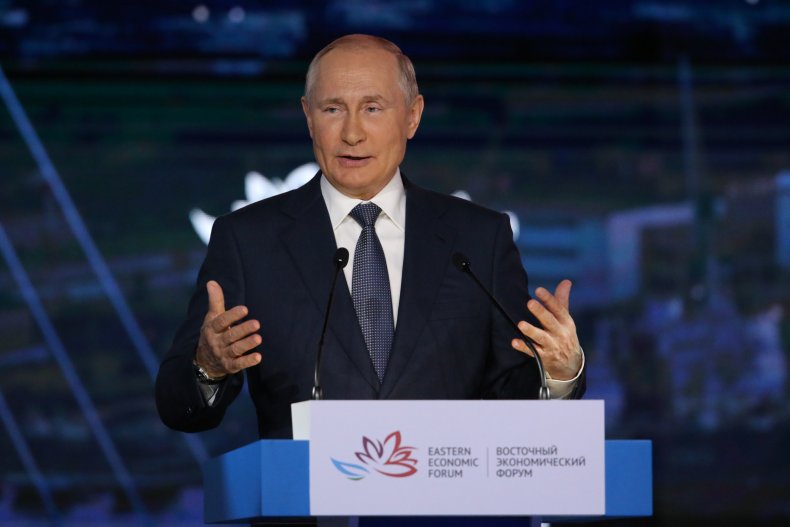 "Looking at the number of people who worked for the collective West, the U.S. and their allies, and are now left behind in Afghanistan, it is also a humanitarian catastrophe," he added.
His comments echo those made this week in which he said that the U.S. had achieved "zero" in Afghanistan as he criticized U.S. attempts to "civilize the people who live there."
On Friday, Putin continued with the theme, saying, "Is this an end to some hegemony of the West?" adding that "lessons [...] should be correctly understood to make changes to real policy.
"They say about Afghanistan: 'we got into there and made a lot of mistakes.' However, they continue doing the same in relation to other countries," Putin said, before referring to sanctions as an example of Western countries "imposing their standards."
The U.S. has imposed a number of sanctions on Russia over, for instance, the SolarWinds cyber hack and election interference.
The U.S. State Department reacted to Putin's comments by saying that "nothing that has happened in Afghanistan weakens our resolve to do what is necessary to defend our interests, to implement our longstanding treaty alliances, and protect the American people.
"It is also unfortunate that Russia is exploiting the human suffering in Afghanistan to take shots at the United States," a State Department spokesperson told Newsweek in a statement, "that is not what responsible powers do."
Moscow was involved in a 10-year conflict in Afghanistan which culminated in a withdrawal in 1989. Unlike the U.S. and its Western allies, Russia has retained its diplomatic staff in Kabul following the American exit.
Moscow has reached out to the feuding Afghan factions, including the Taliban, which it labels a terrorist organization but which Putin said he hoped would be recognized internationally.
"You need to think about the fact that the sooner the Taliban enters, so to speak, the community of civilized nations, the easier it will be to enter into contact, communicate and somehow influence and ask some questions," Putin said on Friday.
Meanwhile, as Newsweek earlier reported, the National Resistance Front, which is continuing to hold out against the Taliban, has said if it were defeated, the U.S. would lose its last ally in Afghanistan, making the country ripe to "become a hotbed for international terrorism."
"We are fighting international terrorism right now, all alone, for which we feel abandoned," the group's spokesman Ali Nazari told Newsweek.
National Resistance Front forces are now besieged by the Taliban in the Panjshir valley.
Update 09/04/2021 4:28 a.m. ET: This article has been updated to include a statement to Newsweek by the U.S. State Department.