Moscow should launch strikes on four NATO countries, one of President Vladimir Putin's top propagandists has said in his latest inflammatory remarks on Russian state television.
Talk-show host Vladimir Solovyov said Russia should target the U.S., U.K., Poland and Germany for their military support of Ukraine. A video of his comments, overlaid with English subtitles, was shared on X, formerly Twitter, by Ukrainian interior ministry adviser Anton Gerashchenko.
Under Article 5 of the alliance's treaty, any attack on a NATO member is considered an attack on all of them.
Solovyov said on air that the four countries would "donate all they can" to Kyiv, including long-range missiles such as the ATACMS and Taurus. He added: "Their main task is to cause maximum damage to the Russian Federation."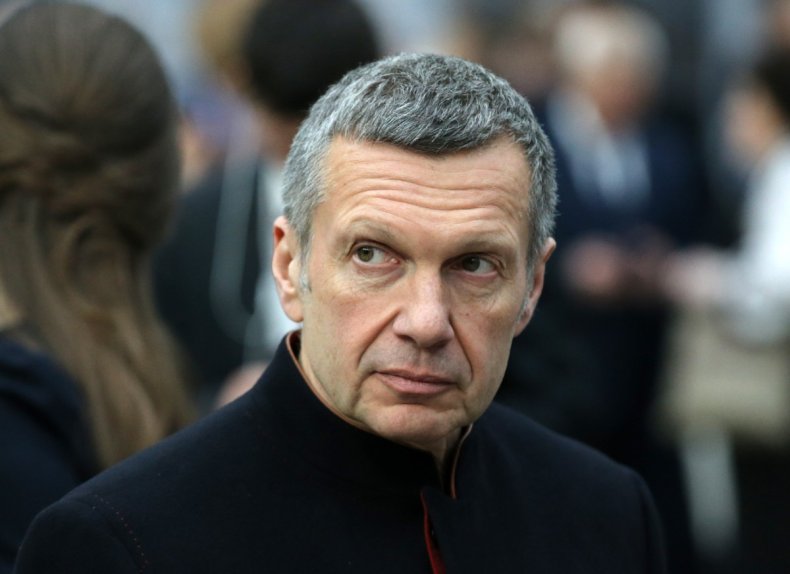 The governments in Washington, London, Warsaw and Berlin are among Ukraine's most vocal supporters. Some have already provided long-range strike capabilities to Kyiv's military.
Britain has sent its long-range Storm Shadow cruise missiles, which are thought to have been used to damage a Russian landing vessel and a submarine in the Black Sea naval base of Sevastopol on Wednesday.
The missiles are also believed to have been used by Kyiv to strike bridges connecting Crimea to other annexed parts of Ukraine and to mainland Russia.
But the U.S. has not committed its Army Tactical Missile System, or ATACMS, although reports in recent days indicate Washington is moving towards a decision.
Germany has also dragged its feet over the Taurus air-launched cruise missile, which is broadly similar to the British missile and its French equivalent, the SCALP-EG.
Berlin's defense minister, Boris Pistorius, suggested earlier this week that a U.S. decision to supply ATACMS would not automatically trigger an agreement on Taurus missiles.
Military experts say that although the ATACMS and Taurus have slightly different capabilities, the main advantage for Ukraine would be simply that it could launch more strikes on Russian-held territory.
Solovyov, a long-time Putin ally, said: "Yes, we can respond by hitting Kyiv and Odesa. But we need to respond by hitting Berlin, London, Washington, New York."
He added: "We must strike Poland, the base where all this stuff arrives, we must strike the factories that produce it. There are no other options. This is a war."
Poland, which shares a border with Ukraine, has been one of the loudest voices in support of Kyiv. Much of the military aid donated to Ukraine arrives in the country via Poland.