Signs are that Vladimir Putin may already be hedging his bets on Donald Trump as a reliable tool for advancing several of Russia's key goals, including his drive to get U.S. sanctions lifted, sow chaos in America's elections and undermine NATO and the European Union, experts say.
Following the controversial Helsinki summit between the Russian and American presidents, Moscow's media commentators greeted Trump's deference toward Putin with a mix of concern, pity and ridicule, none of which could have been uttered without the Kremlin's approval, says Ukrainian-born Julia Davis, an expert on Russian propaganda.
"They usually get a printout of some kind, about which topics they're supposed to discuss and what their position is supposed to be," said Davis, a featured expert at the Atlantic Council's Disinfo Portal. The state-controlled commentary "is very closely monitored, and they would not take a chance on stepping outside of the line," she told Newsweek.
The Kremlin, she continued, is "growing very frustrated because there's so many controls that are being placed on" Trump by Congress, starting with Russian sanctions, upgrades to the U.S. nuclear arsenal and beefed-up military aid to Ukraine, which is under assault by Moscow-backed forces in its eastern Donbas region. And then there are the ongoing investigations into Russian interference in the 2016 elections by special counsel Robert Mueller and the Senate Intelligence Committee, independent actions that would be unthinkable in Putin's Russia.
Anonymously sourced reports Wednesday that Trump signed off on his son's meeting with Russian emissaries offering "dirt" on Hillary Clinton, according to his former lawyer and fixer Michael Cohen, have the potential to weaken him further.
"They like to talk about him as weak and incompetent and just pretty much a clown," Davis said of the Moscow analysts before the Cohen disclosure. "They still think he might prove himself to do what he promised him to do. But if he goes down, I expect they would not skip a beat. They would jump in to help finish him off."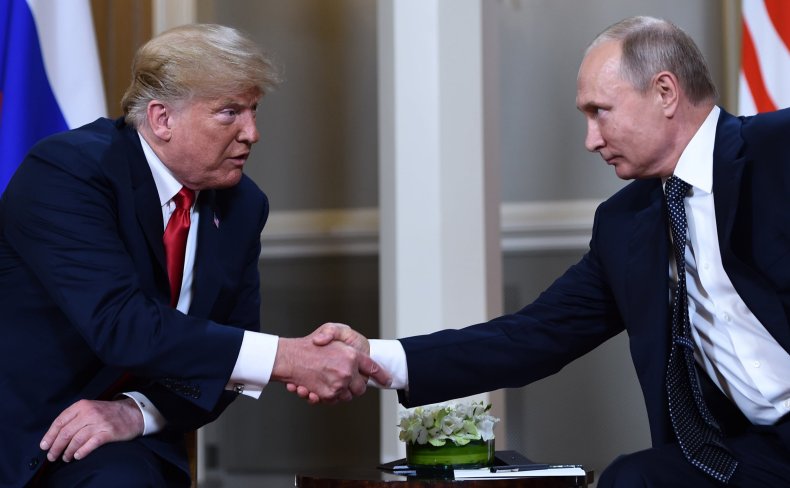 Measures at Putin's disposal include leaking a mix of real and fabricated details on Trump's suspected debts to Russian bankers and oligarchs, said Milton Bearden, a legendary former CIA officer who worked against the Soviet target and later co-authored a book, The Main Enemy, with the cooperation of several former KGB officials.
"Putin can continue to plug along with his best friend and watch how tribalism and divisions within American society continue to tear it apart," Bearden told Newsweek. "However, if things start to quiet down here, Putin can begin to release whatever it is he might have on the president. It can be real information dealing with the money flow from Deutsche Bank, or it can be carefully fabricated information that looks genuine."
"I can imagine a wide variety of scenarios," John Sipher, another top former CIA Russia hand, wrote in March, including the Kremlin injecting "stolen or otherwise unverified" or "well-crafted forgeries" into the U.S. media to take down Trump or just fan political chaos in the U.S. Former CIA director John Brennan suspects that the Russians have "something on him personally."
Such suspicions have gained wider currency in recent weeks, mostly from Democrats. But last year a Russian opposition politician, Vladimir Milov, alleged in an interview with a Russian exile journalist that Moscow's secret services had been "closely 'following' Trump for over 30 years and the dossier they have on him certainly comprises many, many volumes." In the 1980s, Milov told Russian exile journalist Kseniya Kirillova, "Trump was married to a Czechoslovak woman who spoke Russian, which also offers good conditions for recruitment."
Notwithstanding the potential for Putin to push a faltering or used-up Trump off the ledge, the former KGB officer will continue to employ covert "active measures" here that worked so well for him in 2016, said Sipher, a former Moscow station chief.
"I do not think Putin would risk changing votes in the 2018 election," Sipher wrote for Politico. "However, he will certainly continue weaponizing social media, seeking to stoke partisan fires and hardening views on the extreme left and right. He will certainly continue to exploit crises as they arise," like the uproar over the Parkland school massacre, "in which bots pushed inflammatory opinions on both sides of the gun divide."
Nothing is too bold or extreme for Putin, Sipher and other Russian hands point out. "As we enter the election season, we should look closely at what Russia is up to in Europe to get a sense of what we can expect. Russian operatives are manipulating events in Ukraine, Austria, Germany, the Czech Republic, Montenegro and elsewhere. They fund fringe groups and invest in young leaders in a long-term effort to develop Russian agents who can influence political parties and push a pro-Russian line. We should anticipate the same here," Sipher wrote.
A Russian plot to assassinate the president of Montenegro was busted last year. It's impossible to imagine Putin risking the same here, but it's clear, Davis said, that he's "laying the groundwork" for dumping Trump by less murderous means if he's mortally weakened by Congress or indictments.
"When Trump goes," she said, "Putin certainly doesn't want to be seen as someone who's on his team."
Correction: An earlier version of this story said Julia Davis "runs" the Atlantic Council's Disinfo Portal. She is a featured expert there.