Russia has announced massive tank drills, less than 24 hours after President Vladimir Putin suggested there was room for "compromises" over the Ukraine crisis.
"Tactical exercises" will be carried out at firing ranges across nearly every region in Russia's Southern Military District—the area closest to Ukraine—Russia's defence ministry said on Tuesday.
The exercises will be in the Volgograd and Stavropol regions, news agency Tass reported, as well as Russia's republics in the North Caucasus, Chechnya and Dagestan, but will not take place in annexed Crimea or other Russian regions that border Ukraine.
Around 400 troops will handle 80 pieces of military hardware in the drills which involve T-72B3 main battle tanks, BMP-3 infantry fighting vehicles, BTR-82A armored personnel carriers, as well as anti-tank missile systems and artillery.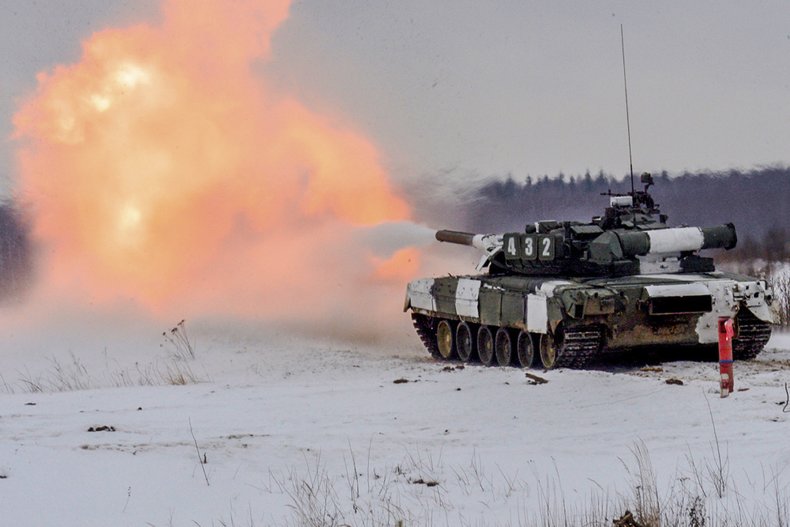 It comes as the Kremlin continues to reject warnings by the U.S. and its allies that it is planning a military incursion into Ukraine, as more than 100,000 Russian troops massed by the country's border set world leaders on high alert.
After meeting his French counterpart, Emmanuel Macron on Monday, Putin said that Moscow would "do everything to find compromises that suit everyone" as the West seeks a diplomatic solution to de-escalating the Ukraine crisis.
Putin said that Macron had put forward ideas which could form a "basis for further steps."
Although the French president said he had proposals of "concrete security guarantees," Putin said that Russia's main demands had been "ignored."
That includes a guarantee that NATO does not expand further, and lessen its presence by the border's with Russia.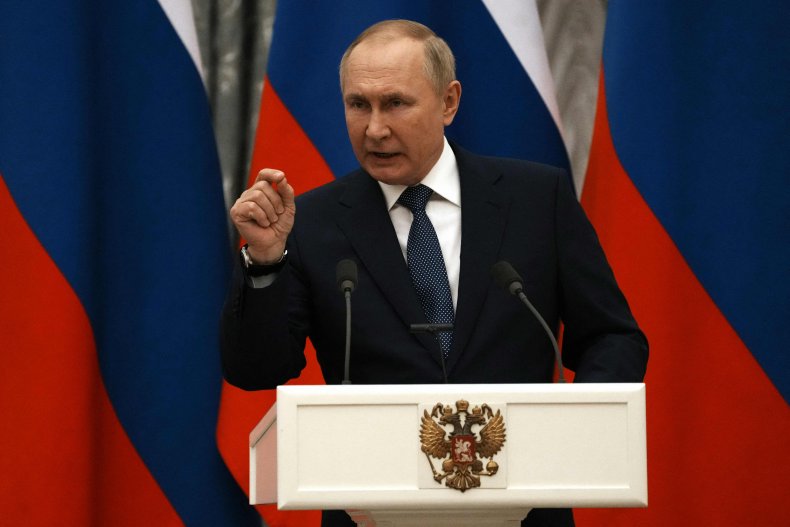 Putin's comments come during a week of intense diplomacy in which President Joe Biden threatened to shut down the $11bn Nord Stream 2 gas pipeline from Russia to Europe if Moscow sends forces across the Ukrainian border.
During a press conference with German Chancellor Olaf Scholz, who is under pressure to scupper the pipeline, Biden said, "we will bring an end to it" should there be an invasion.
Meanwhile, Macron said after his meeting with Ukrainian President Volodymyr Zelenskyy, he would speak with Putin again by phone.
Adding to tensions was the demand from Alexander Khodakovsky, a commander and former political leader in the self-proclaimed Donetsk People's Republic (DPR) in eastern Ukraine, for Moscow to send in "at least 40,000" troops to the Donbass region.
Khodakovsky told Reuters the breakaway republics needed the troops from Russia "with automatic rifles on the frontline."
The breakaway republics, which have been fighting against Kyiv since 2014, have made repeated calls for Kremlin help amid claims that Ukrainian government forces are planning a major offensive.