For Vladimir Putin, This Is the Beginning of the End
The collapse of Vladimir Putin's Ukraine campaign has been so dramatic, U.S. intelligence officials who are normally gun-shy about making predictions are ready to look ahead. Three American government officials tell Newsweek that the Russian leader is in serious trouble at home as a result of Kyiv's successful counteroffensive. Angered by the rising cost of the war, by soldiers' deaths and the economic pain of sanctions, Russian politicians and social media influencers are speaking out openly in opposition. "Even pro-Kremlin voices—even state media—are questioning the war for the first time," says one high-ranking intelligence official. "[They're] pushing Putin into a corner."
Ukraine's victories are the beginning of the end for President Putin.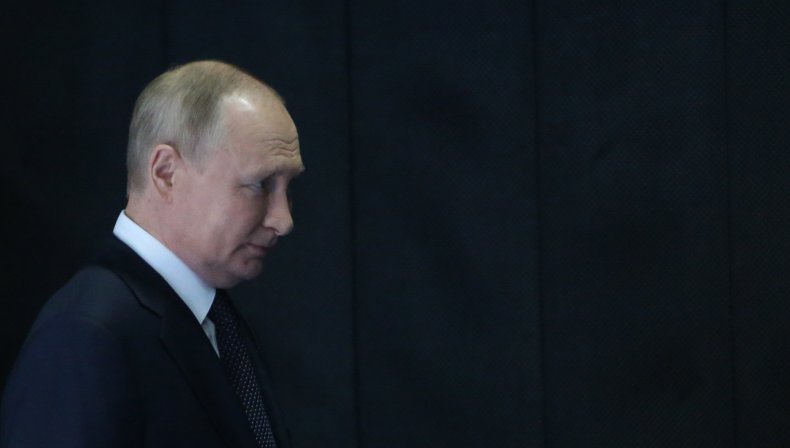 "The past week should convince even skeptics that Russia is done," says a second source, a senior State Department official who works on Russia issues. "Moscow might claim that it is just adjusting to focus more on Donbas, but even that campaign is finished." Back home, "in both men and materiel, the well has also gone dry."
A senior military official at the Pentagon agrees. Briefing reporters earlier this week, he said "we assess that Russian forces have largely ceded their gains to the Ukrainians and have withdrawn" from Kharkiv. But the official cautioned that Russia continues its offensive in Donetsk and western Kherson, including heavy use of artillery and airstrikes.
The government sources who spoke with Newsweek were granted anonymity in order to speak candidly about sensitive intelligence.
"Now comes the hard part," the State Department official says, referring to what happens with Ukraine's advances. "All eyes on Putin? Hell yes. Will he destroy Russia to stay in power? Or will Russia destroy him, finally holding him accountable for his Ukrainian blunder?"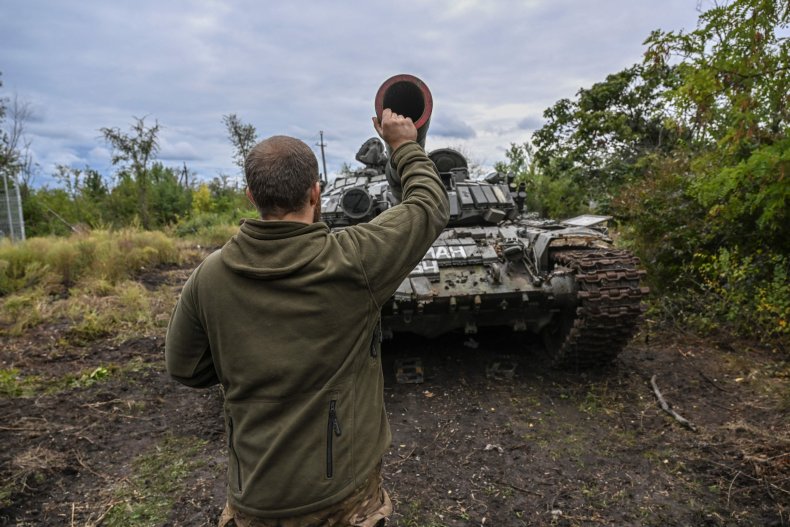 'Brilliant' misdirection
Last Tuesday night, Ukrainian ground forces surprised Russia by initiating a broad-based offensive around Kharkiv, the country's second largest city. To the north of the city, the 1st Guards Tank Army was quickly pushed back to the Russian border. Some 120 kilometers [74 miles] to the south of Kharkiv, the city of Izium was recaptured and Russian troops scrambled to find safety in their retreat. "The personnel of the units of the so-called 'DNR' [Donetsk People's Republic], which until recently were stationed in Izium, had to retreat 60 kilometers [37 miles] from the city due to the lack of ammunition replenishment and fuel," Ukrainian military intelligence reported over the weekend. "Russians and collaborators are fleeing ... towards Russia," says Luhansk military administrator-in-exile Serhiy Haidai. "The queues for exit are kilometer-long."
Earlier in the week, Haidai posted a picture of a Ukrainian flag hanging above a village on the eastern side of the Oskil River in northern Donbas. Social media is also reporting Ukrainian forces on the outskirts of Lysychansk, the city in Luhansk opposite Severodonetsk on the Donets River. The city was taken in July. With the Ukrainian advance back into the Luhansk region, there is a possibility that they will retake territory controlled by Russia since 2014.
Ukraine's offensive has been "expertly executed," a senior defense official said in a briefing to reporters. On the western end of the front in Kherson region, 450 kilometers (280 miles) to the south, Russian forces find themselves increasingly isolated as a result of Ukrainian artillery and missile strikes that have severed three key bridges over the Dnieper River.
"Brilliant" misdirection tricked the Russians into thinking that the counteroffensive would focus on this area, a senior Army intelligence officer working at the Pentagon tells Newsweek. Kyiv has been telegraphing for weeks its intention to launch a counteroffensive here, and as a result, the Russians hunkered down to defend against an onslaught. This not only "fixed" Russian forces in place, the Army officer says, but also took attention away from Kharkiv where the main attack was really planned. "It really is as significant as the April withdrawal from Kyiv and the north," the Army officer says. "Not even firepower is going to save Russia now."
Ukrainian President Volodymyr Zelensky said Wednesday night that his country had recaptured more than 8,000 square kilometers (3,000 square miles) in the past two weeks and vowed to take back all Ukrainian territory. He switched to speaking Russian in his nightly video address to communicate with Putin's troops inside the country, calling the war "an obvious lost cause" for Russia and urging them to put down their arms. "History is written by the people and not the monster, never," he said. "What will be written about you in the history books?" The Ukrainian leader promised Russian troops that they "won't be treated like cannon fodder."
There have been consistent reports of Russian troops, individually and even whole units, surrendering in the face of Ukraine's lightning advance. British military intelligence says that some units "fled in apparent panic." Russia is deploying political commissars in "barrier units" behind its front lines to prevent fighters from fleeing, says Ukrainian military intelligence.
The Ukrainian counteroffensive in Kharkiv—and the Russian withdrawal—pushed the unprepared Russian troops back and now denies Putin's forces a northern claw for a pincer movement to close on Donetsk, the southern part of Donbas. Meanwhile, British military intelligence says, the loss of Izium and nearby Kupiansk, another important Russian hub, threatens Russian supply lines to the Donbas front line further south. "The loss of Kharkiv essentially closes off the northern approach in Donetsk," says the Army officer. "If Ukraine can hold its newly captured territory, there is no real path for Russia to win in Donbas. Thus the so-called special military operation has failed and will fail. Conquering all of Donetsk and Luhansk can't be achieved."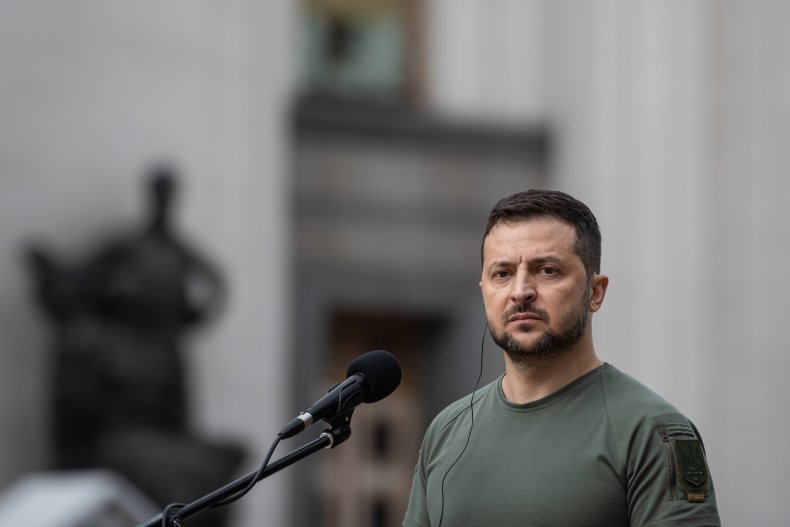 'It's a rout, pure and simple'
President Zelensky was reluctant to crow too much. "The question is not how long this will be, but how much more is needed," he said in a CNN interview last weekend. But he vowed that Ukraine "will fight to the end," regardless of Russian moves or even negotiations.
"We're in the dark with regard to what it will take to convince Putin to seek negotiations," the State Department official tells Newsweek. "What we do know is that it just isn't military victory anymore. Putin has to be contemplating his own survival at this point."
This week, a group of municipal officials in Moscow risked fines and incarceration by publicly calling for Putin to be fired. One local council even urged the Duma, Russia's legislature, to bring charges of treason against Putin for orchestrating the invasion of Ukraine and for damaging the economy. Independent media outlets and social media influencers are starting to report news of Russian defeat in Ukraine. The tabloid Moskovsky Komsomolets said this week that Russia "underestimated the enemy.
"We suffered a defeat and tried to minimize the loss by withdrawing our troops so they weren't surrounded," the tabloid said.
The Russian Ministry of Defense insists that its troops are merely carrying out a "pre-planned regrouping" to focus more on fighting in Donbas—a claim that U.S. intelligence dismisses, saying there is no indication that Moscow was preparing to withdraw, or that it was changing its tactics in Donbas. "We're seeing massive traffic jams and abandoned weapons and encampments," the senior Army intelligence officer tells Newsweek. Ukrainian government sources have published images of crates of ammunition and military hardware scattered where Russian forces withdrew. Some "high-value equipment" was abandoned, British military intelligence says, highlighting "the disorganized retreat" of Russian units and "localized breakdowns in command and control."
"It's a rout, pure and simple," the Army intelligence officer says.
Even official Moscow felt compelled to acknowledge the setback. "On the frontlines of the special operation, this has been the toughest week so far," anchorman Dmitry Kiselev admitted on state television.
"Putin's options for the future are bleak, particularly as he increasingly feels the heat of domestic opposition," says the first intelligence official. The official cites the impact of 60,000-plus Russian casualties and as well as the bite of sanctions and the controls on travel as challenges to Putin.
"We're seeing more and more blaming of Western weapons," says the second official, "as if it is an excuse for why Russia is losing. It's ironic, given that Putin-and-company normally argues that it can defeat NATO. Now it's, 'we couldn't have won because of Western intervention' that is seeking to deflect responsibility from Moscow."
Kremlin loyalists may be working to deflect criticism of the war's mismanagement from Putin himself to the military. "More ominously, there are grumblings that it's all the Russian general staff's fault," says the senior intelligence official. "The Kremlin can hardly blame itself, so shifting blame to military incompetence and corruption might appeal to those who want a scapegoat. And it might strengthen Putin's weak hand."
Former World Champion chess player Garry Kasparov, a leading voice in the opposition, analyzed the Russian leader's position. "Putin has never dealt with situations like this one," he told the Kyiv Post this week. He's "been lucky that he
has always been able to escape.
"Continuing the war is the only way for Putin to stay in power," Kasparov said in the interview. "He wants to create extra chaos in the free world hoping that a new window will open for him. It's really just a protracted agony. It is cynical and stupid, but Putin is willing to put thousands of civilians into graves in the months to come before the whole of Ukraine is liberated, if that will allow him to maintain power."
U.S. intelligence is not prepared to cite a timetable for Russia's military defeat, and President Biden cautioned this week as well that the Ukraine war "could be a long haul."
While a number of Ukrainian officials—including Zelensky himself—have said they will accept nothing short of complete Russian surrender, in at least one video address to the nation the Ukrainian president was more conciliatory. For negotiations to begin, he said, Putin must decide to withdraw to the borders that existed before the February invasion—not insisting that Russia pull back to pre-2014 borders.
Russia must "admit that this is a great tragedy, a historical mistake," Zelensky said. "If they are not ready, it means they have no political will and there will be no meaningful dialogue until then."
Russian Foreign Minister Sergey Lavrov seemed to agree that a door has opened, stating publicly that Moscow is not opposed to negotiations. "The longer they postpone this process, the more difficult it will be for them to negotiate with us," he said. It was a sly admission that as time goes by and Ukrainian gains continue, the less leverage Russia will have in any deal.
"The Russian Foreign Ministry has practically broken with the Kremlin over negotiations," says the State Department official. Diplomats are increasingly urging Putin and his inner circle to join negotiations before there's nothing to negotiate. U.S. intelligence believes that the Russian military is weary and has begun to push back on Putin; the General Staff is particularly unhappy with the summary dismissal this week of the top Western Military District general fighting in Ukraine.
"It's a moment of truth for Putin," says the senior intelligence official. "There are few Russian options in Ukraine and little likelihood that the Russian president will back down. People are saying that the Russian president continues to reign supreme, but now, we're not so sure. Not only has he failed but he has few options."
Though U.S. intelligence continues to closely watch the positioning of Russian nuclear forces and its chemical weapons stockpile, all officials who spoke to Newsweek rejected the notion that Putin would resort to nukes. The consensus is that Putin will likely follow the withdrawal from Kharkiv with another one, giving up the city of Kherson and moving Russia's forces east of the Dnieper River, where a more defensible front line could be held.
"I'm not so sure I agree with the 'long war' predictions," says the Army officer, adding that Putin has no real reserve and few options to turn the tide. "Everyone's talking about Putin's hold over Europe with his control of gas, that this is his ace in the hole. But if the heat intensifies back home, Putin may have to shift his attention to a winter disaster of his own making."