Vladimir Putin Is the 'One Winner' in Trump's 'Twisted' Ukraine Scandal, CNN Anchor Says
CNN anchor John Avlon laid out all the major revelations that have emerged from President Donald Trump's scandal involving Ukraine that has led to a fast-moving impeachment inquiry, arguing that Russian President Vladimir Putin is the "one winner."
In his "Reality Check" segment on CNN's New Day program, Avlon focused on the conviction of Trump's former campaign chairman, Paul Manafort, who is currently serving time in prison after pleading guilty to numerous counts of conspiracy. Manafort formerly worked as a political consultant in Ukraine and advised Viktor Yanukovych, an oligarch with ties to Putin who became the country's president. Manafort "somehow managed to pull a cool $60 million along the way, in a country where the average monthly salary is just 200 bucks," the anchor pointed out.
Avlon explained how after Yanukovych was deposed in a popular street revolution in 2014, Russian-backed forces moved in to take control of Ukraine's Crimean peninsula. The territory was formally annexed by Putin, leading to significant international backlash, including Russia's expulsion from the Group of Eight (G-8) Summit, which rebranded as the Group of Seven (G-7).
After that, Trump picked Manfort to run his campaign, the CNN anchor recounted. During his presidential run, Trump consistently made pro-Russian and pro-Putin remarks. He also openly called for Russia to investigate his political rival, Democratic presidential candidate Hillary Clinton, and leak her deleted emails. A trove of those emails were eventually leaked via WikiLeaks, which U.S. intelligence agencies have found to have ties to Kremlin-backed Russian hackers.
Turning to Trump's more recent issues with Ukraine, Avlon outlined the developments in the impeachment inquiry led by Democrats in the House of Representatives. The probe was formally launched last month after a government whistleblower came forward with revelations that Trump and his personal lawyer Rudy Giuliani repeatedly pressured Ukrainian officials to open investigations in an effort to damage Democrats and former Vice President Joe Biden, who is one of the leading Democratic presidential candidates.
"As the daily drip, drip of testimony proves, there's still a lot of light that needs to come out," Avlon asserted. "At the end of the day, there's only one winner in this twisted tale. And his name is Vladimir Putin."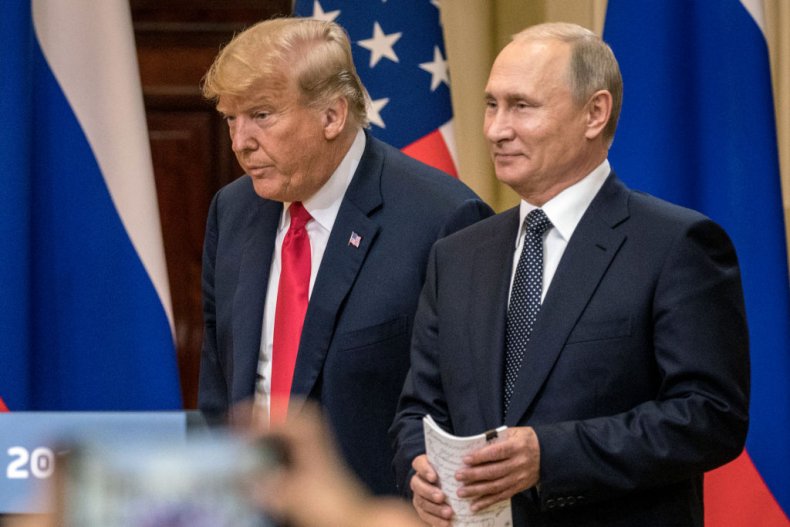 Trump has dismissed the ongoing impeachment inquiry as overtly "partisan." But several high profile Republicans have voiced significant criticism of the president's actions toward Ukraine. Democrats argue that the president abused his office by improperly soliciting foreign aid to disparage his political opponents.
Gallup released new polling data on Wednesday that showed 52 percent of Americans now support the president's impeachment and removal from office. The polling organization highlighted that support for the successful impeachment of former President Bill Clinton never surpassed 35 percent. However, support for former President Richard Nixon's removal eventually rose to 58 percent, after initially having low national backing. While Clinton was impeached, he was not removed from office by the Senate. Nixon resigned and was never formally impeached.