Vladimir Putin's Budding Bromance With China's Xi Jinping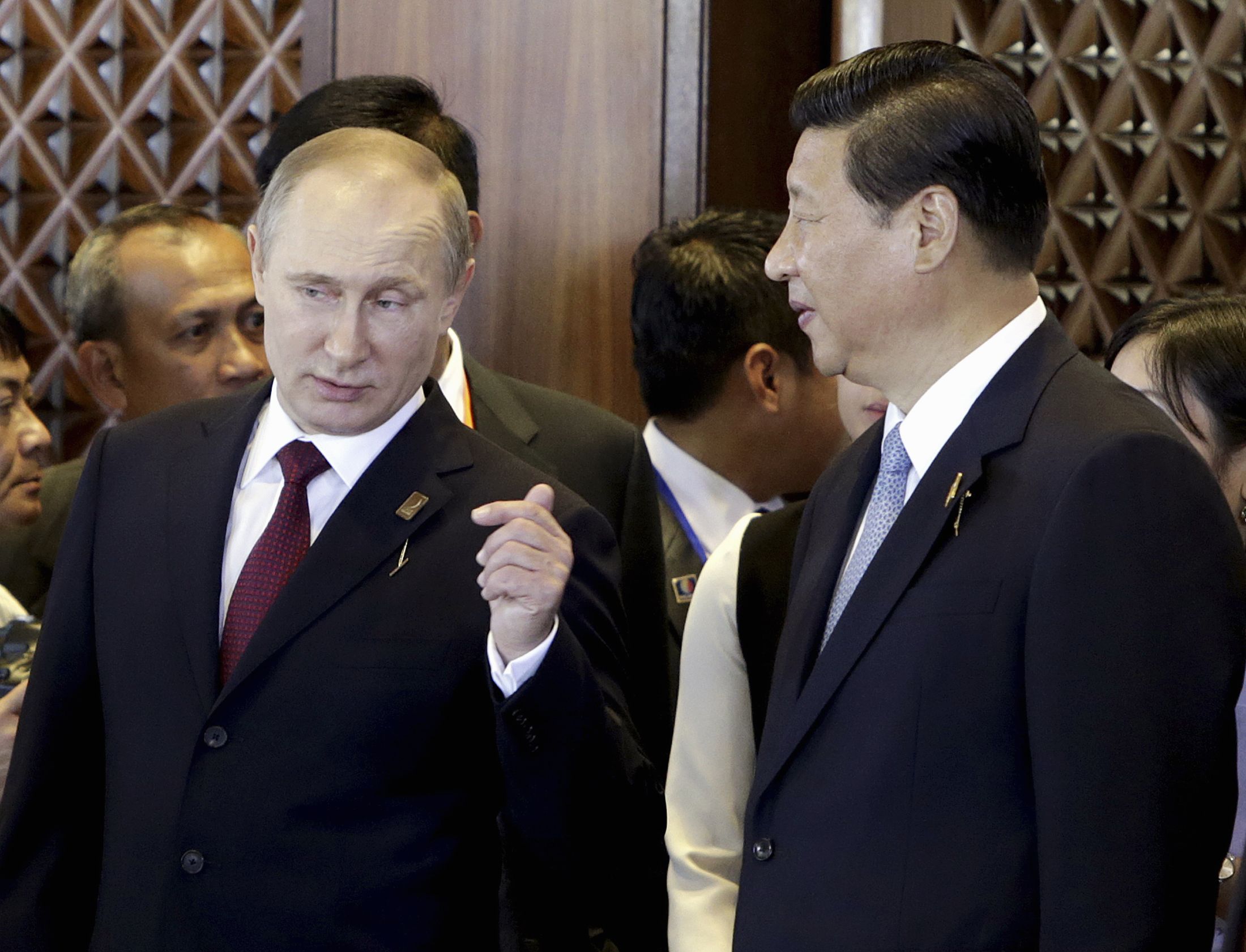 Last week, Russian President Vladimir Putin threw a party and almost nobody came. To commemorate the 70th anniversary of the Allied victory in World War II, the Russian leader held a grand military parade through Moscow, replete with rumbling tanks and goose-stepping soldiers. Putin invited 70 world leaders, but only 20 attended. Even North Korea's Kim Jong Un canceled at the last minute.
Those who did show up included washed-up celebrities like Steven Seagal and aging dictators such as Zimbabwe's Robert Mugabe. As the comedian John Oliver quipped, "No one in the course of human history has ever said, 'Well, at least Mugabe came.'"
But lost in the hilarity of Putin's paltry parade was the man sitting right next to him: Chinese President Xi Jinping. Ever since Russia annexed Crimea, the U.S. has been trying to isolate Moscow, with both economic sanctions and diplomatic snubs. But there was Xi, front and center, watching the endless display of military hardware. It was a sign of a budding bromance between the two leaders, and one that some analysts have described as a "Nixon Goes to China" moment in reverse.
"When Henry Kissinger reached out to China" before that historical 1972 visit, "there was a growing strategic rift between China and Russia," says Evans Revere, a former State Department diplomat specializing in Far East affairs. Kissinger, he adds, "was able to insert the U.S. into that triangle and wean China away from the Soviet Union."
China was weaker than Russia at that time, which helped Nixon pull off one of the most stunning diplomatic coups of the Cold War. Now, Revere says, China is the stronger party, and Russia, shunned by the West, is seeking new allies.
Xi seems eager to help. Two days after Putin's parade, the Chinese and Russian militaries launched their first-ever joint naval exercise in the Mediterranean and Black seas. The 10-day display in Europe's backyard is part of a growing military and strategic cooperation between the two countries, which are also tightening their economic relations and often forging a powerful diplomatic bloc to counter America and Europe at the United Nations
"It's a very comfortable position, to have such a strong supporter and partner," says Vitaly Churkin, Russia's U.N. ambassador. "We have a strategic partnership with China, including here at the Security Council. We try to vote as closely as we can—not always in the same manner, but we try."
Both Russia and China have veto power at the U.N. Security Council and often use it to block American and European initiatives. The result: The wars in Syria and Ukraine, along with China's maritime disputes with its neighbors, remain out of bounds for the council, which is charged with averting threats to the world's peace and security.
The cooperation between the countries goes far beyond the U.N. As President Barack Obama struggles to convince Congress to give him "fast-track" power to negotiate a free trade agreement with Japan and 10 other countries, Russia and China have inked one economic agreement after another. Earlier this year, Moscow and Beijing signed a lucrative $400 billion deal to build a natural gas pipeline to China. The deal will satisfy Beijing's hunger for energy and give the beleaguered Russian economy some much needed cash. In April, China became the first foreign recipient of Russia's advanced S-400 missiles, a $3 billion sale that worries some of China's neighbors, who fear China will more aggressively expand into disputed territories in the East and South China seas.
And last week, the two countries signed a cyberwar pact that some analysts think has even more ominous consequences. Richard Bejtlich, a cyberexpert at the Brookings Institution, says that while Russia and China will likely continue to hack each other, the two nations will begin working together to "control content," assuring that subversive messages stay off news sites and social media.
This cooperation highlights another aspect of the renewed relations between the two former Eastern bloc titans: Both remain highly authoritarian. "There are similarities in their domestic systems," says Susan Shirk, a former State Department hand now at the University of California, San Diego.
Yet China's policymakers are cautious, and Shirk believes the alliance with Putin might be temporary. It "will never be a replay of their Cold War alliance," she says, adding that their current honeymoon "looks like a [Chinese] ploy to make the U.S. nervous."
Either way, a day after the parade, German Chancellor Angela Merkel arrived in Moscow to pay her respects on the anniversary of the war. Later, U.S. Secretary of State John Kerry arrived in Sochi to do the same. The party was over, but Putin apparently isn't as isolated as he once seemed.
Follow Benny Avni on Twitter: @bennyavni
Correction: A previous version of this story mistakenly said the parade in Russia occurred several weeks ago. It was last week.