Vladimir Putin's Black Belt Revoked by International Taekwondo Organization
Russian President Vladimir Putin has been rebuked in various ways since he first directed his soldiers to invade Ukraine last week, including multiple sanctions that are intended to negatively impact his citizens and economy.
Now, a pair of international martial arts groups are going after Putin's status in the realms of taekwondo and judo.
Today, World Taekwondo—labeled as the International Federation that governs the sport and is a member of the Association of Summer Olympic International Federations and International Paralympic Committee—announced it had revoked Putin's honorary 9th dan black belt that was given to him in November 2013.
"World Taekwondo strongly condemns the brutal attacks on innocent lives in Ukraine, which go against the World Taekwondo vision of 'Peace is More Precious than Triumph' and the World Taekwondo values of respect and tolerance. [W]orld Taekwondo's thoughts are with the people of Ukraine and we hope for a peaceful and immediate end to this war," the organization said in a statement.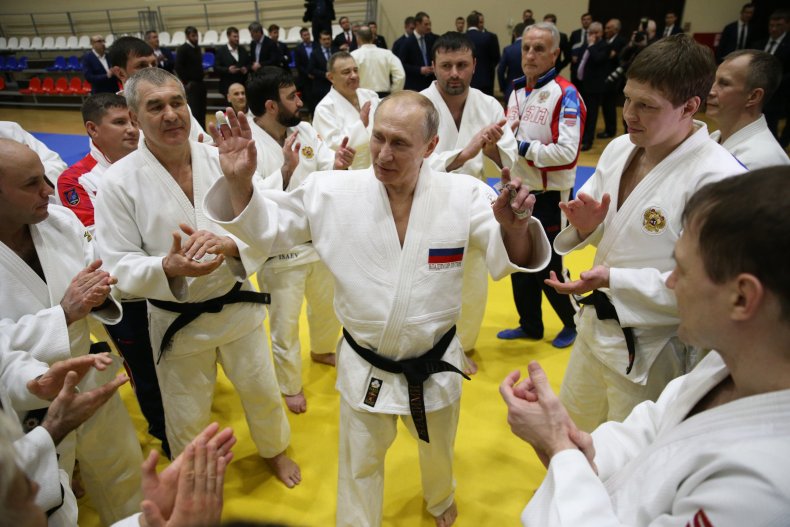 World Taekwondo, expressing solidarity with the International Olympic Committee, also stated that no Russian or Belarusian national flags or anthems will be displayed or played at the organization's worldwide events—nor will it, in cohesion with the European Taekwondo Union, "organize or recognize" Taekwondo-related events in both Russia and Belarus.
The announcement came on the heels of a statement made Sunday by the International Judo Federation, which "in light of the ongoing war conflict in Ukraine" suspended Putin's status as the federation's honorary president and ambassador.
Ties between Putin and the Japanese form of unarmed combat go back decades.
According to a 2001 profile of Putin reported by NPR's Michele Kelemen, "Putin was, by most accounts, a good athlete, an expert in judo but an average student who, in the ninth grade, went to his local KGB office to sign up."
He reportedly said that judo "is not just a sport, it's a philosophy."
Euronews reported that Putin is "a keen judoka" and even attended the sport at the 2012 London Olympics.
Organizations revoking Putin's honorary belt and suspending his status follow entire sports distancing themselves from the Russian president and his country as a whole.
Following the news of UEFA moving its Champions League Final away from Russia, in addition to FIFA announcing sanctions on the nation, ESPN reported that Russia's Sergey Soloveychik, president of the European Judo Union, abruptly resigned from his post on Sunday in relation to the "heartache that we see the people in brotherly countries die."
He still showed loyalty to his homeland.
"No one doubts that my heart belongs to judo," Soloveychik said. "But it is equally true that it belongs to my homeland, Russia. We, judoka, must always be loyal to our principles."