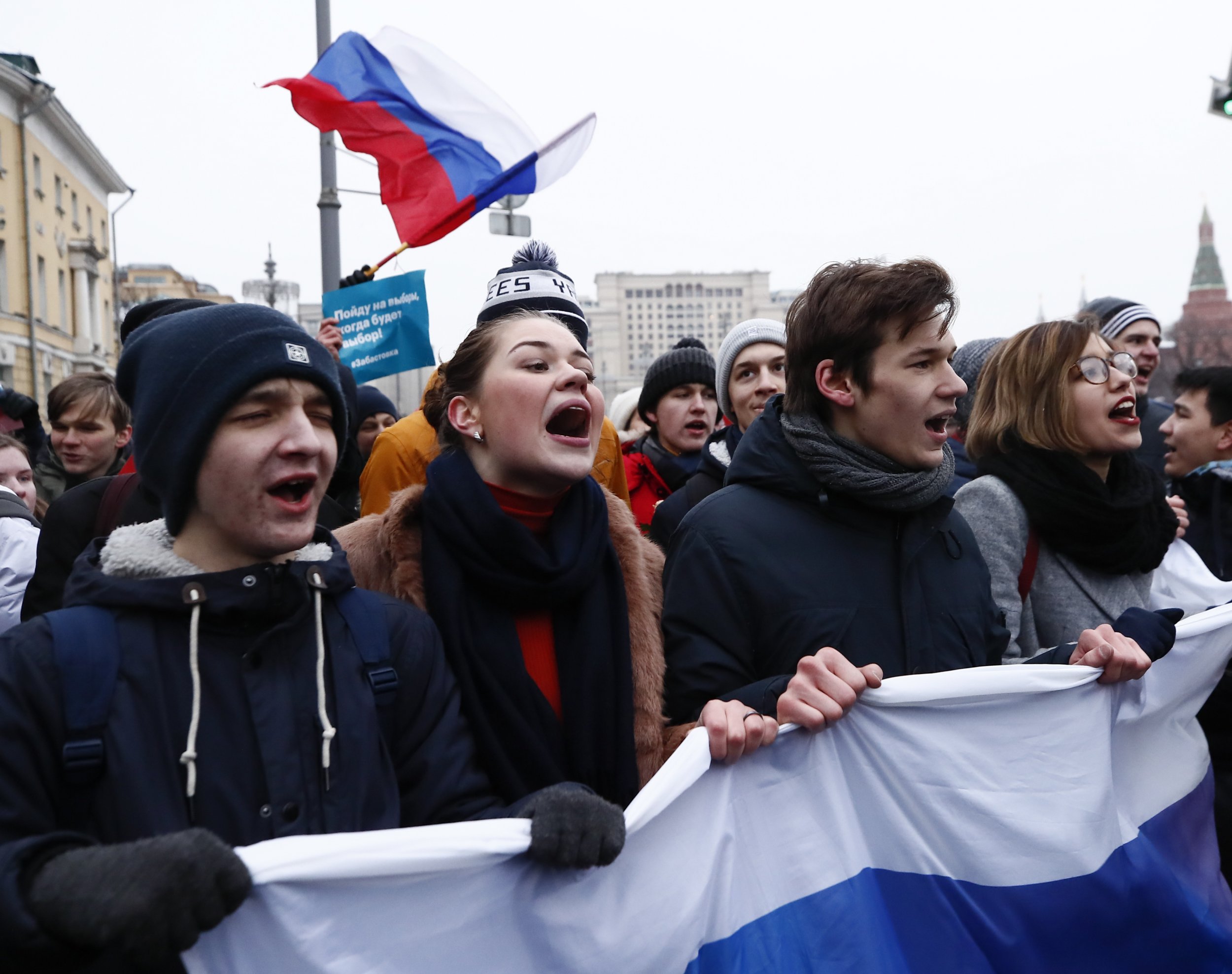 Russian President Vladimir Putin's most prominent critic was arrested the day national protests took place against the leader's bid to stay in office for at least another six years.
Anti-corruption blogger Alexey Navalny, incensed at the reported wealth of government officials under Putin's protection, mobilized two waves of protests in dozens of cities last year. After Putin announced last month he was seeking re-election in March's presidential vote, Navalny repeatedly called for a boycott at the ballot boxes in a bid to cast doubt on the legitimacy of Putin's campaign by lowering turnout.
Related: Will Putin Rule Until He Is 100? Someone Has Bought Campaign Sites for Him, Way in Advance
Navalny is regularly arrested at his rallies, but police went a step further in the early afternoon on Sunday, forcing their way into Navalny's office and detaining six members of his team in a raid, according to independent monitoring group OVD-Info. Protests gripped not only Moscow but Russia's second most important city, St. Petersburg, and the country's east.
"They are the future of Russia," Navalny tweeted with a photo of two young protesters. "Putin and his band of thieves are her past."
The post came shortly after Navalny's Twitter account informed his followers that he too had been arrested while on his way to a rally on Moscow's busy Tverskaya Street. Changes to Russian laws concerning public protests under Putin have proven a sticking point between Navalny and the Kremlin, as he is constantly prevented from assembling crowds in Moscow for reasons he called unconstitutional.
"The detention of one person loses all sense when there are so many of us," a post by Navalny's account read, with a video of Moscow police shoving through his supporters to force him into their car. "Someone come and replace me," the caption demanded.
Navalny made several appeals to Russians on his popular social media channels in recent weeks, stressing that Russians should not rally to support him personally but to block Putin, whom he accused of dragging Russia into a "swamp" of stagnation.
Police also shut down Navan'y office studio, where he records regular news bulletins for his followers and from where his allies had been posting information about Sunday's protests.
The forced entrance into the studio was shown live while staff were in the middle of a broadcast. The reason police gave for the raid was a bomb threat on the facility.