Vladimir Putin's "Death Star': Russians Mock President's New Nuclear Weapons in Meme Craze
Russian President Vladimir Putin prompted parody and ridiculing memes on social media when he used his annual address to show new nuclear-powered weapons and called for Russians to name them.
Putin showcased the new kit to both houses of parliament in an annual address, which, for the first time in 10 years had been moved to March. Russia's upcoming presidential election in three weeks and the lack of any major campaign rallies made the event the first and possibly only major appeal to the Russian people Putin has made since his campaign began. While the first half of his speech focused on halving poverty, boosting the economy and increasing freedoms, the president quickly slid into familiar territory for the second half, when he began to talk about nuclear war and Russia's military.
Related: Russia hits back rumors it copied a computer game for its future soldier
"I believe it is my duty to say this: Any use of nuclear weapons of any yield—small, medium or whatever—against Russia or its allies will be regarded as a nuclear attack against our country," Putin said, breaking with the mildly worded first half of his speech. "Retaliation will be instant, with all the ensuing consequences."
The president then reminded viewers about the new intercontinental ballistic missile, called Sarmat, that Russia is developing, to loud applause from officials and functionaries in the room. This, Putin stressed, wasn't all, as he began the most ridiculed part of his speech, calling for video aid to help him make his point.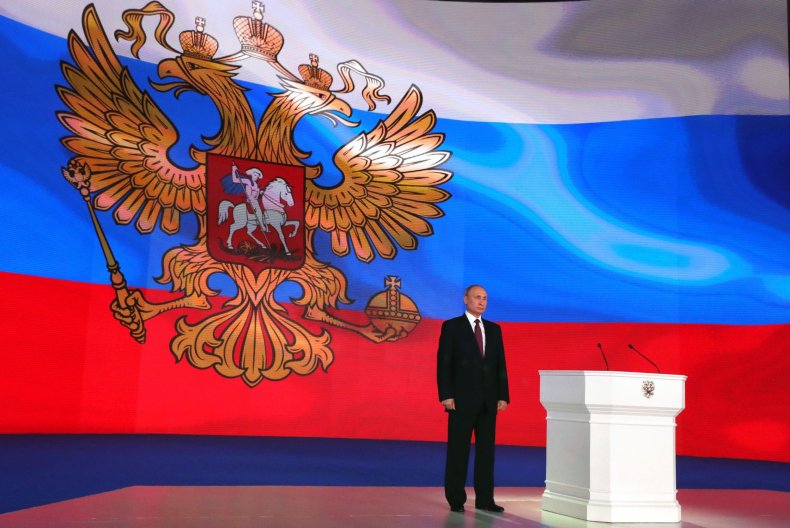 The leader piqued the interest of the assembly room and viewers at home with more computer-generated clips of new weapons, still under development. Namely, he showed a nuclear-powered cruise missile that could apparently dodge foreign defenses, as well as an underwater drone with a compact nuclear reactor, completed last year.
"No one in the world has anything like that," Putin stressed, in front of a screen showing the planned cutting-edge technology. Russians would soon have the opportunity to choose what names the new weapons should have, he said. The president also showcased new aircraft arms and teased the arrival of futuristic laser weapons. The presentation excited the Russian public but not in the way that the Kremlin would have hoped.
Read more: Russia's proof that the U.S. is cooperating with ISIS is a clip from a PC game
"Putin showed a rocket that will kill everyone," one blogger, live-tweeting the event wrote after the Sarmat's unveiling. "Putin showed a second rocket that will really kill everyone," he added shortly after. "God! Putin has shown a fifth rocket," he exclaimed in exasperation a few minutes later, as Putin continued his demonstration.
One user likened Putin's futuristic arms showcase to Austin Powers's nemesis Dr. Evil, while others made parallels with the Star Wars movie universe.
"So in a nutshell, Russia's strategic goal in the coming six years is to build a Death Star," one Twitter user wrote, as popular Russian meme site Lentach imagined what that would look like:
Others highlighted that Putin's new military kit more closely resembles the Imperial Star Destroyers from the Star Wars universe, albeit the graphics are still lagging behind the oldest of the franchise's movies, another user noted.
Russians also likened the poor graphics to a series of old video and computer games, ranging from Space Invaders to Starcraft and MMORPGs from the early 2000s. Even opposition figurehead Alexei Navalny got in on the fun, likening one of the stills to computer game Red Alert.
Russia's digital news community TJournal compiled some of the most popular memes poking fun at Putin's videos, while on Pikabu, the country's answer to Reddit, a lively discussion has broken out debating why Putin used such a sloppy rendering of the Earth in his graphics.
"What sort of planet were we shown?" one user asked the community, as humorous conspiracies tried to answer the disingenuous question: "What is the government not telling us?"