Vladimir Putin Spokesman Dmitry Peskov Compares Weinstein Accusers to 'Prostitutes'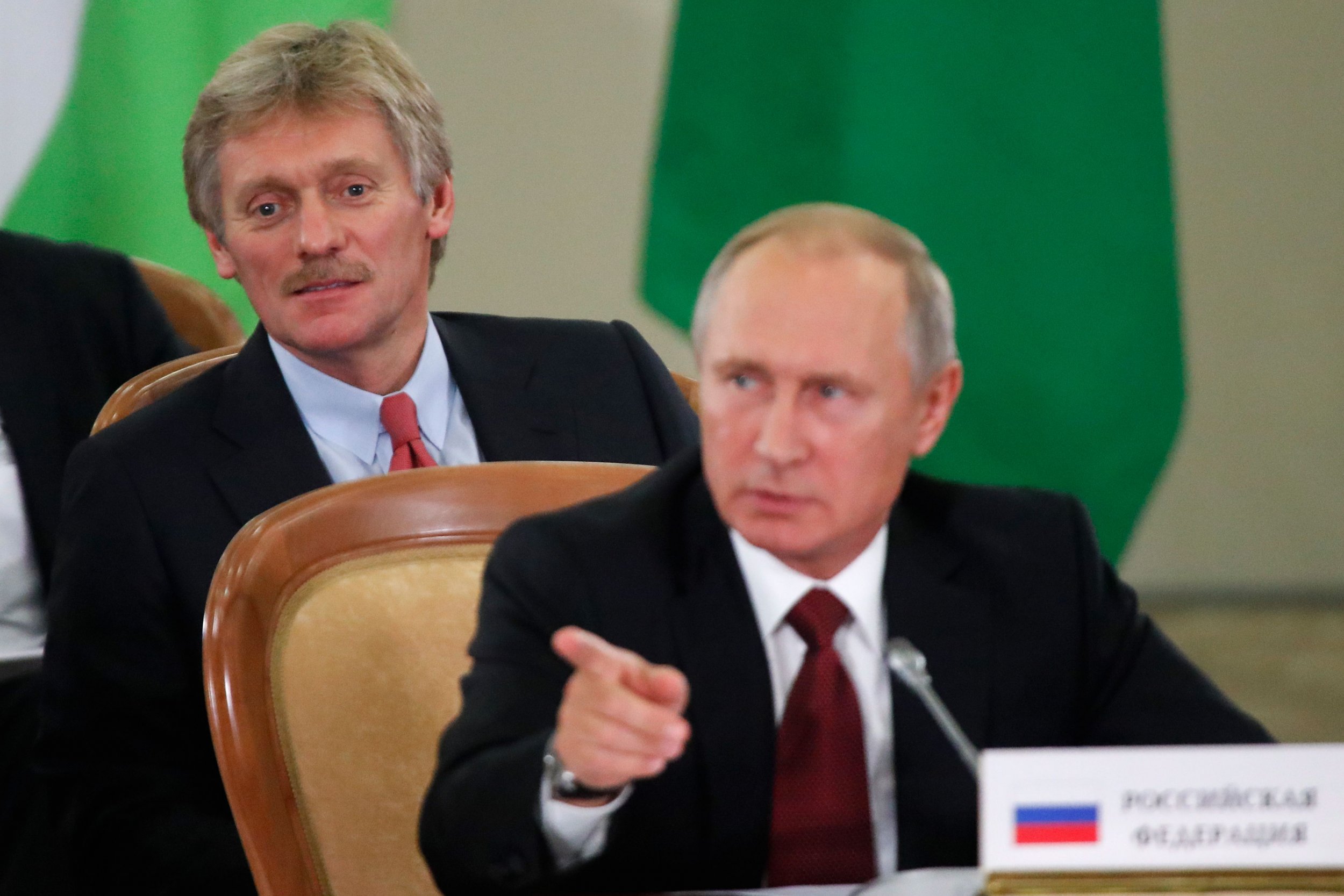 Russian President Vladimir Putin's spokesman Dmitry Peskov has broken his silence over the country's highest profile sexual harassment case, comparing Harvey Weinstein's accusers to prostitutes in the process.
Speaking at an event in the Higher School of Economics in Moscow on Thursday, the Kremlin press secretary waded into the debate about the behavior of one top lawmaker, who allegedly tried to kiss or suggestively touch three female journalists without their consent. Two of the three appeared before the parliament's Ethics Commission to officially demand Leonid Slutsky is punished. The commission threw the case out in one sitting, and Peskov appeared to support that decision.
Related: In Russia, journalists are boycotting parliament after lawmaker is cleared of sexual harassment in one sitting
"This has less to do with the Ethics Commission than the police," Peskov said on Thursday, according to the BBC 's Russian Service. He focused, as several of Slutsky's defenders have, on how the three women kept silent about the alleged incidents, in some cases for years, before coming forward within the same month.
"If Slutsky attacked this poor journalist, where was she and what was she waiting for?" Peskov asked rhetorically. "If he groped you, if he harassed you, why did you stay silent? Why did you not go to the police? Why did so much time pass and then you go to the Ethics Commission?"
Calling the recent movement of reporting past sexual harassment experiences a "trend," Peskov compared the situation to the series of allegations against powerful men in the movie business, most notably producer Harvey Weinstein.
"You know, this reminds of the Hollywood stars, who became stars, who did a lot that is not becoming of the idea of honor and dignity. But they did this in order to become stars," Peskov said. "They earned hundreds of millions of dollars and as 10 years passed they start saying that Weinstein is bad."
"Maybe he is a jerk but none of them went to the police and say that Weinstein raped them. No. They wanted to earn $10 million. What is a woman who sleeps with a man for $10 million called? This might sound crude, but she is called a prostitute."
It is not clear whether Peskov meant Weinstein's accusers had not complained to the police immediately following the alleged sexual assaults or at all. Los Angeles County District Attorney said in January that it is reviewing two sex crime cases involving Weinstein, the Los Angeles Times reported.
Slutsky's case has ignited an angry backlash from Russia's independent media, but state officials and outlets have either defended him or turned a blind eye to the allegations. Vyacheslav Volodin, the speaker of the lower house where Slutsky works, went as far as to advise journalists to accept the way parliament works or "change jobs."
One of the female members of the Ethics Commission that absolved Slutsky, Raisa Karmazina, raged against the media, accusing them of "making a mountain out of a molehill." "Nobody ever harassed me," Karmazina said, reportedly mispronouncing the word on several occasions. "I was three hundred times more beautiful than them and I was not any stupider either. I have been working for 50 years. It will be 49 years of service on July 1, since I was aged 18 and nobody harassed me. Nobody harassed. I did not give them a cause or anything."