Kilauea Volcano Update: Winds to Spread Vog to Island Interior
Winds on the Big Island of Hawaii are shifting and may soon push vog—a byproduct of the volcanic eruptions there—inland.
The winds were set to head northwest on Tuesday, Wednesday and Thursday, and possibly push the vog into the saddle and interior parts of the island, said a Hawaii Civil Defense message. The winds are expected to return to their normal trade winds pattern on Friday.
Winds on the island were expected to reach 30 miles per hour Tuesday and then slow to about 10 miles per hour for the following days, according to the National Weather Service.
The vog, or volcanic smog, that the winds were likely to transport can cause health issues, especially for the elderly or those who already have a hard time breathing. The vog is a mix of the volcanic emissions from the volcano, in the case of Kilauea, lots of sulfur dioxide, along with carbon dioxide and water vapor.
When the sulfur dioxide reacts with the atmosphere, it turns into fine particles and then causes a haze in the sky that usually appears downwind from the volcano. Sulfur dioxide is a gas that can cause irritation to the skin as well as the tissues in the eyes, lungs, and nose and throat. It can lead to respiratory problems, according to the United States Geological Survey. The particles can induce asthma in those who have it. Even those who don't suffer from irritation can experience headaches, flu-like symptoms and a lack of energy, according to the USGS.
In addition to physical ailments, vog also has environmental impacts. The most obvious is that it limits visibility in the area and can pose a risk to those driving, flying or boating in the area.
The vog can also cause acid rain. When the water passes through the vog, it picks up the small particles in the air and brings them to the ground across the homes and vegetation. It can contaminate drinking water and also kill vegetation in the area.
In addition to the possible spread of vog, Kilauea was still erupting Tuesday. Fissure 8 was highly active and was erupting a channel of lava that was flowing into the ocean, at Kapoho Bay. There were three other fissures that were also exhibiting some light activity, though the Hawaii Civil Defense said those fissures were not a threat as of Monday evening in Hawaii.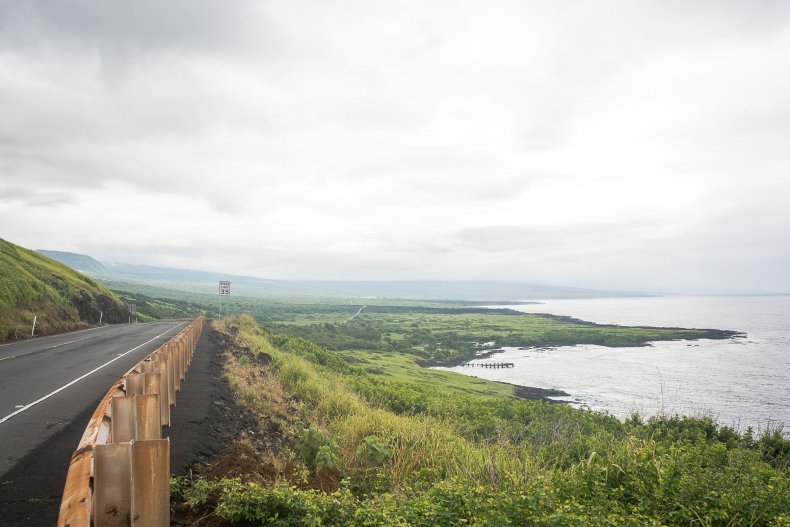 Kilauea Volcano Update: Winds to Spread Vog to Island Interior | U.S.