'Vogue' Slammed for Kate Middleton 'White Power Suit' Post on Windrush Day
British Vogue has been criticized online for publishing a story titled Kate Middleton Revisits Her Favorite White Power Suit on a day that the royal unveiled a monument to the Windrush generation.
The Windrush generation is a term used to describe migrants who were encouraged to settle in Britain between 1948 and 1973 to aid in the country's post-war recovery.
These migrants—the majority of whom came from the Caribbean—were at the center of a U.K political scandal in 2017 after it emerged that, owing to stricter immegration enforcement, thousands had been wrongly classed as illegal immigrants with a number being deported.
Both William and Kate unveiled the national monument at Waterloo Station on Wednesday with the prince giving a powerful speech in which he addressed the "racism" faced by the Windrush generation when they arrived in Britain and said that "discrimination remains an all too familiar experience for black men and women in Britain in 2022."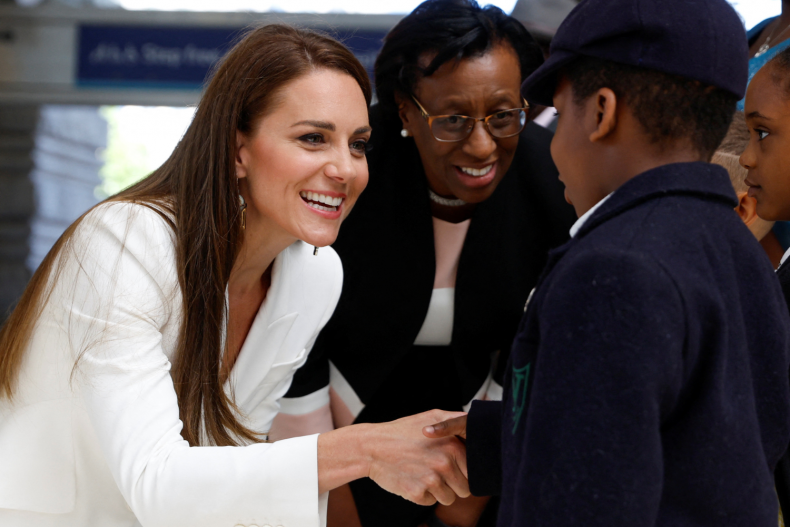 Vogue's headline featuring "Kate Middleton" and "White Power"—a phrase associated with the white supremicist movement—side-by-side on a day that is heavily imbued with discussions of race and diversity, provoked users on social media to question its intention.
Writer and Amnesty International campaigner Stefan Simanowitz was quick to highlight the irony of the headline on Twitter, posting:
"The #Windrush [statue] in Waterloo station was unveiled yesterday by the Prince William & Kate @BritishVogue say the Duchess of Cambridge was "wearing her favourite White Power suit" On #WindrushDay!"
Another user wrote: "Windrush and White Power in the same headline? Is Vogue trolling us?"
"The wording is totally deliberate, right?" read another Twitter post with a further comment asking: "@BritishVogue, have you ever thought about investing in sub-editors? It might be a good time."
Following its initial publication online British Vogue removed the word "power" from the headline and also from the first line of the article in question. Screenshots of the first webpage and posts to the magazine's Twitter account however are still circulating online.
Despite Vogue being the central focus of criticism over the headline it was not the only publication to title their story in this way.
An online article published by Town & Country initially ran with the headline "Kate Middleton Looks Business Chic in White Power Suit to Celebrate Windrush Day."
This has since its upload been changed to read: "Kate Middleton Wows in White Alexander McQueen Power Suit to Celebrate Windrush Day."
Woman & Home magazine also ran a similar headline, this time referencing Meghan Markle. An online story ran with the title: "Kate Middleton takes inspiration from Meghan Markle's white power suit at Windrush event."
British Vogue is published by media conglomerate Conde Nast with whom Kensington Palace and Kate Middleton have, in the past, had a strained relationship.
In 2020 an article titled Catherine The Great was published by Conde Nast's Tatler magazine. The story made a number of claims including that the royal was "furious" over the negative effect her workload, increased by Prince Harry and Meghan's departure from royal life, was having on her family.
At the time of publication, Kensington Palace issued a rare statement via a spokesperson which said: "This story contains a swathe of inaccuracies and false misrepresentations which were not put to Kensington Palace prior to publication."
This was followed by a legal letter which resulted in a section of the initial article being removed, though Tatler stood by its writer, Anna Pasternak.
British Vogue's editor in chief Edward Enninful has formed strong relationships with members of the royal family. At a fashion awards presentation attended by Kate in May, Enninul told journalists that he admired Kate's style:
"I feel like she has been able to grow so gracefully," he said.
"Her style is inspiring to a lot of people, they relate to her, but without losing what's important to her."
The editor also worked closely with Meghan Markle when she guest-edited British Vogue's September 2019 issue and Camilla, Duchess of Cornwall has given her first in-depth print interview in a number of years to the publication's July 2022 issue.
Newsweek reached out to British Vogue for comment.