Vogue Italia's Off-Putting Oil-Spill Photo Spread: Art or Offensive?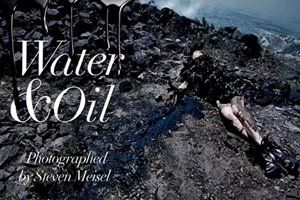 We're big believers in the power of an image to convey the drama, sadness, and gravity of world events. In the case of the BP oil spill, that power was never more apparent, both in the photographs that captured the devastation and in the photographs that were forbidden from being taken.
The latest photos causing a stir aren't photojournalism but a fashion spread in Vogue Italia, titled "Water & Oil." Uber-edgy photographer Steven Meisel shoots model Kristen McMenamy, clad in black, coated in oil, and draped across tainted beaches. In one shot, she has a black feather perched on her lips. In another, an oil-drenched feathered glove stands in for the hundreds of birds soaked in the spill.
Meisel has had a longstanding relationship with Vogue Italia, and his topics are often edgy: from plastic-surgery patients to homeland security. But is this spread art or opportunism?
Dodai at Jezebel writes, "The model in distress and the photographer have worked together to create a scene in which the viewer feels the urge to help—yet can do nothing—similar to watching the disaster unfold on television." That's a generous critique, and one that doesn't quite jive with the title of her post, which calls the photo shoot "awful" (the rest of her essay makes her disdain for the photos clear). Do we need to be reminded of how helpless the oil spill made us all feel? With massive cleanup still remaining, the sensation of helplessness is all too real.
Where does fashion fall as an art form is a question that's constantly up for debate, as is what is the role of fashion photographs. Yes, the images in high-end editorial spreads can be stunning, and great 20th-century artists like David LaChapelle, Herb Ritts, and Annie Leibovitz have advanced modern art through their fashion and celebrity spreads. But while the photos themselves may be art, and while those images make serious statements about current affairs and often end up in galleries, they start out with less noble aims: to sell clothing. And that makes the photos seem somehow tasteless. So argues Fast Company, which points out some of the tone-deafness in the spread's captions on the shoot, "Oil Is the New Black."
"Kristen McMenamy in the 'survivor' version, where she interprets in images the environmental drama that's afflicting the Gulf of Mexico," it sing-songs. "She keeps her skin golden thanks to Self Tan Face Bronzing Gel Tint (to wear alone or with foundation): it takes care of the skin, while giving it a hint of color." And just a shade of THE WORST ENVIRONMENTAL DISASTER TO BEFALL THE U.S. IN HISTORY.
Even some of the fashion-obsessed aren't comfortable with this shoot. Refinery29, the online fashion magazine, just found it wasteful:
Creating beauty and glamour out of tragedy seems quite f--ked up to us, not to mention wasteful and hypocritical, seeing as thousands of dollars of luxury clothing was flown in, and then subsequently ruined for the shoot. Glamorizing this recent ecological and social disaster for the sake of "fashion" reduces the tragic event to nothing more than attention-grabbing newsstand fodder.
The discussions about the value of these photos in Refinery29 comments are worth a read, as are those on New York magazine's fashion blog, The Cut. There's plenty to discuss, and both comment sections are a good way to brush up before heading out to happy hour: after all, it's not a party until someone starts a lively debate about the artistic value of fashion editorials. But before you start writing your talking points, consider The Cut's own take on the shoot:
If showcasing the clothing is still the overarching objective in any fashion editorial, shouldn't we be able to, you know, see them? They probably looked pretty cool before they were soaked in gasoline.
Or is this the beginning of a horrifying new trend? Will oil-slicked faces and crude-covered bonnets be the big look at Fashion Week this fall? Imagine the BP pitch: "Drenching things in oil before it was cool."