'The Voice' 2018 Top 4 Finale Performances & Predictions: Who Will Win Season 14?
The Top 4 will perform Monday night during The Voice Season 14, episode 27. Find out everything you need to know about tonight's finale performances and who may be eliminated tomorrow evening.
The Voice Season 14 finale is here! Last Tuesday, the Top 4 finalists were announced. These singers now move on to the next round of the competition, airing Monday night at 8 p.m. EDT. The show will be a two-hour event featuring performances by each of the Top 4 finalists.
During the show, each of the Top 4 will be given three opportunities to show off their vocal abilities. The singers will perform one new solo cover, a special duet with their coach and an original single.
During and after the performances, fans will have the opportunity to vote for their favorite singers via the official The Voice app. Once the votes have been tallied, the results will be presented towards the end of Tuesday night's elimination show. The results will be largely dependent on viewers' votes, but singers will also get extra bonus points for showings on the iTunes Top 10 list.
Below, we've put together a complete guide to Monday night's show, including live updates during and after the broadcast: what songs were performed, where to download them and predictions about who will win tomorrow night. Once the results are in Tuesday evening, we'll update this post with the name of the Season 14 winner. In the meantime, if you need to get caught up on what happened during last week's elimination show, you can check outour recap and results post, here.
UPDATE: Who Won The Voice Season 14?
Results are finally in for The Voice 2018 Winner. Here is the lineup:
Spensha Baker- 4th Place
Kyla Jade- 3rd Place
Britton Buchanan- 2nd Place

Brynn Cartelli - WINNER of The Voice Season 14
'The Voice' 2018 Finale Performances & Predictions: What Songs Were Performed Tonight?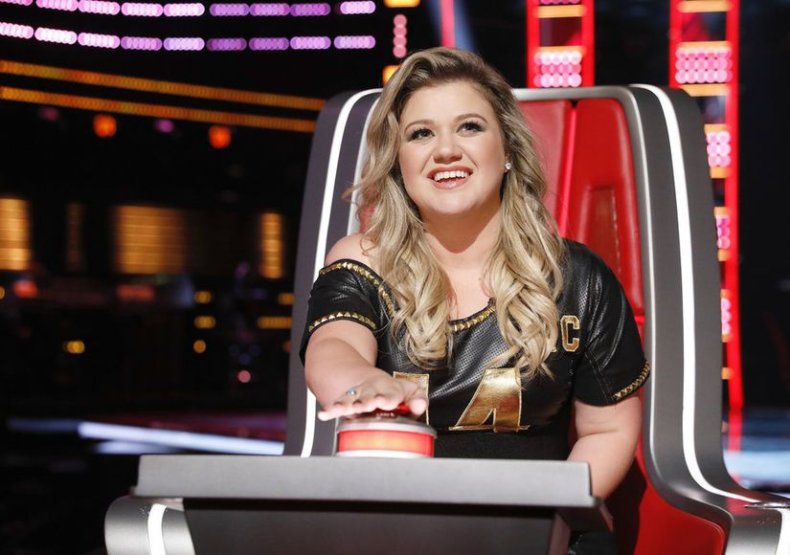 Kyla Jade (Team Blake)
Solo Cover - sang "With a Little Help From My Friends" by The Beatles. [Download Here]
Original Single - sang "The Last Tear" [Download Here]

Incredible performance by Jade. Fully expect to see this one in iTunes' Top 10 tonight and tomorrow morning. Blake said, "This show was designed to find a voice just like yours."

Coach Duet - sang "Only Love" by Winona Judd [Download Here]

This song was a little odd. It wasn't in Kyla's best vocal wheelhouse. She performed it well, but I don't see it as a song that's going to shoot to the top of the iTunes charts. Regardless, watching Kyla perform is a joy.
Prediction: This wasn't Kyla's best night. We think her chances of winning Season 14 are slim.
Britton Buchanan (Team Alicia)
Original Single - sang "Where You Come From" [Download Here]

This was a stripped-down performance with just Britton and his guitar. We aren't sure if the low energy of the song will be enough to propel him to a win. Coach Adam threw in an extra plug for Britton, saying he's going to have a huge career and that The Voice will be just a footnote in that journey.

Coach Duet - sang "Wake Me Up When It's All Over" by Avicii [Download Here]

This song didn't do anything to help Britton in the competition. Alicia and Britton felt ill-matched, and if anyone stole the show it was Alicia. There were some iffy notes in the song and even the harmony at the end felt "wrong."

Solo Cover - sang "Good Lovin" by The Rascals [Download Here]

The vocals were great on this song, the performance was so over-the-top and hyperactive, it was difficult to watch. Unlike eliminated Rayshun LaMarr, Britton still has some growing to do to make a performance like this work.
Prediction: Britton won't be the Season 14 winner.
Brynn Cartelli (Team Kelly)
Coach Duet - sang "Don't Dream It's Over" by Crowded House. [Download Here].

The duet with Kelly was perfect and seemed to do a lot for Brynn's confidence. A great start to the show.

Original Single - sang "Walk My Way," by Julia Michaels. [Download Here]

We loved Brynn's performance and can totally imagine this song on the radio. The maturity in Brynn's voice is impressive for someone so young (15 years old), which is a big part of what keeps her in the competition. She was belting on both ends of her register with this one. Great job, Brynn.

Solo Cover - sang "Skyfall." [Download Here]

Brynn may have just won the competition with this song. Her performance was all power and allure as she hit every note with passion and precision. If she doesn't win Season 14, we'll be completely shocked.
Prediction: Brynn Cartelli is our top pick for Season 14 winner.
Spensha Baker (Team Blake)
Performance details will be updated once they go live. You can download and listen to Baker's winning performance from last week here, on iTunes.
Solo Cover - sang "Merry Go 'Round," by Kacey Musgraves. [Download Here]

Spensha's performance was beautiful and emotional. Blake said her ability as a storyteller is exactly why he and the country have saved her time and again. "You're looking at the next big country star," said Blake.

Coach Duet - sang "Tell Me About It" by Tanya Tucker. [Download Here]

These two sound amazing together and look like they were having plenty of fun. Spensha said she dreamed about singing this song with Blake, so it's no wonder she seems so pleased throughout the performance. The song is hard-core country so it may alienate some viewers, but Spensha belted some great notes that anyone should be able to appreciate.

Original Single - sang "Old Soul" [Download Here]

This song was so perfect for Spensha. It was the embodiment of her beautiful soul. Easily the one of the best performances of the evening. It could even help propel Spensha to the win.
Prediction: We love, love, love Spensha, but this one is a tough call. We think she had a better evening than Kyla, but aren't sure if she has enough momentum to jump ahead of Brynn. She is our number 2 pick for Season 14 winner.