'The Voice' Season 15, Episode 7 Battles Recap & Results: Who Left, Who Got Stolen and Who's Going To The Knockouts?
The Voice Season 15 episode 7, is set to wrap up the Blind Auditions and kick off the first round of The Battles on Monday night at 8 p.m. EDT. During the previous blind auditions, 44 contestants were chosen to join one of the four judges' teams with an additional 6 contestants gaining a second chance on the show via Kelsea Ballerini's Comeback Team. Tonight's two-hour show will include a final round of blind auditions, during which the judges will each choose one last contestant to join their teams. Once the blind auditions are complete, the second half of the show will launch viewers in the very first Battle round of the season.
How The Voice Battles Work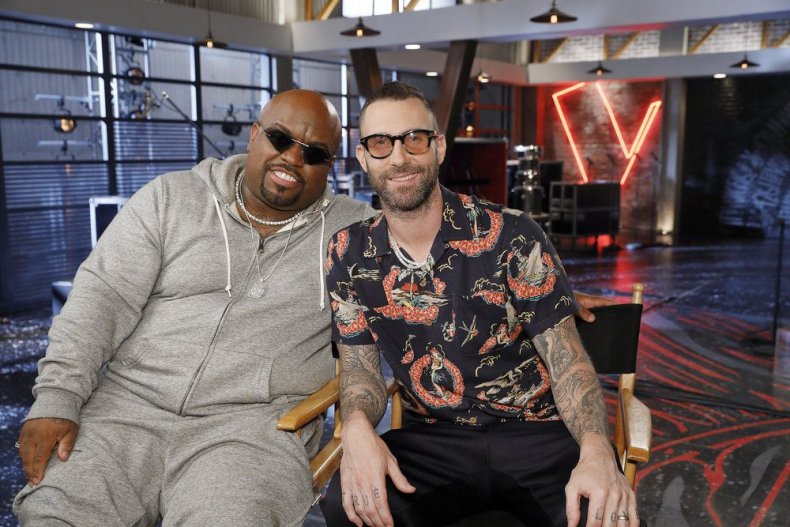 During "The Battles," coaches choose two singers from their team to perform a duet together. This duet serves as the battleground during which the singers must work together to compliment one another while also showcasing their unique singing talent. After the battle, the duo's coach will determine which singer he or she believes "won" the battle based on singing and stage presence. Whichever contestant the judge picks will move on to the Knockout round of the competition. The other three judges will then be given the opportunity to steal the losing contestant. Coaches are allowed one steal during The Battles. If the contestant is not stolen, he or she will be sent home. If Season 15 follows the pattern of Season 14, viewers can expect to see 6 duet battles Monday evening.
During "The Battles," coaches willreceivee aid from an outside mentor to give singers notes during practice. The Season 15 mentors are as follows:
Keith Urban - Team Blake
Thomas Rhett - Team Kelly
Halsey - Team Jennifer
CeeLo Green - Team Adam
Once tonight's show kicks off, we'll be doing a live recap of the results. In the meantime, if you missed the blind auditions, you can check out our the singers that made it onto a team so far below. You can also check out our recaps along with video clips of last week's winning performances, here.
The Voice 2018 Blind Auditions 7: Who Joined A Team Tonight?
#1 - Emily Hough
Hough performed "Big Yellow Taxi" by Joni Mitchell. Her voice is beautiful and clear. Adam is the first to turn. By the second verse, she's grabbed Blake too soon followed by Jennifer. Hough is in tears when she sees three chairs turned. She ends up choosing Team Adam.
#2 - Josh Davis
A 20-year-old personal trainer, Davis takes the stage to perform "Too Good at Goodbyes" by Sam Smith." Kelly is quick hit her button and is soon followed by Jennifer. Davis ends up joining Team Kelly.
#3 - Lisa Ramey
Brooklyn resident Lisa Ramey hits the stage next performing "Beautiful Trauma" by Pink. She was hoping to grab a spot on Jennifer or Blake's team but didn't manage to turn any chairs.
#4 - Katrina Cain
This soon-to-be bride performed "Rhiannon" by Fleetwood Mac and soon caught the attention of both Kelly and Adam, but unfortunately neither could add her to the team. By the end of her song, she managed to catch the attention of Jennifer and Blake who both chimed in at the same time. Katrina chose Team Blake.
#5 - Matt Johnson
This young singer was heavily pursuing a musical career until his mother got a cancer diagnosis. He has been spending his time caring for her but has made time to audition for the Voice. He has been auditioning since Season 1 and hopes this year will finally be his time. Johnson performed "Never Too Much" by Luther Vandross. His voice is smooth and silky and Jennifer seems to be digging it but doesn't press her button until about midway through when Johnson belts some big notes making him the final member of Team Jennifer.
The Voice Season 15 Battles 1 Recap and Results: Who Made it to the Knockouts?
Battle #1: Sandy Redd vs Cody Ray Raymond
Kelly teamed these two up to perform "Cry to Me" by Solomon Burke. These singers are soulful powerhouses and with the mentorship of Kelly and Thomas Rhett, this performance will be one worth listening to.
Cody Ray comes on to the stage strong and you can't help but appreciate the rasp in his voice. When SandyRedd hits the stage, though, she brings with her not only an incredibly deep and sultry voice that is reminiscent of Tina Turner, she has a stage presence that draws you in as well.
Both singers are truly talented and support one another so incredibly well, this will be a hard battle to judge.
"I'm excited because I get to try to pick one of you up," says Adam.
"Individually you all are superheroes, but you're Avengers together," said Blake.
Kelly tells Cody he reminds her of Chris Stapleton but then lets SandyRedd know she's the best singer she's ever heard. It seems SandyRedd may be winning but in the end, Kelly chooses Cody Ray. SandyRedd isn't in any trouble though. As soon as the coaches can, all three press their buttons to try to steal her.
After hearing all the arguments from the judges, SandyRedd chooses Team Jennifer.
Battle #2 - Joey Green vs. Michael Lee
The second battle of the evening has Team Blake singers Joey Green and Michael Lee pitted against one another. Under the mentorship of Blake and Keith Urban, the pair work out their rendition of "A Thing Called Love" by Bonnie Raitt. Both singers performed well, but Micheal seemed to be putting more passion into his performance, which may just propel him to a win.
"Michael, your voice fills the room," said Jennifer.
"Joey, your voice is so laid back, you don't even have to think about it," said Kelly.
After some deliberation, Blake chooses Michael Lee. Unfortunately, none of the judges used a steal on Joey Green, so he'll be headed back home.
Battle #3: Colton Smith vs. Patrique Fortson
The final battle of the evening pits Team Jennifer members Colton Smith and Patrique Fortson against each other. The pair is mentored by Jennifer and pop singer Halsey. Jennifer has chosen "God Gave Me You" by Blake Shelton.
Patrique comes in with the first verse and it's smooth and beautiful. Colton enters next with his big a powerful voice and holds his own, but with Patrique's incredible range and smooth transitions across it, Colton will be hard pressed to win this battle. Both singers put on an amazing performance and it won't be surprising to see a steal follow this round no matter who wins.
"Both of you shined even brighter than ever before," said Kelly.
"It was like a battle of the dude's with the best range," said Adam.
The decision was difficult but in the end, Jennifer chose Patrique.
Luckily for Colton, Blake uses his steal to make Colton the newest member of Team Blake.
The Voice 2018 Blind Auditions 1-6 Recap: Who Made it Onto the Teams so Far?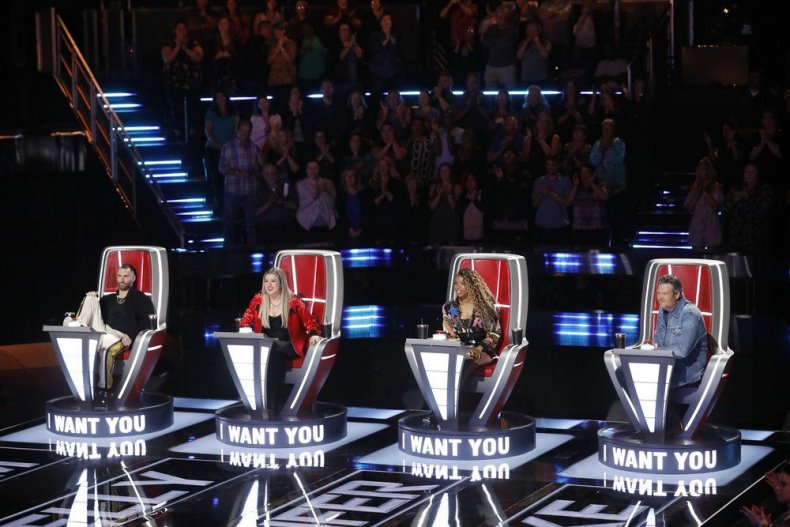 Team Kelly
Sarah Grace - 15-year-old blues singer from Houston. Sang "Ball & Chain" by Janis Joplin.
Mikele Buck – 39-year-old Iraq War veteran from Virginia. Buck performed "She Used to Be Mine" by Brooks and Dunn.
Clare DeJean – 17-year-old singer from Dallas. DeJean performed "Hurt Somebody" by Noah Kalan and Julia Michaels.
Chevel Shepherd - 16-year-old from New Mexico. Performed "If I Die Young" by The Band Perry.
Delaney Silvernell – 21-year old from Los Angeles. Performed "In My Blood" by Shawn Mendez.
Kymberli Joye – 26-year-old from Connecticut. Performed "Run to You" by Whitney Houston.
One Up — Duo from New York. Sang "Could It Be I'm Falling in Love" by The Spinners.
Erika Zade — 20-year-old Miami native, Erika Zade comes from a family of Latin musicians. She is a student at Berkeley College of Music. She performed Dua Lipa's "New Rules."
Cody Ray Raymond — Seattle native and former Military member. Raymond performed "Born Under a Bad Sign," by Albert King.
Abby Cates — 17-year-old Cincinnati native dove into music after a horseback riding accident that almost left her paralyzed. Cates performed "Scars to Your Beautiful" by Alessia Cara.
Team Adam
Tyke James – 17-year-old singer from Laie, Hawaii. Tyke sings "Perfect" by Ed Sheeran.
Radha – 19-year-old singer from New Jersey. Performed "Mama Knows Best" by Jessie J.
DeAndre Nico – 22-year-old singer from Port Arthur, Texas. Nico performed "When I Was Your Man" by Bruno Mars.
Steve Memmolo — 35-year-old Boston resident. Performed "Spooky" by Classic IV.
Anthony Arya – 16-year-old from Santa Cruz. Performed "Danny's Song" by Loggins and Messina
Reagan Strange - 13-year-old soul/pop singer from Memphis, Tennessee. Performed "Meant To Be" by BeBe Rexha.
Foushee - New York City resident sings full-time at a cafe frequented by stars like Jimmy Hendrix and Bob Dylan. Foushee performed "Red Bone" by Childish Gambino.
Sandy Redd — 35-year-old Chicago native performed "River" by Bishop Briggs. She manages to turn all four chairs.
Natalie Brady - Rock singer and single mother. Performed "Barracuda" by Heart.
Jarred Matthew - 31-year-old Astrophysicists from San Diego. Performed Al Green's "Tired of Being Alone."
Jake Wells - 23-year-old Missouri native has been singing practically his whole life with a seven-piece family gospel band. He performed Ryan Adams' "When the Stars Go Blue."
Funsho — Nigerian singer who came to America as a child. His parents wanted a better future for Funsho and his siblings. Funsho performed "Finesse" by Bruno Mars.
Team Blake
Mercedes Ferreira-Dias – 17-year-old singer from Florida, Mercedes auditioned last year but didn't get a chair turn. This year she performed "She Used to Be Mine" by Sara Bareilles.
Kameron Marlowe – 21-year-old country singer from North Carolina. Marlowe sang "One Number Away" by Luke Combs.
Keith Paluso – 30-year-old blues and country singer from Memphis. Paluso performed "Way Down We Go" by Kaleo.
Michael Lee – 30-year-old blues singer from Fort Worth, Texas. Lee performs "The Thrill is Gone" by BB King.
Dave Fenley — 39-year-old Nashville resident. Performed "Help Me Hold On" by Travis Tritt.
Rachel Messer — 19-year-old from a "little holler" in West Virginia. This yodeling princess performed "I Want to Be A Cowboy's Sweetheart" by Patsy Montana.
Chris Croeze — 27-year-old country/rock singer from Wisconsin, Croeze is part of a traveling band that frequently performs for military members overseas. The singer performed "Pride and Joy" by Stevie Ray Vaughan.
Joey Green — 35-year-old pock rock singer who runs a T-shirt screen printing business. Green performs "Baba O'Riley" by The Who.
Kayley Hill — 29-year-old Nashville singer. Performs "Gold Dust Woman" by Fleetwood Mac.
Kirk Jay — Alabama singer who is "country till the day he dies" loves the genre because, to him, the first time he heard country music, it just "felt good." Jay performs "God Bless the Broken Road" by Rascal Flatts and manages to turn every chair.
Caeland Garner — 31-year-old country singer from North Carolina and an acquaintance of Red Marlow from Season 13. He performs "Dancing in the Moonlight" by King Harvest.
Team Jennifer
Tyshawn Colquitt - 23-year old soulful R&B singer from Cincinnati . Colquitt sang " Like I Can" by Sam Smith.
Patrique Fortson – 38-year-old singer from Atlanta. He performed "Get Here" by Oleta Adams.
Kennedy Holmes – There has been plenty of buzz surrounding this 13-year-old singer, with some pegging her as a possible winner of Season 15. Holmes sang "Turning Tables" by Adele and managed to turn all four chairs.
Franc West – 38-year-old singer from Atlanta. West performed "Sittin' on the Dock of the Bay" by Otis Redding. Just before he finished, Jennifer turns her chair and adds him to her team.
Audri Bartholomew — 10-year-old Missouri singer. Performed "Never Enough" from The Greatest Showman.
Natasia Greycloud – 29-year-old from Nashville. Greycloud performed "I'm Not The Only One" by Sam Smith.
Makenzie Thomas — 20-year-old Kentucky singer. This is her Second time auditioning for The Voice. Thomas performed "Big White Room" by Jessie James.
Mike Parker — 23-year-old Virginia native and high school football star. Performed Ne-Yo's "So Sick.
Zaxai — 29-year-old Haitian-American from Brooklyn, New York, Zaxai works in a Russian club singing in six languages. He was actually kicked in the back of the head by Kelly Clarkson by accident while working as an usher at Radio City Music Hall. He performed "Come and Get Your Love" by Redbone.
Colton Smith — 21-year-old Alabama singer, Colton Smith is hoping for a chance to work with "queen" Jennifer. Smith has great showmanship and his voice is perfectly on point as he sings "Alive" by Sia and he earns a button press from Jennifer.
Lela — 15-year-old Colombian singer from Miami, Florida. Lela grew up listening to Latin music and wants to mix that influence with R&B to make the genre her own. She performed "Havana" by Camila Cabello.
Kelsea Ballerini Comeback Team
Ayanna Joni – 29-year-old from Yonkers, N.Y. Sang "Sorry Not Sorry" by Demi Lovato.
Ele Ivory – 20-year-old singer from Nashville, Tenn. Ivory performed "Jump" By Julia Michaels.
Lynnea Moorer - 18-year-old from Monterey, Calif.. Performed "Location" by Khalid.
Wyatt Rivers - 22-year-old is at Duke University medical student. Performed "River" by Leon Bridges.
Sam Roberts — This 21-year-old singer from Portsmouth, NH. Performed "Time in a Bottle" by Jim Croce.
Madison Cain - 24-year-old from California. She performed "You Oughta Know" by Alanis Morissette.
When Does The Voice Air Next? Start Time and Channel
The Voice airs every Monday and Tuesday evening at 8 p.m. EDT. The show will return Tuesday, Oct. 16. You can watch it live on NBC, or catch up the day after it airs via Hulu or NBC.com.