'The Voice' Season 15 Blind Auditions 3 Recap & Results: Who Made the Teams so Far?
"The Voice" Season 15 Blind Auditions night 3 airs Monday evening. Check out our recap and results including who made it onto a team, here.
The Voice Season 15 returns Monday night for the third round of blind auditions. During the show, performers from across the United States will sing for the judges in hopes of turning a few chairs. Last week, nearly 20 singers performed, with 14 making it onto one of four teams.
This year, the show has added an additional opportunity for singers to make it onto one of the teams: a digital companion series called the "Comeback Stage," featuring country music star Kelsea Ballerini as coach. During the Blind Auditions, Ballerini can "save" up to six singers for her comeback team. Artists will be mentored by Ballerini for a series of Battle Rounds. Ballerini will choose two winners to perform live on the main show for America's votes. Fans of the show can follow these comeback artist's progress via a variety of digital media sources such as the official The Voice app, YouTube and Facebook.
Once tonight's show kicks off, we'll be doing a live recap of the results. In the meantime, if you missed the first two blind auditions, you can check out the singers and teams so far below.
The Voice Season 15 Blind Auditions 3 Recap and Results: Who Made it to the Next Round?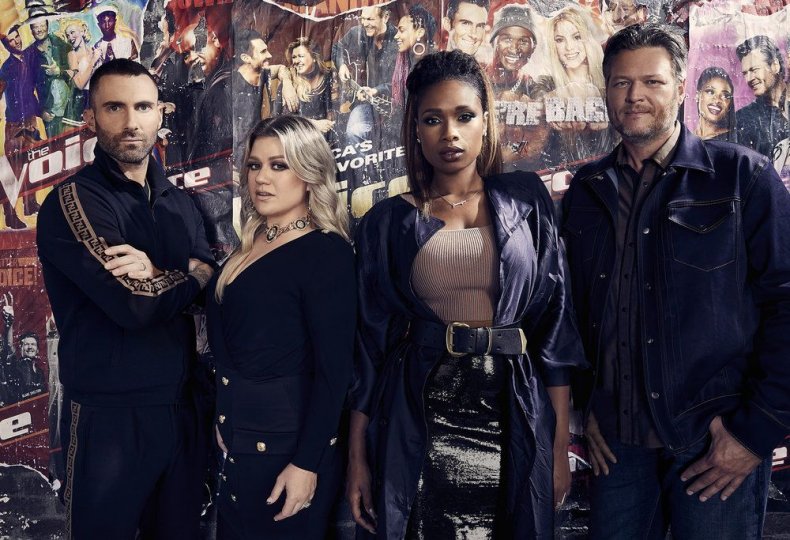 #1 - Dave Fenely
The first singer of the evening is Dave Fenely from Tenessee. He's a country artist and sang "Help Me Hold On," by Travis Tritt. Both Blake and Kelly buzzed in on him but in the end, Dave goes with Team Blake.
#2 - Steve Memmolo
Next up is Boston native Steve Memmolo. Memmolo performed Classic IV's "Spooky," which got the attention of both Coaches Adam and Jennifer. Steve chose Team Adam for his time on the show.
#3 - Audri Bartholomew
Missouri resident Audri Bartholomew performed "Never Enough" from The Greatest Showman. Her voice is beautiful and clear and she has the female judges singing along with her. The performance is emotional, but it wasn't until she hit her big note at the end that Jennifer finally hit her buzzer. In the end, in typical Jennifer style, she jumps on stage to sing with her new protege and welcome her to Team Jennifer.
#4 - Rachel Messer
West Virginia native, Rachel Messer comes from a strong musical background with both father and grandfather playing and singing bluegrass music with her from the time she was very young. Messer performs the classic country western tune, "I Want to be a Cowboy's Sweetheart" by Patsy Montana. Messer has a perfect voice for country western music and her ability to yodel is pretty incredible. it's only a matter of seconds before Kelly turns her chair. Predictably, Blake waits till the song in nearly finished to hit his button. Blake appeals to Messer's country roots, but Kelly puts up a hard fight for her as well. In the end, Messer chooses Team Blake.
#5 - Brent Morgan
Morgan comes to the stage as a producer and vocalist performer to singing over live streams but admits that a live audience could be challenging for him. He performs "Feel It Still" by Portugal. The Man. He put a bit more of a rock slant on the song. The performance was good but came off a little boring. Unfortunately, he didn't turn any chairs but all the coaches felt he had a cool vibe with plenty of potential.
"The vocal was cool and flawless but we needed something to make it jump out ... a little more texture," said Adam.
#6 - Chevel Shepherd
16-year-old Chevel Shepherd comes to The Voice from New Mexico. The 4'10" singer performed "If I Die Young" by The Band Perry. Shepherd admits if Blake turns his chair she'll go nuts. Shepherd has a lovely country music voice. Kelly whispers to Blake that she reminds her of Dolly Parton and then hits her button. Blake, of course, is not too far on Kelly's heels. The beauty and maturity of Shepherd's voice even earns her a chair turn from Jennifer. Kelly appeals to Shepherd's youth and gives her a little coaching on stage. Shepherd seems to be leaning toward Blake but the commercial break cuts off her decision. In the end, she chooses Team Kelly!
#6 - Bryan Cherry
30-year-old Virginia resident, Bryan Cherry, hit the stage with Sam Cooke's song "Nothing Can Change This Love. He sings a nice rendition of the song but it lacks the excitement the coaches are after and in the end, no chairs are turned.
"It felt like it kind of lost its weight towards the end," said Jennifer.
#7 - Delaney Silvernell
LA resident, Delaney Silvernell, and her family moved to California to help Delaney build her career as a singer. Her voice is big and fabulous as she belts into "It Isn't In My Blood" by Shawn Mendez and Kelly turns around quickly. She is the only coach who responds and so Delaney makes the second girl to join Team Kelly tonight.
#8 - Anthony Arya
Santa Cruz singer Ayra is only 15 years old, but his smooth tone and cool demeanor on the stage set him up to be a leading competitor this season. Arya performs "Danny's Song" by Loggins and Messina and Adam turns within the first few seconds. Arya was hoping to get Team Adam and so it was a match made in heaven.
#9 - Natasia Greycloud
29-year-old Nashville, Tennesee performs Sam Smith's, "I Know I'm Not The Only One." Greycloud has the kind of big voice we'd expect Jennifer and Kelly would go for. It was clear the coaches were listening to see what Greycloud had. When she hit a big note near the end, both judges turned their chairs at almost the same moment. Greycloud initially was planning to choose Kelly, but in the end, went with Team Jennifer.
#10 - Lynnea Moorer
Monterey, California native is an active YouTuber with a sizable following for her cover song performances. She sings, "Location" by Khalid. Moorer has a beautiful voice but her song choice and performance made it difficult for the judges to get a feel for who she was as an artist. Unfortunately, no chairs were turned, but the judges gave her great constructive feedback and she was chosen to join Kelsea Ballerini's Comeback Team.
#11 - Kymberli Joye
The final contestant of the evening is vibrant gospel music singer, Kymberli Joye. She performs, "I Want to Run to You," by Whitney Houston. Joye's powerful performance is spot on and both Kelly and Jennifer are both out of their chairs and ready to fight for her, with Blake tagging on as well. Kelly ends up blocking Jennifer which leaves just Kelly and Blake to vie for Joye. Team Kelly is the chair Joye was hoping to turn and so that is the team she ultimately chooses.
The Voice 2018 Blind Auditions 1-2 Recap: Who Made it Onto the Teams so Far?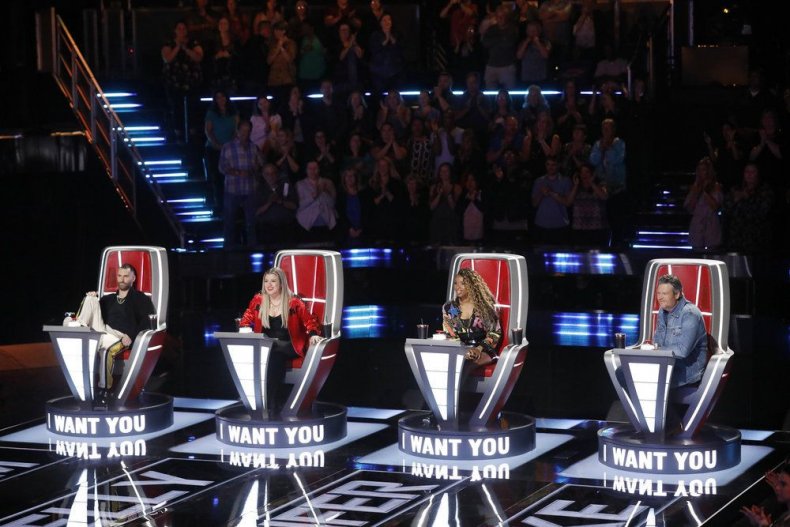 Team Kelly
Sarah Grace - 15-year-old blues singer from Houston. Sang "Ball & Chain" by Janis Joplin. She has a medical condition called synesthesia that causes her to see colors when she hears sounds. She loved the colors blues music created and so she chose that as her genre. Kelly, Jennifer and Blake turned, but Kelly was chosen.
Mikele Buck – 39-year-old Iraq War veteran from Virginia. Buck performed "She Used to Be Mine" by Brooks and Dunn. Kelly and Blake both turned. Buck is a huge Kelly Clarkson fan and chooses her.
Clare DeJean – 17-year-old singer from Dallas. DeJean performs "Hurt Somebody" by Noah Kalan and Julia Michaels. Blake and Kelly both turned but DeJean chose Kelly.
Team Adam
Tyke James – 17-year-old singer from Laie, Hawaii. Tyke sings "Perfect" by Ed Sheeran. Adam was the only judge to turn his seat.
Radha – 19-year-old singer from New Jersey. Performed "Mama Knows Best" by Jessie J. Adam, Jennifer and Blake turned, but Jennifer was blocked by Adam, landing Radha on his team.
DeAndre Nico – 22-year-old singer from Port Arthur, Texas. Nico performed "When I Was Your Man" by Bruno Mars. Nico turned all four chairs. He chose Adam, who was first to turn.
Team Blake
Mercedes Ferreira-Dias – 17-year-old singer from Florida, Mercedes auditioned last year but didn't get a chair turn. This year she performed "She Used to Be Mine" by Sara Bareilles. Kelly and Blake turned their chairs but Mercedes goes with Blake.
Kameron Marlowe – 21-year-old country singer from North Carolina. Marlowe sang "One Number Away" by Luke Combs. Kelly and Blake turned. Kameron is a huge fan of Blake Shelton and chose him.
Keith Paluso – 30-year-old blues and country singer from Memphis. Paulso performed "Way Down We Go" by Kaleo. Blake and Adam turned, but Adam is blocked by Blake.
Michael Lee – 30-year-old blues singer from Fort Worth, Texas. Lee performs "The Thrill is Gone" by BB King. Adam, Jennifer and Blake turned, but Lee went with Blake.
Team Jennifer
Tyshawn Colquitt - 23-year old soulful R&B singer from Cincinnati who runs a cake business with his mother. Colquitt sang " Like I Can" by Sam Smith. Jennifer and Blake turned their chairs. Tyshawn chose Jennifer.
Patrique Fortson – 38-year-old singer from Atlanta. Fortson started singing at the age of four. He performed "Get Here" by Oleta Adams. Jennifer and Adam turned their chairs. Fortson chose Jennifer.
Kennedy Holmes – There has been plenty of buzz surrounding this 13-year-old singer, with some pegging her as a possible winner of Season 15. Holmes sang "Turning Tables" by Adele and managed to turn all four chairs. In the end, she chose Jennifer.
Franc West – 38-year-old singer from Atlanta. West performed "Sittin' on the Dock of the Bay" by Otis Redding. Just before he finishes, Jennifer turns her chair and adds him to her team.
Kelsea Ballerini Comeback Team
Ayanna Joni – 29-year-old from Yonkers, N. Y Sang "Sorry Not Sorry" by Demi Lovato.
Ele Ivory – 20-year-old singer from Nashville, Tenn. Ivory performed "Jump" By Julia Michaels.
When Does The Voice Air Next? Start Time and Channel
The Voice airs every Monday and Tuesday evening at 8 p.m. EDT. The show will return Wednesday, Oct. 2. You can watch it live on NBC, or catch up the day after it airs via Hulu or NBC.com.