'The Voice' Season 15 Blind Auditions 4 Recap: Who Made the Teams so Far?
The Voice" Blind Auditions night 4 airs Tuesday evening. Check out our recap and results, including who made it onto a team, here.
The fourth round of The Voice Season 15 Blind Auditions kicks off Tuesday night at 8 p.m. EDT. Last night, 12 new contestants auditioned, with nine securing team spots and one earning a second chance via Kelsea Ballerini's Comeback Team. Blind auditions will continue this evening as more singers vie for a coveted spot on one of the four judges' teams.
Once tonight's show kicks off, we'll be doing a live recap of the results. In the meantime, if you missed the previous blind auditions, you can check out our the singers and teams so far below. You can also check out our recap along with video clips of last night's winning performances, here.
The Voice Season 15 Blind Auditions 4 Recap and Results: Who Made it to the Next Round?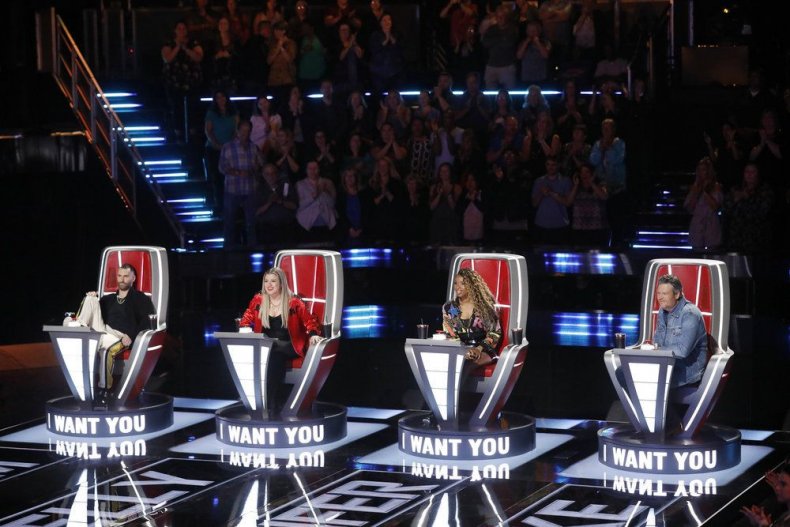 #1 - Reagan Strange
This 13-year-old soul/pop singer from Memphis, Tennessee first sang the national anthem at a Grizzlies game. She hopes to get Blake to turn around. She sings performs "Meant To Be" by BeBe Rexha. Adam turns early in the song and Blake follows towards the end. She has a solid voice for her age and hits some nice high notes towards the end.
There was an effortlessness to your power and precision … you can go all the way, I believe it," said Adam.
It looked close but in the end, she chose Team Adam!
#2 - Foushee
New York City girl Foushee is a full-time singer at a cafe frequented by stars like Jimmy Hendrix and Bob Dylan. Her inspiration is her mother who used to be part of a Jamaican Band. Foushee performs "Red Bone" by Childish Gambino. She has this incredibly cool kind of soul/jazz/pop thing going. The judges seem to be really struggling to decide what they think, but finally, Jennifer turns around. When Foushee hits this unbelievably high note Adam buzzes in as well.
"The thing I love about you is I couldn't figure you out … it's like you're from outer space."
Both Jennifer and Adam really wanted to snag her but in the end, she chooses Team Adam — he's on a roll.
#3 - Wyatt Rivers
22-year-old Wyatt Rivers is at Duke University as a medical student. He started singing as an adult but loves it. He performs "River" by Leon Bridges. Has a kind of a raspy tone that could go county or indie rock maybe. He has a quality sound but it seems like the judges are waiting to hear his range. The song choice doesn't seem to showcase what he may be capable of and in the end, no chairs are turned. The coaches gave him great feedback on what to work on and encouraged him to come back. He was chosen for the Comeback Team so maybe we'll see him again.
#4 - Chris Croeze
This 27-year old country/rock singer from Wisconsin is part of a traveling band that frequently performs for military members overseas. He hits the stage with guitar in hand and performs "Pride and Joy" by Stevie Ray Vaughan. Chris' voice is amazing and the song choice is perfect to showcase his ability to straddle country and rock. He's also a talented guitarist. He gets chair turns from Blake and Jennifer early on.
"You almost caught one of my shoes up there singing like that," said Jennifer.
"Your singing is electrifying … you can make it to the finals on here," said Blake.
Jennifer put in a strong bid, but Chris ended up choosing Team Blake.
#5 - Makenzie Thomas
This is the 20-year-old Kentucky singer's second time auditioning for The Voice. She's been singing with a Gospel group to help her become used to performing and deal with her nerves which got to her at her last audition. She performs "Big White Room" by Jessie James. From almost her first note you could see both Jennifer and Kelly were loving her beautiful voice. She showcases her range nicely and Jennifer finally can't take it any longer and hits her button. The judges compliment her on her improvement
"It was just beautiful and effortless … that's JHud material right there," said Jennifer.
Thomas makes the seventh singer to join Team Jennifer.
#6 - Sandy Redd
This 35-year-old Chicago native's audition has been teased throughout the evening and so it's likely a four-chair turner. Sandy has a large family of seven brothers. She and her siblings sang backup for their mother from the time they were young. She became a mother very young and had to forgo her musical aspirations early on. When her mother passed away she decided to take her music seriously.
She performs "River" by Bishop Briggs and her voice is out of this world. She hit low notes that were reminiscent of Toni Braxton, but then when she got into the meat of the song she nailed every note, belting like a queen. All the judges were bowled over. It seemed like everyone expected her to go to Jennifer, but in the end she chose Team Kelly.
The Voice 2018 Blind Auditions 1-3 Recap: Who Made it Onto the Teams so Far?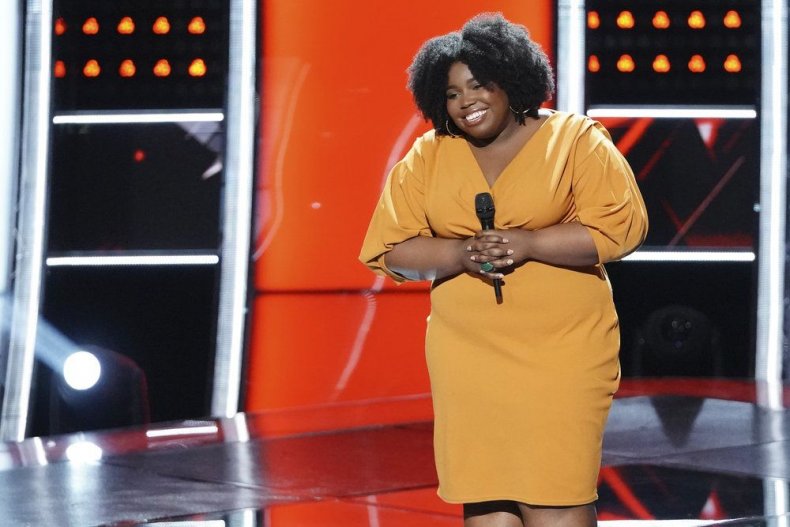 Team Kelly
Sarah Grace - 15-year-old blues singer from Houston. Sang "Ball & Chain" by Janis Joplin.
Mikele Buck – 39-year-old Iraq War veteran from Virginia. Buck performed "She Used to Be Mine" by Brooks and Dunn.
Clare DeJean – 17-year-old singer from Dallas. DeJean performed "Hurt Somebody" by Noah Kalan and Julia Michaels.
Chevel Shepherd - 16-year-old from New Mexico. Performed "If I Die Young" by The Band Perry.
Delaney Silvernell – 21-year old from Los Angeles. Performed "In My Blood" by Shawn Mendez.
Kymberli Joye – 26-year-old from Connecticut. Performed "Run to You" by Whitney Houston.
Team Adam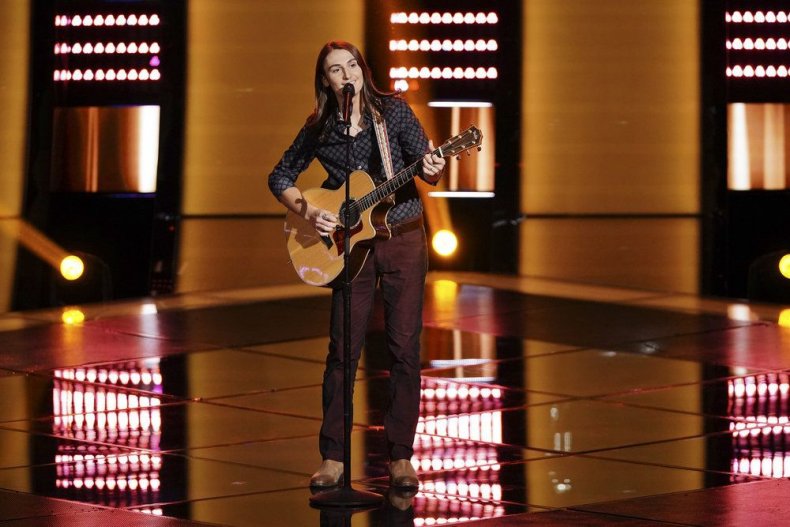 Tyke James – 17-year-old singer from Laie, Hawaii. Tyke sings "Perfect" by Ed Sheeran.
Radha – 19-year-old singer from New Jersey. Performed "Mama Knows Best" by Jessie J.
DeAndre Nico – 22-year-old singer from Port Arthur, Texas. Nico performed "When I Was Your Man" by Bruno Mars.
Steve Memmolo — 35-year-old Boston resident. Performed "Spooky" by Classic IV.
Anthony Arya – 16-year-old from Santa Cruz. Performed "Danny's Song" by Loggins and Messina
Team Blake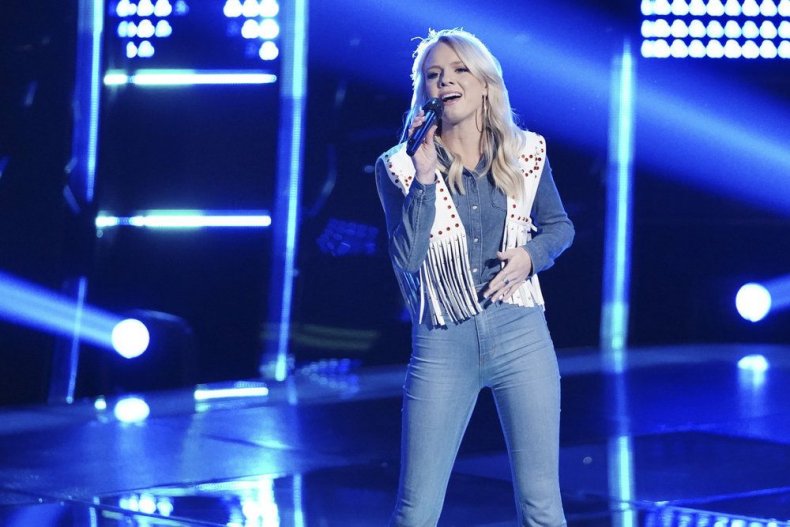 Mercedes Ferreira-Dias – 17-year-old singer from Florida, Mercedes auditioned last year but didn't get a chair turn. This year she performed "She Used to Be Mine" by Sara Bareilles.
Kameron Marlowe – 21-year-old country singer from North Carolina. Marlowe sang "One Number Away" by Luke Combs.
Keith Paluso – 30-year-old blues and country singer from Memphis. Paulso performed "Way Down We Go" by Kaleo.
Michael Lee – 30-year-old blues singer from Fort Worth, Texas. Lee performs "The Thrill is Gone" by BB King.
Dave Fenley — 39-year-old Nashville resident. Performed "Help Me Hold On" by Travis Tritt.
Rachel Messer — 19-year-old from a "little holler" in West Virginia. This yodeling princess performed "I Want to Be A Cowboy's Sweetheart" by Patsy Montana.
Team Jennifer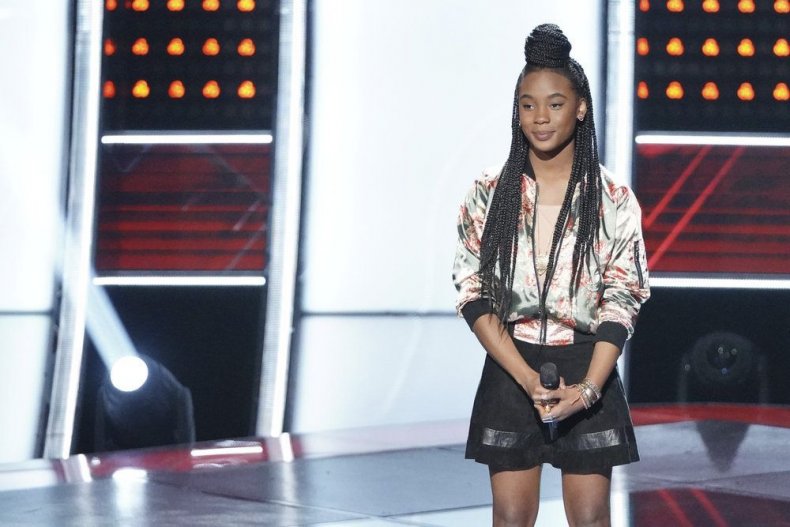 Tyshawn Colquitt - 23-year old soulful R&B singer from Cincinnati. Colquitt sang " Like I Can" by Sam Smith.
Patrique Fortson – 38-year-old singer from Atlanta. He performed "Get Here" by Oleta Adams.
Kennedy Holmes – There has been plenty of buzz surrounding this 13-year-old singer, with some pegging her as a possible winner of Season 15. Holmes sang "Turning Tables" by Adele and managed to turn all four chairs.
Franc West – 38-year-old singer from Atlanta. West performed "Sittin' on the Dock of the Bay" by Otis Redding. Just before he finished, Jennifer turns her chair and adds him to her team.
Audri Bartholomew — 10-year-old Missouri singer. Performed "Never Enough" from The Greatest Showman.
Natasia Greycloud – 29-year-old from Nashville. Performed "I'm Not The Only One" by Sam Smith.
Kelsea Ballerini Comeback Team
Ayanna Joni – 29-year-old from Yonkers, N.Y. Sang "Sorry Not Sorry" by Demi Lovato.
Ele Ivory – 20-year-old singer from Nashville, Tenn. Ivory performed "Jump" By Julia Michaels.
Lynnea Moorer - 18-year-old from Monterey, Calif.. Performed "Location" by Khalid.
When Does The Voice Air Next? Start Time and Channel
The Voice airs every Monday and Tuesday evening at 8 p.m. EDT. The show will return Monday, Oct. 8. You can watch it live on NBC, or catch up the day after it airs via Hulu or NBC.com.