'The Voice' Season 15 Blind Auditions 5 Recap: Who Made the Teams so Far?
"The Voice" Blind Auditions night 5 kicks off Monday evening. Check out our recap and results, including who made it onto a team, here.
The final week of The Voice Season 15 Blind Auditions has arrived as round five kicks off Monday night at 8 p.m. EDT. So far 28 contestants have secured spots on one of the four main teams, while four additional singers have earned a second chance on the show via Kelsea Ballerini's Comeback Team. Blind auditions will continue this evening as more singers vie for a coveted spot on one of the four judges' teams and prepare themselves for The Battles starting October 15.
Once tonight's show kicks off, we'll be doing a live recap of the results. In the meantime, if you missed the previous blind auditions, you can check out our the singers and teams so far below. You can also check out our recaps along with video clips of last week's winning performances, here.
The Voice Season 15 Blind Auditions 5 Recap and Results: Who Made it to the Next Round?
#1 - One Up
The first performance of the evening is by a duo called OneUp. The pair are from New York and channel some old-time good feels as they sang "Could It Be I'm Falling in Love" by The Spinners. Blake, Jennifer and Kelly all turned their chairs but in the end, they chose Team Kelly.
#2 - Natalie Brady
Rock singer and single mother Natalie hit the stage with a vengeance, performing "Barracuda" by Heart. Her voice is so on point, it took only seconds for Adam to turn around. Near the end he is joined by Jennifer who tells Natalie "she can sang" and Kelly thinks she may have made a mistake not turning her chair around. In the end, Natalie chooses Team Adam.
#3 - Hannah Blaylock
Arkansas native Hannah Blaycock is well acquainted with singing as she's been part of a country band that performed with a number of country stars including Rascal Flatts and Blake Shelton. Blaycock performs "Baby Now That I Found You" by Allison Krauss. As soon as she starts singing it's obvious county is her genre, but the arrangement is a little strange and the judges seem unsure about whether to turn or not. Unfortunately, no chairs are turned. The judges compliment her on her performance. Blake said the only reason he didn't turn is because he already had a similar singer on his team.
#4 - Mike Parker
23-year-old Virginia native, Mike Parker was a promising young football player in high school, but due to some trouble in school, he lost his college scholarships for football. He's been working in his father's construction business but hopes he can get a new start with music. Parker hits the stage singing Ne-Yo's "So Sick." Parker has a sultry sound that could use some coaching but he puts his heart into the song and it's clear Jennifer is agonizing over whether to choose him. At nearly the final note of a pretty tremendous run, Jennifer finally pushes her button which is clearly Parker's dream come true.
"Congratulations man, I don't think I've ever been so happy from anyone," said Blake.
"He's got the tools … that's something I can work with," said Jennifer.
Parker joins seven other singers on Team Jennifer so far.
#5 - Joey Green
35-year-old pock rock singer, Joey Green has been playing music for over 15 years. When he's not performing, he's busy running his T-shirt screen printing business. Green performs "Baba O'Riley" by The Who and he has a perfect voice for this kind of song, though there were a few pitchy moments. He has a great range and rasp that could be used across a lot of different genres. At nearly the last minute Jennifer and Blake both turn around. Jennifer admits his style isn't what she typically goes for, since it's not "in her lane" but that his voice "deserves to be on this stage." It looked like he might go to Team Jennifer, but in the end, he picked Team Blake.
#6 - Zaxai
29-year-old Haitian-American Zaxai lives in Brooklyn, New York as a first generation American. Zaxai works in a Russian club singing in six languages. He was actually kicked in the back of the head by Kelly Clarkson by accident while working as an usher at Radio City Music Hall. Zaxai sings "Come and Get Your Love" by Redbone and his voice is dreamy and soulful. His range is incredible and Jennifer and Kelly immediately turn for him, but Jennifer uses her block to freeze Kelly out, making Zaxai the latest singer to join Team Jennifer.
#7 - Erika Zade
Miami native, Erika Zade comes from a family of Latin musicians. The 20-year-old's father is a classical guitarist and Zade sings with him often. She is a student at Berkeley College of Music. She describes herself as a Dark Pop/R&B singer. Zade hits the stage, performing Dua Lipa's "New Rules." She has a very unique voice and a deep register that's well suited to the song and by the chorus, she has Kelly's vote. Her style is very unique and is sure to set her apart in the competition.
"You have an incredible voice and it's very modern," said Adam.
"You've got depth, range, and attitude … you've got a great instrument," said Jennifer.
Zade makes the seventh singer to join Team Kelly.
#8 - Jarred Matthew
31-year-old Astrophysicists from San Diego, Matthew has been a musician most of his life. He met his wife in band class at age 12 and music has been something that's gotten him through some difficult times. Matthew performed Al Green's "Tired of Being Alone," and his voice is doing the song justice. He has a smooth-as-silk sound and a nice range. He gets a quick turn from Adam, followed by Blake. Adam is a huge fan of Matthew and lets him know he can help him perfect his falsetto. Blake doesn't' put up much of a fight, so it's not surprising Matthew becomes the latest member of Team Adam.
#9 - Sam Roberts
This 21-year-old singer from Portsmouth, NH grew up wanting to be a punk rock drummer, but over time, he learned the guitar and his dad helped him develop a love for classic rock and folk music. Roberts performs "Time in a Bottle" by Jim Croce. Roberts has mad guitar skills. He has a nice tone to his voice, but the song choice may be his downfall because the song doesn't give him a chance to show off his range and in the end, no chairs were turned. The judges gave Roberts some really good points on ways to improve his performance and asked him to return the next year. Roberts time may not be over though, because he was chosen to join the Comeback Team.
#10 - Colton Smith
21-year-old Alabama singer, Colton Smith is hoping for a chance to work with "queen" Jennifer. Smith has great showmanship and his voice is perfectly on point as he sings "Alive" by Sia and he earns a button press from Jennifer. He will be an excellent contender.
"You gave me life from your voice alone," said Jennifer.
Smith is the third singer to join Team Jennifer this evening.
#11 Kayley Hill
This 29-year-old Nashville singer who loves to build things in her spare time. Hill performs
"Gold Dust Woman" by Fleetwood Mac and son joins Team Blake.
#12 - Kirk Jay
Alabama singer, Kirk Jay loves country music because, to him, the first time he heard it it just "felt good." Jay and his family are hard working but have lived in poverty and struggled throughout his life. He hopes to see better days ahead with a career in music. Jay performs "God Bless the Broken Road" by Rascal Flatts and within the first few notes it became clear this was gonna be a four chair turner. Jay has so much heart and such a beautiful voice for country music but any genre really. By the time his performance ends, he's managed to turn all four chairs.
"This performance was like Cee-Lo and Blake had a baby," said Adam.
"Your voice has this big soulful presence," said Kelly.
Kelly put up a killer fight for him, but in the end Jay goes Team Blake.
The Voice 2018 Blind Auditions 1-4 Recap: Who Made it Onto the Teams so Far?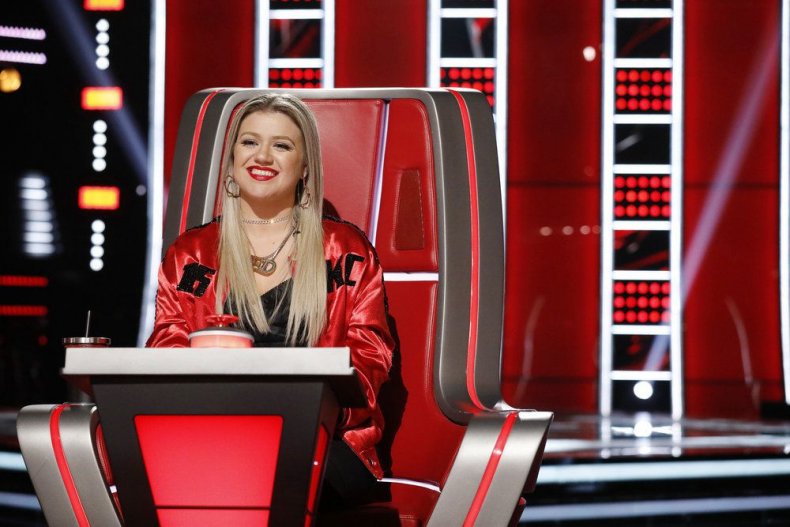 Team Kelly
Sarah Grace - 15-year-old blues singer from Houston. Sang "Ball & Chain" by Janis Joplin.
Mikele Buck – 39-year-old Iraq War veteran from Virginia. Buck performed "She Used to Be Mine" by Brooks and Dunn.
Clare DeJean – 17-year-old singer from Dallas. DeJean performed "Hurt Somebody" by Noah Kalan and Julia Michaels.
Chevel Shepherd - 16-year-old from New Mexico. Performed "If I Die Young" by The Band Perry.
Delaney Silvernell – 21-year old from Los Angeles. Performed "In My Blood" by Shawn Mendez.
Kymberli Joye – 26-year-old from Connecticut. Performed "Run to You" by Whitney Houston.
Team Adam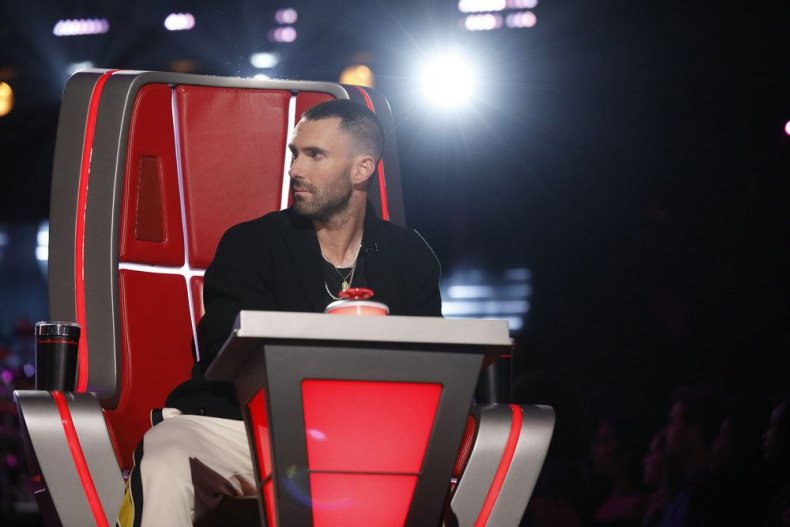 Tyke James – 17-year-old singer from Laie, Hawaii. Tyke sings "Perfect" by Ed Sheeran.
Radha – 19-year-old singer from New Jersey. Performed "Mama Knows Best" by Jessie J.
DeAndre Nico – 22-year-old singer from Port Arthur, Texas. Nico performed "When I Was Your Man" by Bruno Mars.
Steve Memmolo — 35-year-old Boston resident. Performed "Spooky" by Classic IV.
Anthony Arya – 16-year-old from Santa Cruz. Performed "Danny's Song" by Loggins and Messina
Reagan Strange - 13-year-old soul/pop singer from Memphis, Tennessee. Performed "Meant To Be" by BeBe Rexha.
Foushee - New York City resident sings full-time at a cafe frequented by stars like Jimmy Hendrix and Bob Dylan. Foushee performed "Red Bone" by Childish Gambino.
Sandy Redd — 35-year-old Chicago native performed "River" by Bishop Briggs. She manages to turn all four chairs.
Team Blake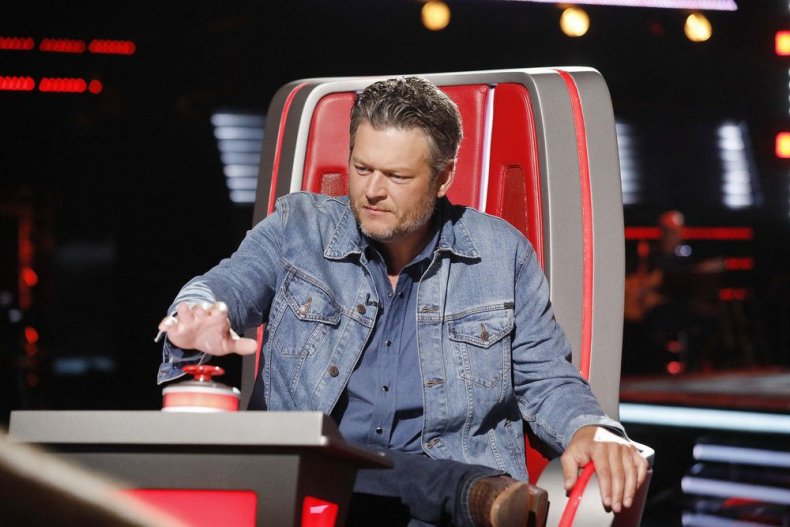 Mercedes Ferreira-Dias – 17-year-old singer from Florida, Mercedes auditioned last year but didn't get a chair turn. This year she performed "She Used to Be Mine" by Sara Bareilles.
Kameron Marlowe – 21-year-old country singer from North Carolina. Marlowe sang "One Number Away" by Luke Combs.
Keith Paluso – 30-year-old blues and country singer from Memphis. Paluso performed "Way Down We Go" by Kaleo.
Michael Lee – 30-year-old blues singer from Fort Worth, Texas. Lee performs "The Thrill is Gone" by BB King.
Dave Fenley — 39-year-old Nashville resident. Performed "Help Me Hold On" by Travis Tritt.
Rachel Messer — 19-year-old from a "little holler" in West Virginia. This yodeling princess performed "I Want to Be A Cowboy's Sweetheart" by Patsy Montana.
Chris Croeze — 27-year-old country/rock singer from Wisconsin, Croeze is part of a traveling band that frequently performs for military members overseas. The singer performed "Pride and Joy" by Stevie Ray Vaughan.
Team Jennifer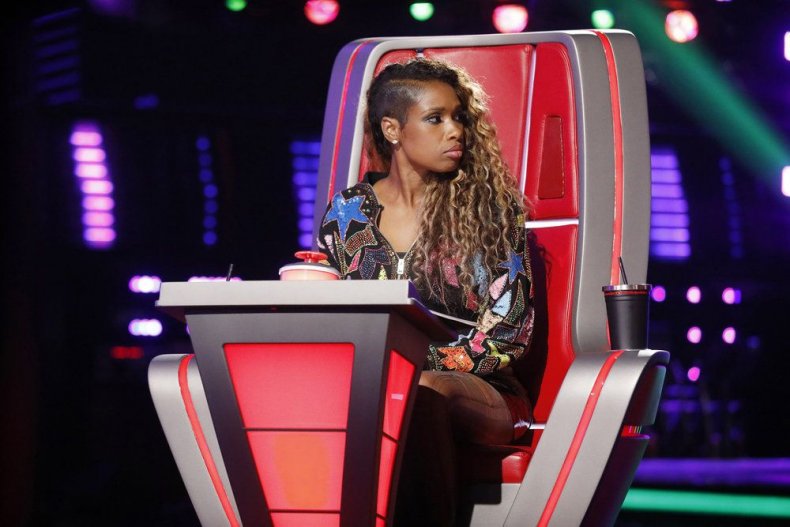 Tyshawn Colquitt - 23-year old soulful R&B singer from Cincinnati. Colquitt sang " Like I Can" by Sam Smith.
Patrique Fortson – 38-year-old singer from Atlanta. He performed "Get Here" by Oleta Adams.
Kennedy Holmes – There has been plenty of buzz surrounding this 13-year-old singer, with some pegging her as a possible winner of Season 15. Holmes sang "Turning Tables" by Adele and managed to turn all four chairs.
Franc West – 38-year-old singer from Atlanta. West performed "Sittin' on the Dock of the Bay" by Otis Redding. Just before he finished, Jennifer turns her chair and adds him to her team.
Audri Bartholomew — 10-year-old Missouri singer. Performed "Never Enough" from The Greatest Showman.
Natasia Greycloud – 29-year-old from Nashville. Greycloud performed "I'm Not The Only One" by Sam Smith.
Makenzie Thomas — 20-year-old Kentucky singer. This is her Second time auditioning for The Voice. Thomas performed "Big White Room" by Jessie James.
Kelsea Ballerini Comeback Team
Ayanna Joni – 29-year-old from Yonkers, N.Y. Sang "Sorry Not Sorry" by Demi Lovato.
Ele Ivory – 20-year-old singer from Nashville, Tenn. Ivory performed "Jump" By Julia Michaels.
Lynnea Moorer - 18-year-old from Monterey, Calif. Performed "Location" by Khalid.
Wyatt Rivers - 22-year-old is at Duke University medical student. Performed "River" by Leon Bridges.
When Does The Voice Air Next? Start Time and Channel
The Voice airs every Monday and Tuesday evening at 8 p.m. EDT. The show will return Monday, Oct. 8. You can watch it live on NBC, or catch up the day after it airs via Hulu or NBC.com.