'The Voice' 2018 Top 10 Performances & Predictions: Who Will Be Saved?
The Voice is set to showcase its Top 10 contestants on Monday during Season 15, episode 21. Here's everything there is to know about Monday's performances and who could be up for elimination Tuesday.
The Voice's Season 15 announced its Top 10 contenders in last Tuesday's episode. This signifies the competition's inching closer toward the semi-finals. It also means coaches Adam Levine, Blake Shelton, Jennifer Hudson and Kelly Clarkson's teams are dwindling.
In last Tuesday's episode, Lynnea Moorer (Team Kelly) and DeAndre Nico (Team Adam) were both up for elimination. Moorer performed a rendition of Ariana Grande's "Tattooed Heart." Nico, in turn, covered "Take Me To The King" by Tamela Mann. As Nico was given an Instant Save, Moorer failed to make the cut.
To watch Monday's two-hour event, fans can tune into NBC at 8 p.m. ET. For viewers who don't have television access, the show can be streamed for free via NBC's website or its respective app by providing valid login credentials. Fans can help save their favorite singers by voting ahead of Tuesday's elimination through The Voice app and NBC's website.
Newsweek's compiled a list of what viewers can expect throughout Monday's episode. This post will feature live updates with information on the night's most important occurrences, including performance details and which singers are on the chopping block.
'The Voice' 2018 Top 10 Performances & Elimination Predictions: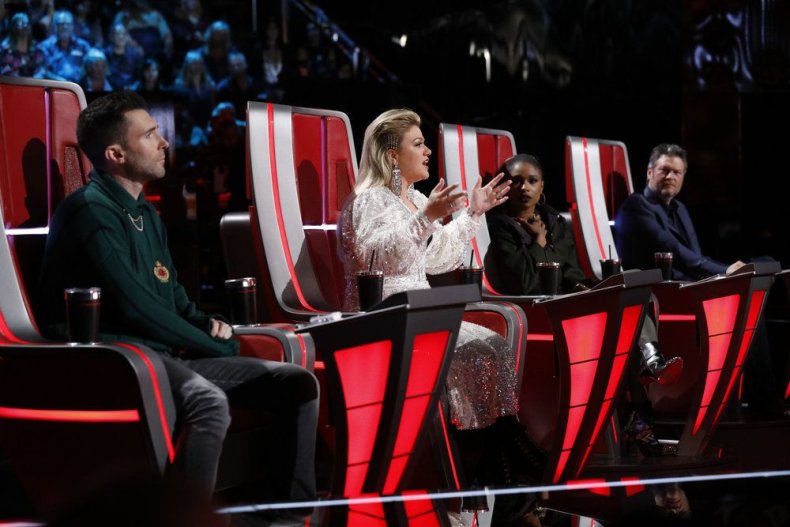 What Songs Did the Contestants Sing?
Team Adam
DeAndre Nico — "That's What I Like" by Bruno Mars
Reagan Strange — "Cry" by Faith Hill
Team Blake
Dave Fenley — "When You Say Nothing At All" by Alison Krauss and Union Station
Kirk Jay — "Tomorrow" by Chris Young
Chris Kroeze — "Callin' Baton Rouge" by Garth Brooks
Team Jennifer
Kennedy Holmes — "Me Too" by Meghan Trainor
MaKenzie Thomas — "Because You Loved Me (Theme from 'Up Close and Personal')" by Céline Dion
Team Kelly
Sarah Grace — "Amazing Grace" by Judy Collins
Kymberli Joye — "Oceans (Where Feet May Fail)" by Hillsong UNITED
Chevel Shepherd — "You're Lookin' At Country" by Loretta Lynn
Who Is Predicted to Go Home?
Since DeAndre Nico landed in the bottom two last week, it would make him an easy target in Tuesday's elimination round. If he's eliminated, he wouldn't be a participant in Season 15's semi-finals.
Who Is Predicted to Win Season 15?
As the competition moves closer toward the finish line, many fans have begun to speculate who will take home the top prize. For Season 15, Gold Derby had pegged 13-year-old Kennedy Holmes as the likely winner. Holmes is a member of Team Jennifer.
"I dance and sing a lot! And I really want to sing a song that is up-tempo and something I can dance to… I mean, when it comes to me and dancing I know I would love to do something like Beyonce. Like, most definitely," Holmes told Hollywood Life. "I think my main goal is just to perform and make everyone get up and start dancing."
'The Voice' 2018 Top 10 Performances & Predictions: Who Will Be Saved? | Culture