The Top 4 will perform Monday night duringThe Voice Season 16, episode 22. Find out everything you need to know about tonight's finale performances, plus predictions for who may be eliminated tomorrow evening.
The Voice Season 16 finale is here! Last week, the Top 4 finalists were announced. Three singers from Team Blake and one from Team Legend were voted in by America and will take the stage once again in hopes of earning the title of Season 16 champion. The finale show kicks off Monday night at 8 p.m. EDT. The show will be a two-hour event featuring performances by each of the Top 4 finalists.
How the Finale Works: How To Vote For Your Favorite Performer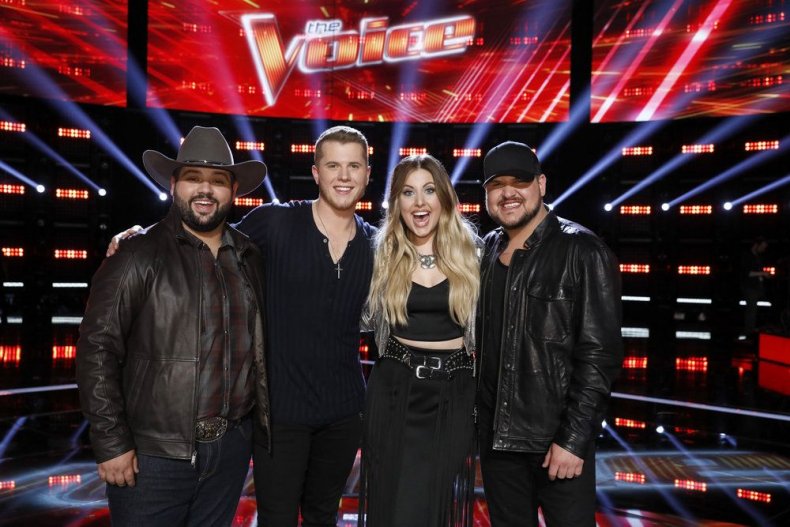 During tonight's show, each of the Top 4 finalists will be given three opportunities to show off their vocal abilities. The singers will perform one new solo cover, a special duet with their coach and an original single.
During and after the performances, fans will have the opportunity to vote for their favorite singers via the official The Voice app or online. Voting is open until 7 a.m. ET Tuesday. Once the votes have been tallied, the results will be presented towards the end of Tuesday night's elimination show. The results will be largely dependent on viewers' votes, but singers will also get extra bonus points for showings on the iTunes Top 10 list.
Below, we've put together a complete guide to Monday night's show, including live updates during and after the broadcast: what songs were performed, where to download them and predictions about who will win tomorrow night. Once the results are in Tuesday evening, we'll update this post with the name of the Season 16 winner. In the meantime, if you need to get caught up on what happened during last week's elimination show, you can check out our recap and results post, here.
'The Voice' 2019 Finale [Live Updating Blog]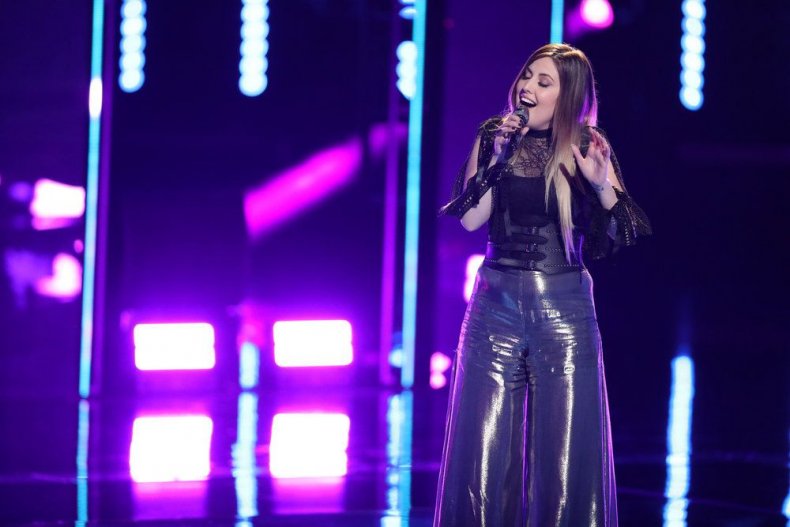 8:00 p.m. -

Maelyn Jarmon

is the first performer of the evening. She will be performing her original single called "Wait For You." You can find all the songs performed this evening, along with iTunes download links, below. The song isn't our favorite, but Maelyn does a spectacular job with it. According to the singer, the song is dedicated to her boyfriend who is missing her back home.

"Everyone in the finale is fantastic, but I believe you are the one who should be winning this thing," said Adam.

8:10 p.m. - Up next is

Andrew Sevener

, performing his coach duet with

Blake Shelton

. The two perform "All Right Now" by Free. The country rock vibe in this song is great. Andrew has a rasp that is unparalleled. He has a great stage presence and never seems out of his comfort zone.
8:20 p.m. - Next up is

Dexter Roberts,

performing Randy Houser's "Anything Goes." The song is classic country and Dexter performs it with great heart.

"This was my favorite performance of yours," said Kelly. "That song choice was really smart."
"Greatness is genreless ... you have it spades," said Adam.
"You are literally like the next George Strait up there," said Blake.

8:30 p.m. - The fourth performance of the evening brings

Gyth Rigdon

and

Blake Shelton

to the stage for their coach duet. The two will perform "Take It Easy" by The Eagles. The song is upbeat and a ton of fun to listen to. Gyth doesn't look as comfortable on stage with this one -- possibly due to the pace. There's a tricky run at the end that wasn't his strongest but, overall it was an enjoyable performance.
8:40 p.m. - The next performance of the evening is from

Andrew Sevener

. He'll be singing his original single, "Rural Route Raising." During the practice, Blake gave Andrew a surprise. He arranged for Andrew to sing with Travis Tritt at some time in the future. Andrew heads onto stage psyched and puts on a powerful performance. We don't know how the evening will round out, but of all the performers, Andrew always comes off as a professional and skilled at his craft.

"You ride this line between old country and new country … that's a killer sound for you," said Kelly.
You've really been in your zone the last few performances — great job," said John.
"I agree with John. The last two weeks, you've never sung better, great job," said Blake.

8:45 p.m. - We get a car commercial/promo performance by the final four along with last season's winner Chevelle Shepherd.
8:50 p.m. -

Maelyn Jarmon

and

John Legend

are up next with their coach duet of Nat King Cole's "Unforgettable." From the first note, this quickly became our favorite performance of the evening. This is a perfect song for these singers. A truly delightful offering.
8:58 p.m. - Right behind Maelyn,

Gyth Rigdon

takes the stage to perform his solo cover of Earl Thomas Conley's "Once in a Blue Moon." Last week wasn't Gyth's best, but this song reminded us of why he was a four-chair turn. This song was beautifully executed and showed off Gyth's strengths. We're sure Papa Rigdon is wiping away tears somewhere right now. This song definitely puts him at the top of our list for Season 16 winner. The other performers will have to step of their game big time to beat this one.

"This was a smart song selection. I love this song ... it shows you love country music," said Kelly.
That song is really challenging to sing ... congratulations," said John.
"Great job, dude. Way to honor a country music hero," said Blake.

9:10 p.m. - Next on stage is Dexter Roberts. Roberts performs his original single, "Looking Back." The song is solid, though not our favorite. The coaches, however, have high praise for Dexter.

"I love your voice ... but even more than that, I love you as a person. You are so authentic," said Kelly.
"You're really coming into your own at the perfect time," said Adam.
"I absolutely believe that you are 100 percent ready to make an album ... I think you're the most ready of everyone," said Blake.

9:20 p.m. - Andrew Sevener takes the stage for his final performance of the evening. He performs Hinder's "Lips of an Angel." This was Sevener's first non-country performance. Like Roberts, Andrew easily transitions to rock tunes. This is a really smart song choice. Rock fans will love the rendition.

"That was sooooo good. That was so great! Wow!" said Kelly.
"If I had to pick among Team Blake, I'd say Andrew is winning it," said John.
"I don't know what's happening here tonight .... you're killing it dude," said Blake.

9:35 p.m. - Next on stage are

Blake Shelton

and

Dexter Roberts

performing a coach duet. The pair perform Brooks and Dunn's "Hard Working Man."
9:45 p.m. - As the evening winds down,

Gyth Rigdon

takes the stage to perform an original single that he wrote himself. It is about his relationship with his wife. The song is titled, "Proof That I've Always Loved You." The song has a slightly rocky vibe which may go over well with audiences. The song is solid. We can actually imagine hearing this on the radio -- and hope we do!

"It's kind of like you were born to be here, right now ... All the best to you," said Adam.
"You just raised the bar," said Blake. "That was a great song. You're the total package."

9:55 p.m. - The final performance of the evening is by

Maelyn Jarmon

. She sings Leonard Cohen's "Hallelujah." Whatever we thought about her earlier performances this evening, this one was the winner. With this song, she may have sealed her spot as the Season 16 winner.

"That was insane. I don't know how it would be possible for you not to win this show," said Adam. "To sing that song the way you did ... you are like an angel from heaven."
"That was stunning ... it was your best performance yet ... you deserve to win the Voice," said John.
'The Voice' 2019 Finale Performances & Elimination Predictions: Who Will Win Season 16?
Maelyn Jarmon (Team Legend)
Prediction: Maelyn has been our favorite to win Season 16 from week one, though tonight's original single was not our favorite. She could, however, win an advantage via iTunes that may propel her to the top. She has some pretty stiff competition from Gyth and Andrew though. It's anyone's game at this point, but we're naming Maelyn as our pick for Season 16 winner.
Gyth Rigdon (Team Blake)
Prediction: Gyth was our early season pick to win, and tonight's cover solo and original single were just smashing. We think Gyth has a good chance of securing the win.
Dexter Roberts (Team Blake)
Prediction: Dexter put in some solid performances tonight but every singer was bringing their A game. Dexter is the singer we think is least likely to take home the win.
Andrew Sevener (Team Blake)
Prediction: Andrew was on fire this evening. We think he has a strong chance of coming in second or possibly even taking home the Season 16 win.
When Does The Voice Air Next?
The Voice will return Tuesday, May 21 at 9 p.m. EDT on NBC, where the Top 4 finalists will find out who won Season 16. You can watch The Voice live on NBC or via Hulu the next day.
What do you think of the Top 4 performances tonight? Who will win this season? Share your thoughts in the comments below.