'The Voice' Season 16, Episode 8 Battles Recap: Who Left, Who Got Stolen, Who's Headed To The Knockouts?
The first round The Voice 2019 Battles is here. Check out our complete live-blogged recap and results for Season 16, episode 8, here.
The Voice Season 16, episode 8 airs Monday, March 25 as the first pairs of contestants hit the stage for the Battle rounds. On Wednesday, The Voice aired a special two-hour show on highlighting the best moments from the 2019 Blind Auditions along with some sneak peeks at the battles ahead. The judges have chosen a star-studded panel of vocal powerhouses to aid them in coaching contestants. Team Adam has recruited Charlie Puth as advisor for his team, Team Blake will feature Brooks & Dunn, Team Kelly has recruited Kelsea Ballerini, and Khalid will join Team Legend.
How The Battles Work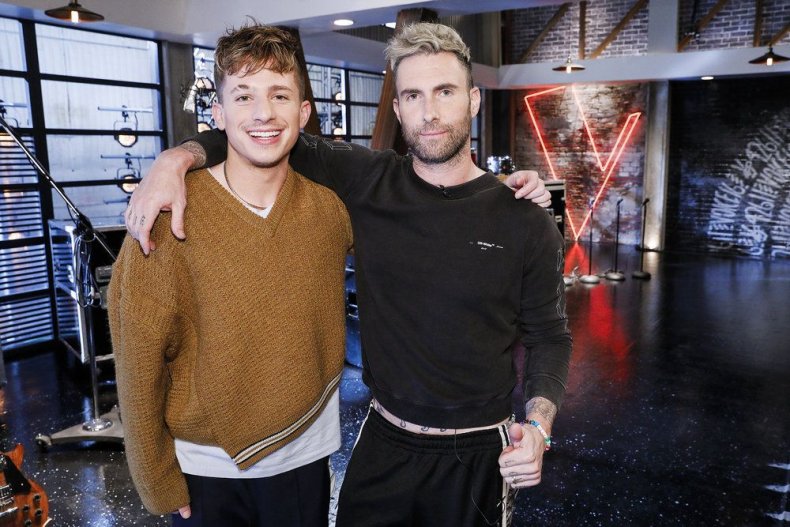 During "The Battles," coaches choose two singers from their team to perform a duet together. This duet serves as the battleground during which the singers must work together to compliment one another while also showcasing their unique singing talent. After the battle, the duo's coach will determine which singer he or she believes "won" the battle based on singing and stage presence. Whichever contestant the judge picks will move on to the Knockout Round of the competition. The other three judges will then be given the opportunity to Steal the losing contestant. Coaches are allowed one steal during The Battles. If the contestant is not stolen, he or she will be sent home. If Season 16 follows the pattern of Season 15, viewers can expect to see 6 duet battles Monday evening.
RELATED: 'The Voice' Season 16 Live Cross Battles: How the New Twist on Knockout Rounds Works
If you want to get caught up on everyone who made it to the Battles rounds, we've rounded them all up below, including singers getting a second chance on the show via Bebe Rexha's Comeback Stage. Once the show begins, we'll be providing a live-blogged recap of tonight's episode, along with results for who was eliminated
The Voice Season 16 Battles 1 Recap and Results: Who Made it to the Knockouts?
Battle #1 - Matthew Johnson vs. Shawn Sounds (Team Legend)
The first battle of the evening will feature the soulful sounds of Matthew Johnson and Mr. Taylor a.k.a Shawn Sounds. We got a tiny preview of the battle last week and it's slated to be a good one. Both fellows managed four chair turns during the Blind Auditions. The two will be performing "Never Too Much," by Luther Vandross. Kahlid and John advise Sounds to pull back a little bit on the runs. They advised Johnson to "feel" the song and think about singing it for his girlfriend.
Both men have an excellent stage presence. Thier voices are quite similar, but there are some slight variations in their tone. This will be a difficult battle to judge as both seemed toe-to-toe on the performance.
"You're both incredible singers. It was like a tennis match," said Adam.
"That was phenomenal. It's why you were both four-chair turns," said Kelly.
"The energy you gave today … you both are fantastic," said John.
The decision was a tough one but in the end, Johnchose Shawn Sounds.
Johnson didn't have time to feel sad though as Adam hit his steal button, followed by Kelly. Johnson chose Team Kelly.
Battle #2 - The Bundys vs. Mikaela Astel (Team Kelly)
The second battle of the evening features family trio The Bundy's vs. the young Mikaela Astel. The singer's will perform Fleetwood Mac's "Songbird." The practices showed the challenge of having four voices on stage at once, and it seemed at moments that Mikaela was overwhelmed by everything happening around her. Kelly worked both teams through some difficult patch where notes were off key or parts weren't quite in sync.
The Battle begins with Mikaela singing first. Her voice is just as clear and beautiful as her Blind Auditions performance. Once the Bundy's slid in, it made for a most beautiful rendition of the Fleetwood Mac song. Both teams put on a great show but the Bundy's may be edging out Mikaela just a touch becuase of experience. Mikaela has a longing and emotion in her voice, however, that is advanced for her age.
"Mikaela your voice is both strong and vunerable at the same time," said John Legend. "I could hear your nerves though."
All the judges had nice things to say about Mikaela's performance but in the end,Kellychose The Bundys as the Battle winners.
Battle #3 - Gyth Rigdon vs. Rod Stokes (Team Blake)
Up next is Team Blake's Gyth Rigdon and Rod Stokes. Rod is beyond elated to be working with Blake's advisors, Brooks & Dunn. The duo will be singing "Drunk Me" by Mitchell Tenpenny. The coaches advise both singers not to drive full throttle through the whole song and to clean up their runs.
The two make a cool duo but the rasp and take-me-to-church sound in Stokes' voice may be edging out Rigdon just a bit. It feels a bit like they are both trying to outsing each other instead of working together so it's hard to tell who won that one.
"You're voice has that old-school … sound I love. You just slayed that song, brother," Kelly said to Rod.
"Rod your vocal tone is really interesting and Gyth, you really can sing," said Legend.
"There's something about what you do, Rod, that is really special," said Adam.
Despite the other judges leaning toward Stokes, Blake ended up chosing Gyth Stokes.
Rod doesn't have time to moan as Adam hits his steal button and adds Rod Stokes to his team.
Battle #4 - Domenic Haynes vs. Trey Rose (Team Adam)
The next battle will feature the soulful voices of Dominic Haynes and Trey Rose. They'll be performing "I Need a Dollar," by Aloe Blacc. Dominic has an amazing rasp but the coaches advise him to be careful not to overdo it as that's the place where notes can go off key. For Trey, they tell him to punch up his performance a bit and not be afraid to get to the big notes earlier.
During the performance Domenic Haynes puts his 100 percent in from the first note, but Rose showed off a greater range.
"That was such an incredibly even battle, hats off to both of you," said Blake.
"You're both very intense in different ways," said Kelly.
"I'm really proud of both of you," said Adam.
In the end, Adam said he didn't make a choice based on technical performance. He decided to go with Domenic Haynes. Trey will return home this evening.
Battle #5 - Savannah Brister vs. Maelyn Jarmon (Team Legend)
Legend's second pairing of the evening is Savannah Brister and Maelyn Jarmon. Jarmon is deaf in one ear and wowed the judges with her Blind Audition, earning her a four chair turn. John gave the duo "When We Were Young," by Adele. John tells Maelyn to work on making her singing a little more conversational and emotionally connected. Meanwhile, Brister brings a lot of emotion and connection in her singing, but the coaches worked with her on some sections where she felt uncomfortable because it reaches the bottom of her range.
These two were a beautiful pairing. Maelyn's training and experience though becomes apparent. She has a stage presence and executes her notes so professionally, it feels like she may have won this battles at least from a technical standpoint.
"We all knew how great Maelyn was," said Blake, "but we also found out how incredible Savannah is."
"Your control of your instrument, Maelyn, is unbelievable but there's something so raw about you, Savannah. I think you are incredible," said Kelly.
"I loved the love you two had for each other," said John.
John commended both the singers but in the end chose Maelyn Jarmon. Savannah Brister won't be headed home though. She's been chosen to join Bebe Rexha's Comeback Stage.
Battle #6 Beth Griffith-Manley vs Jej Vinson​
The next duo features a veteran singer Beth Griffith-Manley versus the incredibly talented, four-chair-turning singer, Jej Vinson. The duo will be performing "Jealous" by Labrinth. Jej has an incredible talent, but the judges advise him to pare down his runs. Beth brings so much emotionality in her singing, she'll be a tough competitor.
The two put on a great performance, but in the end Kelly pronounces Jej Vinson the winner of the battle.
Beth isn't going home though. She was quickly stolen by John for Team Legend.
When Does The Voice Air Next? Start Time and Channel
The Voice will return on Monday, April 1 at 8 p.m. EDT. You can watch it live on NBC, or catch up the day after it airs via Hulu or NBC.com.