'The Voice' 2019 Blind Auditions 2 Recap: Who Made The Teams So Far?
The Voice" Season 16 Blind Auditions night 2 airs Monday evening. Check out our recap and results including who made it onto a team, here.
The Voice Season 15 returns Tuesday night for the second round of blind auditions. During the show, performers from across the United States will sing for the judges in hopes of turning a few chairs. Last night, 12 singers performed, with 10 making it onto one of four teams.
This year, the show once again features the Comeback Stage. This "second chance" digital series offers singers who don't manage to turn any chairs an additional opportunity to make it onto one of the teams. The digital Comeback Stage is headed up by coach Bebe Rexha. During the Blind Auditions, Rexha can "save" up to six singers for her comeback team. Artists will be mentored by Rexha for a series of Battle Rounds. Rexha will choose two winners to perform live on the main show for America's votes. Fans of the show can follow these comeback artist's progress via a variety of digital media sources such as the official The Voice app, YouTube and Facebook. During last night's show, Rexha invited country music couple, Nathan and Chesi to her team.
Once tonight's show kicks off, we'll be doing a live recap of the results. In the meantime, if you missed the first two blind auditions, you can check out our full live-blogged recap of last night's show, here.
The Voice Season 16 Blind Auditions 2 Recap and Results: Who Made it to the Next Round?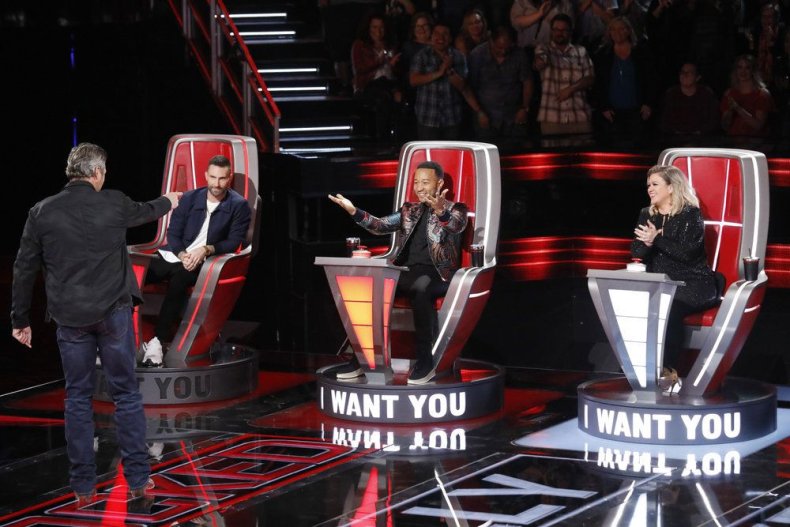 #1 Dominic Haynes
First up is 18-year-old Tampa, Florida native, Dominic Haynes. Haynes was an athlete as a kid but after suffering an injury he switched his focus to music. Haynes performed Leon Bridges' "Take Me To Your River." Haynes' voice has these incredible raspy and smooth moments that could fit across a variety of genres. Adam is first to hit his button, soon followed by John Legend. He gets blocked but Adam still has more competition as Blake presses his button just before the song ends.
"There is this raw soul that is missing in music right now … you have it," said Adam.
"You are a natural storyteller, said Kelly. "So cool."
Ultimately Haynes chooses to join Team Adam.
#2 Savannah Brister
Next up is 17-year-old Memphis Tennessee girl. Savannah Brister. Brister comes from a lively family that loves animals. Brister prides herself on her cheery disposition, but sometimes has trouble showing her true emotions. Music has served as an outlet for sharing her feelings. Brister performed Stevie Wonder's "Don't Your Worry 'Bout a Thing." Brister puts a kind of slow and jazzy vibe on the intro, and John Legend is immediately hooked. He slams on his button first but is soon joined by Kelly.
"I loved your performance … I felt the energy, I felt I would be in love with the entire performance and you didn't let me down," said John Legend.
With that kind of praise, Brister decides Team Legend is where she belongs.
#3 - The Bundys
This is the first singing trio we've ever seen featured on the voice, and every voice is truly beautiful and unique. The group sings "Closer to Fine" by the Indigo Girls. Blake is the first to turn around, followed quickly by Kelly.
"The best part of having a trio is knowing when to back off and blend … you did a really good job of that," said Kelly.
Both Kelly and Blake put in desperate pleas for the team to pick them as coach. In the end, they selected, Team Kelly.
#4 - Klea Olson
Next up is 20-year-old Layton, Utah native, Klea Olson. Olson comes from a family of artists. She's started out performing at weddings but drifted away from music while pursuing a degree in finance. Olson was later encouraged by her father to get back into music and Olson hopes to make it onto The Voice in order to gain valuable coaching she's never had. She performs Alice Merton's "No Roots. Olson has some pitchy moments while performing, though the audience seems to enjoy it. Unfortunately, she doesn't manage to turn any chairs.
"I thought you did a wonderful job … I was really close but the execution wasn't all the way there," said John.
"I really hope you come back," said Kelly.
Klea may not have managed any chair turns, but she will receive a second chance via Bebe Rexha's Comeback Stage.
#5 - Hannah Kay
The next performer is 18-year-old Hannah Kay from Magnolia, Texas. Hannah is devoting her song tonight to a dear friend who died in a car accident. Kay performs "Coal Miner's Daughter" by Loretta Lynn. Blake is the first to press his button, soon followed by Kelly. During her pre-performance interview, Kay confided that she's always had a crush on Blake, so it came as no surprise when she decided to join Team Blake.
#6 Julian King
The final performer of the evening is 25-year-old Julian King from Philadelphia, Pennsylvania. King has been singing and dancing since he was a young child and has recently been performing on tour in China. King performs "All Time Low" by Jon Bellion. His voice is so perfect and clear it cuts through the air. John and Adam hit their buttons at the same time but John finally gets to use his block on Adam and so the singer becomes the latest addition to Team Legend.
When Does The Voice Air Next? Start Time and Channel
The Voice airs every Monday and Tuesday evening at 8 p.m. EDT. The show will return Monday, March 4. You can watch it live on NBC, or catch up the day after it airs via Hulu or NBC.com.