'The Voice' Season 16 Blind Auditions 3 Recap & Results: Who Made the Teams So Far?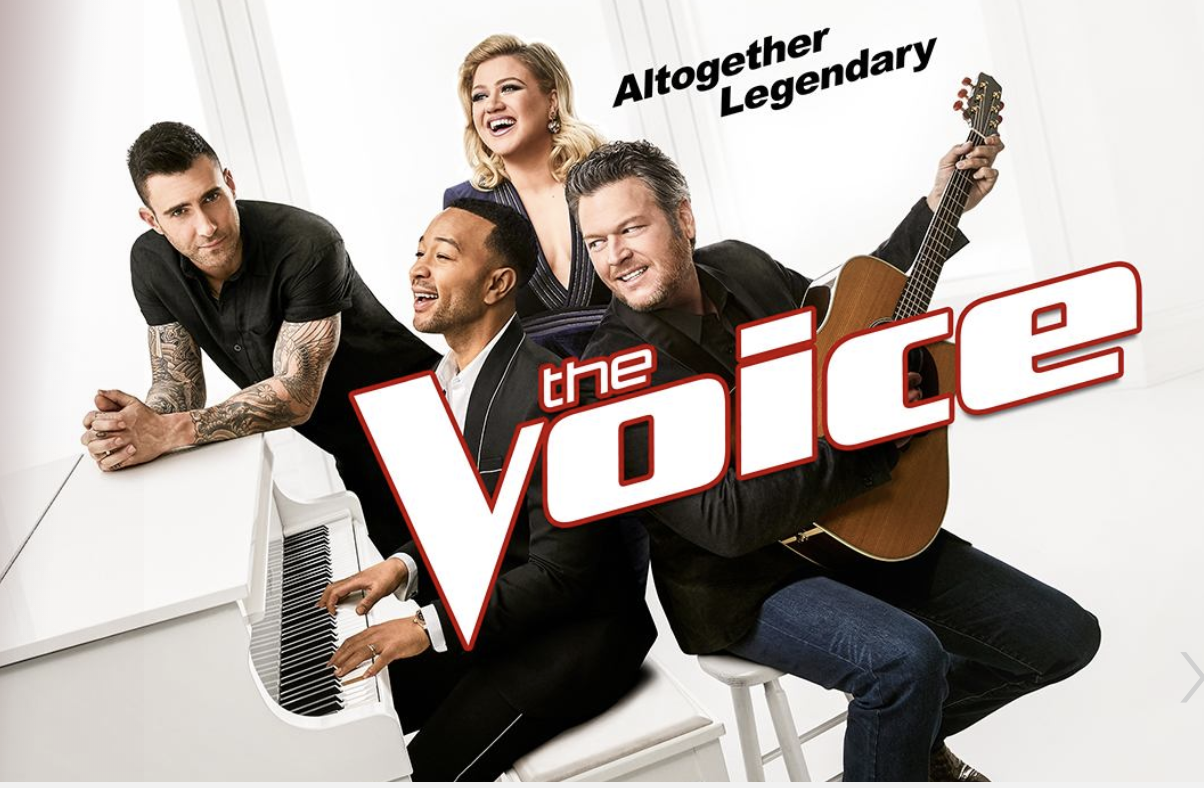 The Voice" Season 16, Episode 3 Blind Auditions airs Monday evening. Check out our recap and results including who made it onto the teams so far, here.
The Voice Season 16 returns Monday night for the third round of blind auditions. During the show, performers from across the United States will sing for the judges in hopes of turning a few chairs. Last week, 18 singers performed, with 15 making it onto one of four teams and two joiningBebe Rexha on the Comeback Stage.
Once tonight's show kicks off, we'll be doing a live recap of all the performances and who made it onto the teams so far. In the meantime, if you missed the first two blind auditions, you can check out all of our recaps, with performance clips, here.
The Voice Season 16, Episode 3 Blind Auditions: Who Made it Onto the Teams Tonight?
#1 Jacob Maxwell
The first contestant of the evening, Jacob Maxwell, is from Coeur d'Alene, Idaho. Maxwell has been singing and playing since the age of 12. Maxwell performs Taylor Swift's "Delicate." Both Kelly and John pressed their buttons, but in the end, Maxwell chose Team Legend.
#2 Karly Moreno
Up next is 23-year old Mission Viejo, California native, Karly Moreno. When she isn't out skateboarding, Moreno can be found singing and playing her guitar. Moreno feels like music is such a part of her, she can't imagine doing anything else. Moreno performs "Starving" by Hailee Steinfeld. Moreno has a kind of raspy tone — somewhat reminiscent of Alessia Cara. As Moreno's song came to a close it looked like she might not snag a chair turn, but at the last second, Adam turned around.
"I think that what you do is going to be seriously underestimated moving forward and I want to experience more," said Adam.
Moreno is the first singer to be added to Team Adam tonight.
#3 Luna Searles
Third to take the stage is 37-year-old Atlanta, Georgia native, Luna Searles. Luna auditioned back in Season 2 and the experience taught her a lot about herself as a performer. Searles loves singing rock music but has struggled to find her place inside the genre. Searles feels she is a better performer than the girl that walked on stage in Season 2. Seales performed "Nutbush City Limits" by Ike and Tina Turner. Searles puts on a good performance and definitely channels the Tina vibes. The judges appear to enjoy the performance but in the end, none of the chairs turn.
"You're a great singer," said Adam "I just felt like there was something else I needed to hear."
"I'm certain you can do the songs you need to do to win, we just didn't hear it here," said John.
#4 - Carter Lloyd Horne
Up next is 19-year-old Marietta, Georgia singer, Carter Lloyd Horne. Horne and his family have experienced some hard times and were homeless at one point. During those difficult years, Horne focused his energy on learning to play a guitar given to him by his grandmother. Horne spends a lot of time playing gigs around the area where he lives. Horne sees The Voice as a chance to help his family. Horne performed "Drinkin Problem" by Midland. Horne's voice is beyond his years. He has a rasp and tone that grips you. As Horne worked his way through the song it looked like he wouldn't get a chair turn, but at the last second, Kelly mouths "He's cool" and both she and Blake hit their buttons.
"I think the most interesting thing about you is that you sounded like you were 50 … you really do stand out," said Kelly.
"You know what you're doing, I can tell," said Blake.
After a few moments of deliberation, Horne goes with Team Blake.
#5 - Talon Cardon
The next singer to take the stage is 18-year-old Orem, Utah native, Talon Cardon. Cardon taught himself to play the guitar at age 12. At 14 Cardon started playing in bands with friends. Cardon's performance tonight is dedicated to his father. Cardon performed "Say You Won't Let Go" by James Arthur. Cardon has a lovely, soulful tone and the audience seemed to respond well to him. There were several pitchy moments — particularly in the beginning — that likely kept the judges from jumping in. At the last second though, he does get a chair turn from John.
"I think sometimes we don't bank on potential," said Adam. "I excited that John got you."
"You couldn't be with a better coach," said Kelly. "I think you'll be a dark horse."
Talon is the second singer to join Team Legend this evening.
#6 Patrick & Ruby McAllon
The next two performers are father and daughter Patrick and Ruby McAllon from Barrington, Rhode Island. The pair won't be performing as a duo, however. Patrick has been heavily involved in music for years, and apparently, it rubbed off on Ruby. First up is 40-year-old Patrick performing "Runaway Train" by Soul Asylum. Patrick has an enjoyable voice with a gritty quality that could allow him to work well across a variety of genres. He ends up getting chair turns from Blake, Adam and John.
"Your voice is so good," said John. "You sounded incredible."
Though all the male judges volleyed hard for Patrick, in the end, he chose Team Adam.
Ruby takes the stage next with Serena Gomez's "Back to You." It's clear her nerves got the best of her, making the 16-year-old's performance shaky and pitchy. The judges gave her hearty applause.
"You have a wonderful voice and range. You just sounded a little unsure — I was too at your age," said John. "The good thing about being young is that you get older and have lots of time to improve your craft."
#8 Alena D'Amico
Up next is 26-year-old Detroit Michigan native Alena D'Amico. D'Amico has been singing since she was a child. D'Amico works as a wedding planner but continues to sing for enjoyment. After hearing her sing for the first time, D'Amico's fiancee encouraged her to audition for The Voice.
D'Amico performs "In My Blood" by Shawn Mendes. D'Amico's rendition starts slow but by the chorus, she buckles in and hits some notes that convince Kelly and Blake to turn around.
"I love your passion," said Kelly. "I'd love to be your coach," said Kelly.
Alena struggles with making a decision but in the end, goes with Team Kelly.
#9 Kanard Thomas
Next on stage is 28-year-old Jacksonville, Florida native, Kanard Thomas. Thomas grew up in a large family, raised by his aunt. Thomas has been working and performing on a cruise ship. Thomas decided to audition for The Voice to show his son that you can do anything you put your mind to. Thomas performs "Riding with the King" by B.B. King and Eric Clapton. The performance was good but didn't ultimately turn any chairs.
"I think you're a good singer but I felt like that song, that performance should have had a bit more edge," said Blake.
Thomas' journey isn't over though. He was chosen to join Bebe Rexha's Comeback Stage.
#10 Dexter Roberts
Up next is 27-year-old Dexter "Dex" Roberts from Fayette, Alabama. Dex considers himself to be a country boy. At age 10 he started learning the guitar and was hooked on music ever since. A couple of years ago, Roberts began experiencing physical symptoms that stopped him from playing music. He was diagnosed with Rocky Mountain Spotted Fever from a tick bite. After undergoing treatment, he's ready to get back up on the horse. Roberts performs, "Like a Cowboy," by Randy Houser. Roberts has a classic country sound and his range is phenomenal. He ends up getting four chair turns.
"Your lows were so rich. You baritone was beautiful. I'd be honored to have you on my team," said John.
All four judges put up a good fight for Roberts, but, unsurprisingly, he went with Team Blake.
#11 Jej Vinson
The final singer of the evening is 22-year-old Jej Vinson. Vinson is originally from Davao, Philippines. American pop music had been a huge part of Vinson's life in the Philippines. At age 15, Vinson's family moved to America. Though Vinson tried first tried getting into a healthcare career, he soon realized making music is what he truly wanted to do. Vinson performs "Passionfruit" by Drake. Vinson has a beautiful voice that cuts through the air in such a clear and controlled way. He excels both in his high and low register. His range is unbelievable. It doesn't take long for him to get all four judges turning in their chairs.
"You're a better singer than all of us," said Adam.
"You showed us these precise and beautiful runs," said John. "I'm excited that you got four chairs because you deserve it."
"I think we all believe we're looking at the winner of The Voice this year," said Blake.
The judges fought hard for Vinson but in the end, he went with Team Kelly and she was ecstatic.
Janice Freeman Dedication: Who Was Tonight's Episode Dedicated To?
In the closing moments of the show, The Voice dedicated tonight's episode to a former contestant, Janice Freeman. Freeman passed away Saturday, March 2 from "an extreme case" of pneumonia and a blood clot that traveled to her heart. The singer was featured on Season 13 of The Voice after being chosen by coach Miley Cyrus.
When Does The Voice Air Next? Start Time and Channel
The Voice airs every Monday and Tuesday evening at 8 p.m. EDT. The show will return Tuesday, March 5. You can watch it live on NBC, or catch up the day after it airs via Hulu or NBC.com.