'The Voice' Season 16, Episode 10 Battles Recap: Who Won, Left and Got Stolen?
The third round of The Voice 2019 Battles is here. Check out our complete live-blogged recap and results for Season 16, episode 10, here.
The Voice Season 16, Battle round 3 airs Monday, April 8 as another group of singers pair off to perform duos that will ultimately decide who stays and who goes home tonight. During last week's battles, six artists moved forward, two were stolen and one more got a second chance via Bebe Rexha's Comeback Stage.
How The Battles Work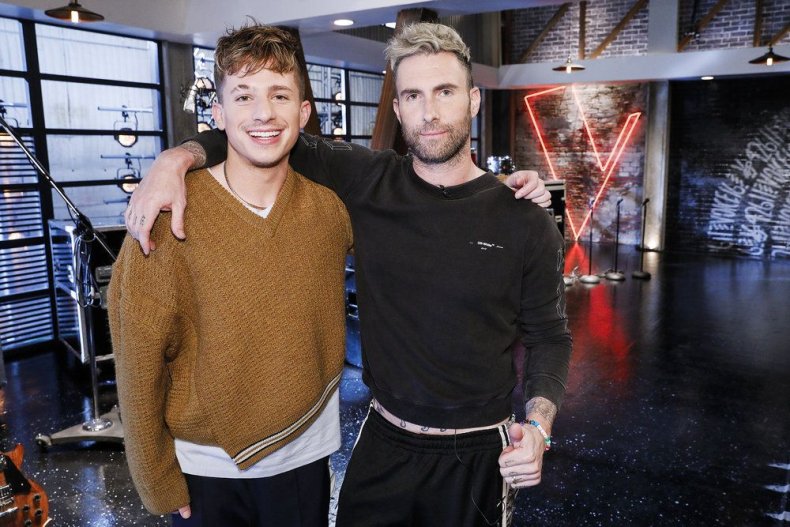 If you're just tuning into the battles, the judges have chosen a star-studded panel of vocal powerhouses to aid them in coaching this year's contestants. The teams and their mentors are as follows:
Team Adam - Charlie Puth
Team Blake - Brooks & Dunn
Team Kelly - Kelsea Ballerini
Team Legend - Khalid
During "The Battles," the coaches choose two singers from their team to perform a duet together. This duet serves as the battle vehicle. During the performance, singers must work together to compliment one another while also showcasing their unique singing talent. After the battle, the duo's coach will determine which singer he or she believes "won" the battle based on singing and stage presence. Whichever contestant the judge picks will move on to a new round of the competition called the Live Cross Battles (these replace the former Knockout rounds). The other three judges will then be given the opportunity to Steal the losing contestant. Coaches are allowed two steals during The Battles. If a contestant is not stolen, he or she will be sent home. Last week Adam used his final steal, but Kelly, John and Blake all have one more remaining.
Once the show begins, we'll provide a live-blogged recap of tonight's episode. You can also check out all of out earlier live-blogged coverage, here.
The Voice Season 16 Battles 3 Recap and Results: Who Made it to the Knockouts?
#1 Lisa Ramey vs. Betsy Ade (Team Legend)
First up are Team Legend's rock mistresses, Lisa Ramey and Betsy Ade. The two will be performing "The Joke" by Brandi Carlile. Kahlid says Lisa's voice is "capturing." John says Betsy's is full of raw energy. The coaches advise both singers to get in touch with their emotions for this performance.
Lisa starts out the performance strong. Her lows are flawless. Betsy kicks in with the second line with a kind of sing talking reminiscent of the Indigo Girls. When Lisa moved into the chorus, she seemed to take over the stage. The battle was really close but Lisa may have slightly edged out Betsy with her range and stage presence.
"I was so into the both of you," said Adam.
"That moment couldn't have been more magical," said Blake.
"Everything you two just did was so powerful … it was literally a blessing to watch both of you," said Kelly.
"You showed me you both belonged on this stage," said John.
It was a tough battle but in the end, John declared Lisa Ramey the winner of the battle.
Betsy isn't going home though. Kelly used her last steal to knab the rocker for her team.
#2 Mari vs. Anthony Ortiz (Team Adam)
Up next are skateboarder Anthony Ortiz and makeup artist Mari. They will be performing, "I Like Me Better When I'm With You" by Lauv. Adam encourages Mari to find the best range for herself in the song, while Charlie advises Anthony to be careful with the airiness in his voice in certain places so that it doesn't work against him when they hit the stage. The coaches advise both singer to access the intimacy of the song as they perform.
Anthony starts the round with his sweet and airy tone that's truly a pleasure to hear. When Mari hits the stage though, the richness of her voice steals the show. As the song continues there were moments where Anthony struggled a bit, but Mari stayed strong throughout. We'd call Mari the winner.
"I think you have a really cool sound Anthony," said Blake, "but Mari, your stage presence."
"Mari, I think you really took ownership of the song," said John.
"I think the nerves got you a little bit, Anthony," said Adam, "The important thing is you came back from it."
Adam said he was proud of both performers but in the end he decided the winner of the battle was Mari.
"She's a little superstar," said Adam.
#3 Hannah Kay vs. Andrew Sevener
Up next are Texas natives, Hannah Kay and Andrew Sevener. Blake has chosen a country pop offering for these two. They'll be performing "Tequila" by Dan and Shay. When only get a small piece of these singers' performances. This one feels really close. Both of them have a lot of power in their voices. Hannah's has a richness to it, while Andrew's has a great country-rock rasp. Hannah had a couple of tricky moments that could potentially hurt her.
After a short deliberation period, Blake declares Andrew the winner of the battle.
#4 Jackson Marlow vs. Abby Kasch (Team Kelly)
Another quick battle is Jackson Marlow and Abby Kasch. The two performed "Bring on the Rain" by Jo Dee Messina and Tim McGraw. The two had some beautiful moments and harmonies showcased. Kelly said both singers' performances touched her in different ways, but in the end, she declared Abby the battle winner.
#5 Jacob Maxwell vs. Talon Cardon
Up next are a pair are some of the younger contestants in the competition, Jacob Maxwell and Talon Cardon. The two perform "Every Little Thing She Does is Magic" by Sting. Both young men's voices are quite similar, though Talon's is a bit lighter and more unpredictable. Jacob puts on a smoother, more polished performance. Talon has a rough moment where his voice cracks. That moment likely lost him this battle.
"You're both great, I just thought Jacob was a little more in control," said Adam.
"Jacob had the better grasp on the song," said Blake.
"I'm proud of both of you guys," said John. "I was proud to see you both perform with excellence."
After a few moments of comtemplation, John declares Jacob the winner of the battle.
#6 David Owens vs. Rebecca Howell
For this matchup, Kelly picked "Unchained Melody" by Leann Rimes. Both singers put on a beautiful performance making it difficult to call out a winner on this one.
"What a beautiful pairing," said John. "This is gonna be a hard one for Kelly."
Adam felt that Rebecca was the better singer, but Blake thought David had a unique and raw talent that could be developed into something amazing with the right coaching.
Kelly is clearly leaning toward Rebecca and declares her the winner.
"I love a big powerful female in country music," said Kelly.
David isn't going home though. He gets tagged for a second chance via Bebe Rexha's Comeback Stage.
#7 Jimmy Mowery vs. Kalvin Jarvis
The final pairing of the evening was teased earlier in the week and we know from the previews one of these artists will be stolen. The pair are given "U Got It Bad," by Usher. Adam calls Kalvin's voice powerful, but that he has to be careful to keep it under control. The coaches encourage Jimmy to be confident in his skill as a singer.
Kalvin's performance is so sultry but Jimmy's highs cut through the air like a knife. This was a beautiful pairing. It was a close match, but it feels like Kalvin may have slightly edged Jimmy out on this one.
"That was such a great performance … such a great mixture of confidence and humility," said John.
"I am over the moon," said Adam. "I am so proud of the both of you guys."
After a few moments of deliberation, Kalvin was declared the winner of the battle.
Jimmy isn't going home though. John Legend used his steal button to add Jimmy to his team.
When Does The Voice Air Next? Start Time and Channel
The Voice will return on Tuesday, April 9 at 8 p.m. EDT. You can watch it live on NBC, or catch up the day after it airs via Hulu or NBC.com.