'The Voice' Season 16, Episode 6 Blind Auditions Recap: Every Contestant's Performance, Plus Who Made It On The Teams  
The final night of The Voice 2019 Blind Auditions is here. Check out our complete live-blogged recap and results for Season 16, episode 6, here.
The Voice Season 16, episode 6 airs Monday, March 18 as the final round of Blind Audition 2019 contestants take the stage in hopes of securing one of the nine remaining spots on a team. Both Kelly and Adam have three spots remaining, Blake has two and John one, so you can expect some ugly fights to break out as the coaches try to finish off their teams with the best performers.
After tonight's episode, The Voice will run a special two-hour show on Wednesday, highlighting the best moments from the 2019 Blind Auditions. The show will then return Monday, March 25 for the start of the Battle Rounds.
If you want to get caught up on everything that's happened during this year's Blind Auditions, you can check out all of our live-blogged recaps, complete with contestant performances, here. Once the show begins, we'll be providing a live-blogged recap of tonight's episode, along with results for who will move on to the Battle Rounds.
The Voice Season 16 Episode 6 Blind Auditions Live Blog & Results: Who Made The Teams Tonight?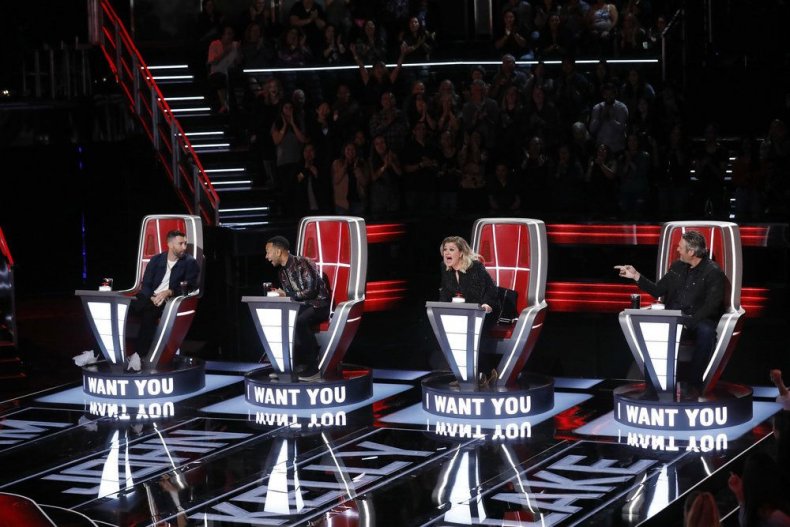 #1 - Celia Babini
The first performer of the evening is 17-year-old New York City native, Celia Babini. Babini comes from a family of artists. Both parents are involved in the fashion industry. Celia spends most of her free time writing music, playing the guitar and singing.
Babini performs "Don't Wanna Be You Anymore" by Billie Eilish. She has one of the most unique voices we've heard this season. It's deep and sultry and grabs Kelly, Blake and Adam's chair turns instantly. It doesn't take long for John to follow. Babini is the first four-chair turn of the evening.
"You have such a power. Your range, your storytelling … you're like no one else in the competition," said John Legend.
"Your performance was literally captivating," said Blake.
"It is my dream for you to win The Voice," said Adam. "You bring something different... you are the future as far as I'm concerned."
It's clear all the judges are dying to grab Babini but in the end, she goes with Team Adam.
#2 - Cecily Hennigan
Up next is 16-year-old Conway, South Carolina native, Cecily Hennigan. Hennigan has garnered some attention for a video of her singing in a McDonald's drive-thru that went viral. Hennigan confides on camera that she hopes to get John Legend as a coach. Hennigan performs Jewel's "Foolish Games." She has a voice that is reminiscent of Toni Braxton. She puts on an emotional and soulful performance, but surprisingly, Blake is the only coach to turn.
"Your voice is developed beyond your years," said John Legend.
"I'm embarrassed I didn't turn around," said Adam.
"I don't think you know what you're capable of vocally … we're gonna blow the roof off this place," said Blake.
Hennigan is the first singer to join Team Blake tonight.
#3 Kalvin Jarvis
The third contestant of the evening is 29-year-old Tuscon, Arizona resident Kalvin Jarvis. Kalvin's day job is as an assistant manager at a restaurant, but his true passion is for music. Jarvis' father was a rapper and his father's passion is what lead him to music. His father got involved with drugs when Jarvis was in his teens. Jarvis turned to music during these hard times and his hard work helped to pull his father out of the drug scene. Jarvis sings "A Good Night" by John Legend. His voice is smooth and clear. It doesn't take long for Kelly and Adam to turn around.
"You're so good. Your runs were so sexy," said Kelly.
"You're ridiculous," said Adam.
After a short amount of deliberation, Jarvis becomes the second singer to join Team Adam tonight.
#4 - Ava August
The next performer is actually the youngest contestant to ever perform. Just turned 13, Laguna Nigel, California native, Ava August is the only musical member of her family. August loves performing and can be found singing and playing her guitar for anyone who will listen. August hopes to grab a spot on Kelly's team. She performs "House of the Rising Sun," by The Animals. Her performance is unique but unfortunately, none of the judges turn.
"There was so much angst and drama … that was crazy cool… you just need time," said Kelly.
"There were some issues with over-styling," said Adam. "Keep working that out. You are great."
#5 - David Owens
Next on stage is 24-year-old Indianapolis, Indiana native, David Owens. Owens is the youngest of seven children. He started his singing career in the church. Owens put his music to the side for a while to take care of his family. He is auditioning for The Voice so that he can be an example for his newborn son. Owens sings "I Can't Make You Love Me," by Bonnie Raitt.
Owens' deep notes are smooth and perfectly executed. Once he jumps into his upper register, Kelly turns around. She seems flabbergasted no one else jumped on the Owens train.
"You're an excellent singer," said John. "I think I was being too nitpicky."
Owens is the first singer to join Team Kelly tonight.
#6 Presley Tennant
Up next is 16-year-old Norco, California native Presley Tennant. Tennant is a self-professed tomboy and comes from a family of "adrenaline junkies" who love to ATV in the desert or participate in other outdoor activities. Though Tennant loves being active, music also plays a large role in her life. She's been a part of a "girl band" put together by her town's mayor. Tennant performs "Stone Cold," by Demi Lovato. Tennant has a voice beyond her years with a great range in both her upper and lower register. It only takes a line or two to gain Kelly's chair turn. Tennant is a belter who will make a good addition to Kelly's team. No other judges turn around so Tennant becomes the second singer to join Team Kelly tonight.
#7 Rod Stokes
Next on stage is 34-year-old Grand Bay, Alabama native, Rod Stokes. Stokes calls himself a gospel, country, soul singer. "I'm like a male Kelly Clarkson" says Stokes. Stokes played football in college but when his father became ill, he left college to take care of his family business. It was when Stokes returned home that he jumped heavily into music via his church. Stokes performs To Love Somebody," by the BeeGees. Stokes has a great rasp to his voice that could translate across a lot of genres. Adam is quick to tun. Midway through the song John and Blake join him.
"You sounded incredible. I love the gravel in your voice, but also the clarity of your high notes ... I'd be excited to have you." said John.
"Your voice is so special … the way you sing with such effortless soulfulness. I was blown away," said Adam.
"Your voice is shocking. It has personality and depth," said Blake.
With Rod's bent towards country music, it wasn't a surprise when he picked Team Blake.
#8 Calista Garcia
Garcia performed "Wishing Well" by Sananda Maitreya but unfortunately, the rock singer couldn't manage any chair turns.
#9 - Andrew Jannakos
We don't really get an intro on this singer, but once he jumps into "Beautiful Crazy" by Luke Combs, both Adam and Kelly jump on their buttons.
"I love your old school country sound," said Kelly.
"I love your presence," said Adam.
#10 Kayslin Victoria
Next on stage is 16-year-old Clermont, Florida native, Kayslin Victoria. Victoria started singing at 9, following in the footsteps of her mother. When she isn't singing Victoria can be found volunteering at local horse stables. Victoria performs "Feel it Still," by Portugal The Man. She gets quick button pushes by both Kelly and John, the only two judges with spots left on their teams.
"I would have pressed my button but my team is full," said Adam.
"The thing that excited me most is your confidence," said Kelly.
"I think we could win together," said John. "Please pick me."
Victoria was star stuck by both judges, but in the end, chose Team Legend.
#11 - Maddi Frasier
Next on the stage is 24-year-old Flintridge, California resident, Maddi Frasier. Frasier works in a children's bookstore and sings in a band. She performs Janis Joplin's "Get It While You Can," but unfortunately she wasn't quite what Kelly was looking for.
Kelly hints at wanting a male country singer and so we expect to see one make his way on stage after the commercial break.
#12 Jackson Marlow
The final performer of the evening is an 18-year-old country singer, Jackson Marlow from Rogersville, Alabama. Marlow spends a lot of time playing music with his family and his uncle Red Marlow was on a past season of The Voice. Marlow performs, "Troubadour," by George Strait. Kelly can't believe what she's hearing but she holds back on pressing her button till Marlow moves into the chorus. Marlow has a great classic country sound and is definitely the kind of contestant Kelly has been hoping for. He'll make a great addition to Team Kelly.
"You were so worth the wait," said Kelly. "I am so happy to have you on my team!"
When Does The Voice Air Next? Start Time and Channel
The Voice will return on Wednesday, March 20 at 8 p.m. EDT. You can watch it live on NBC, or catch up the day after it airs via Hulu or NBC.com.