'The Voice' Season 16, Episode 9 Battles Recap: Who Left, Who Got Stolen, Who's Headed To The Knockouts?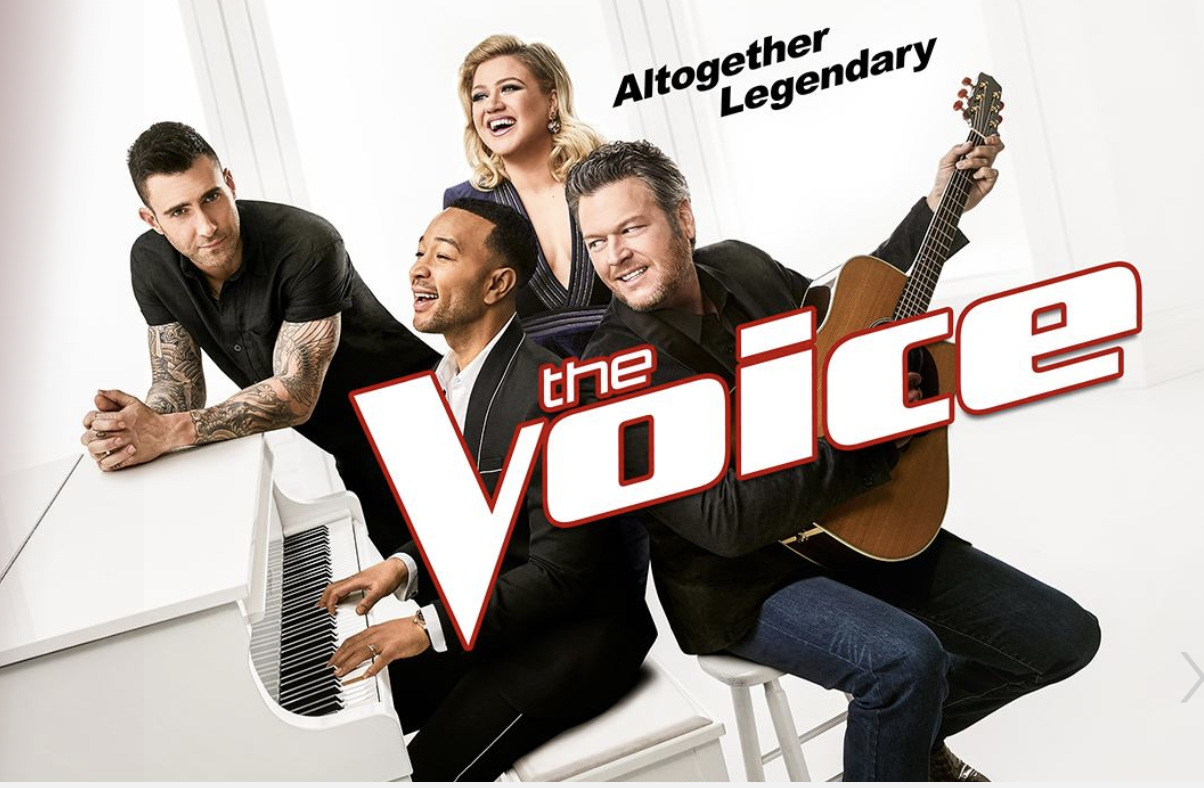 The second round The Voice 2019 Battles kicks off Monday night. Check out our complete live-blogged recap and results for Season 16, episode 9, here.
The Voice Season 16, episode 9 airs Monday, April 1 as twelve more contestants hit the stage for the Battle rounds. Last week six of the twelve contestants won their first round of battles while three additional singers were stolen by coaches and one got a second chance via Bebe Rexha's Comeback Stage.
Once the show begins, we'll be providing a live-blogged recap of tonight's episode, along with results for who was eliminated. You can also check out all of out earlier live-blogged coverage, here.
RELATED: 'The Voice' Live Cross Battles: How the New Twist on Knockout Rounds Works
The Voice Season 16 Battles 2 Recap and Results: Who Made it to the Knockouts?
#1 Karly Moreno vs. Celia Babini (Team Adam)
The first pairing of the evening is California girl Karly Moreno, versus New York native Celia Babini. According to Levine these two are as opposite a pairing as possible in terms of their vocal styles. Karly has a softer more buttery tone, while Celia's is deeper and more powerful. The two will be performing "Friends" by Marshmello and Anne Marie.
The song begins with a chilling harmony by the two that was truly goosebump-worthy. The battle feels pretty even as both girls really different in their musical approach. Despite their differences, they compliment each other well. Celia appears to have a bit more stage presence. This will be a difficult battle to judge.
"I don't think we've seen two more different singers," said Blake.
"Celia, you have this cool presence and intenseness. You're really rad," said Kelly.
"Both your styles and voices are very different but you both executed it with such skill … congratulations," said John.
"I think you're both world-class," said Adam.
Adam gave a lot of great feedback to both girls, but in the end he chose Celia Babini as the battle winner.
Carly won't be going home though. Blake pressed his Steal button and adds her to Team Blake!
#2 Julian King vs. Denton Arnell (Team Legend)
The second pairing of the evening is Team Legend's Julian King and Denton Arnell. The two will be performing "Grenade" by Bruno Mars. Kahlid calls Julian's tone "the money," but said he was taken with Denton's personality and the rawness of his voice. Both coaches advise the guys to get in touch with the emotion of the song. "Make em feel that pain," said Legend.
Julian comes out smooth and clear, but Denton adds a raw energy to his performance that makes it clear he's taking the judges' advice to tap into the emotion. At moments it felt a bit like the guys were singing over top of each other so it was difficult to appreciate their individual voices. Towards the end Julian pulled out a run, though, that seemed to grab the coaches' attention.
"This one is really hard because this one seemed really, really even," said Adam.
"There was a run that Julian did that moved the line just a bit for me," said Blake.
"I'm proud of you guys because you both made me look really cool," said John.
Based on range and dynamic of his voice, John went with Julian King as the battle winner. Denton Arnell will be headed home this evening.
#3 - Presley Tennant vs Rizzi Myers (Team Kelly)
The next battle was teased early in the week. The two will be performing "Whataya Want From Me," by Adam Lambert. These two singers are powerhouses and the coaches encourage the ladies to really attack it, but rein in the runs and other vocal features in certain places.
Both ladies gave the performance their all. There was so much emotion and energy from both. This will be a hard one to judge.
"You two ladies were outstanding," said John. "You both looked like you belonged there."
"I for a billion dollars have no idea who I'm going to choose," said Kelly, "cause you're both incredible!"
Kelly was clealy agonizing over the choice. We'll have to wait till after the commericals for the results. Based on feedback from the other judges, it feels like Presely may be this battle's winner.
When the show returns, Kelly declares Presley Tennant as the battle winner.
#4 - Dexter Roberts vs Dalton Dover (Team Blake)
Up next it Alabama singer Dexter Roberts vs. Georgia natice Dalton Dover. Blake chose "Hurricane" by Luke Combs for this duo. The coaches advise Dexter not to shy away from the mic during his big notes, while encouraging Dalton to find places where he can get his spot in the sun as a lead singer too and not just back-up vocals. The practice seems to smooth out any issues the fellows were having and Blake says they are the two on his team who most belong on the radio right now.
Dalton comes in a little slow, but by the chorus he really starts to warm up and show off his range. Dexter, however, came in strong from the first note. Dexter seems to have a but more stage presence but both put on an incredible performance.
"I thought that was pretty even," said Kelly, "but I think I might go Dexter.
"I liked Dalton's voice better, but I felt like Dexter showed more skill," said John.
"The way you put the song together, there wasn't a dull moment," said Adam. "You both were really awesome."
"Great job to both of you. This moment is literally gonna suck," said Blake.
After some deliberation, Blake choses Dexter Roberts as the battle winner.
#5 - Ciera Dumas vs. LB Crew (Team Adam)
The next pair up will be performing Charlie Puth's "Tell Me What You've Done For Me." The two struggle a bit with a falsetto intense portion of the song, but as the practice progresses, they make the song their own and Charlie loves it. Adam encourages LB to go big and Charlie encourages Ciera to get in touch with her natural grit.
On stage both singers are quite charismatic. Ciera makes some nice transitions between her falsetto and chest voice. LB stays in his wheelhouse for most of the song, but does pull out a bit of falsetto near the end. Ciera does get in touch with her rasp in spots that really adds a lot of texture to the performance.
"What a huge mistake this matchup was," said Blake. "LB sang the heck out of this song … Ciera you had great stage presence."
"Ciera, you're the surprise for me," said Kelly. "I loved you in this battle."
Adam said the choice was difficult, but in the end, he chose LB Crew as the battle winner. Ciera isn't going home though. She's been given another chance via Bebe Rexha's Comeback Stage.
#6 - Kendra Checketts vs Kim Cherry
Up next, Blake pairs the two more diverse members of his team. Both girls have a deep and sultry tone. Kim Cherry can also rap. Blake chooses "Here" by Alyssa Cara for the girls to perform. Kendra's voice is reminicent of Kelly Clarkson's but Kim has a ton of confidence when singing. This will be a tough battle to judge. Blake says the two are magical together.
Kim has a killer stage performance and is talented with the rapping runs. Kendra's tone though is unbelievable for a girl her age. The battle is intense but it feels like Kim may have edged Kendra out a touch with her stage performance.
"This is a tough one becuase both of you executed the song so well," said John, "You nailed it."
"You guys are both superb," said Adam. "You guys did an incredible song."
"You have to be talented to do that song," said Blake.
Blake said he made his decision based on his gut. He declared Kim Cherry the battle winner.
Kendra doesn't have long to wait though before both Adam and John press their steal button for her. Both coaches battle hard for her, but in the end, Kendra chooses Team Adam.
When Does The Voice Air Next? Start Time and Channel
The Voice will return on Monday, April 8 at 8 p.m. EDT. You can watch it live on NBC, or catch up the day after it airs via Hulu or NBC.com.