'The Voice' 2019 Top 24 Performances & Predictions: Who Will Be Saved or Eliminated Tomorrow Night?
The Voice 2019's Top 24 are set to perform Monday night during the Season 16, episode 16. Check out our live-blogged recap of every performance, plus predictions for who will stay and who will be eliminated, here.
The Voice season 16 is heating up as tonight, the Top 24 performers take the stage to vie for a spot in the Top 13. With only three weeks until the season finale, this week's cut will be the most significant so far as half of tonight's performers will say goodbye to fans during the Tuesday evening results show.
RELATED: iTunes Top 100 List Hints at 'The Voice' 2019 Top 13 Winners
How the Top 24 Works: Your Votes Count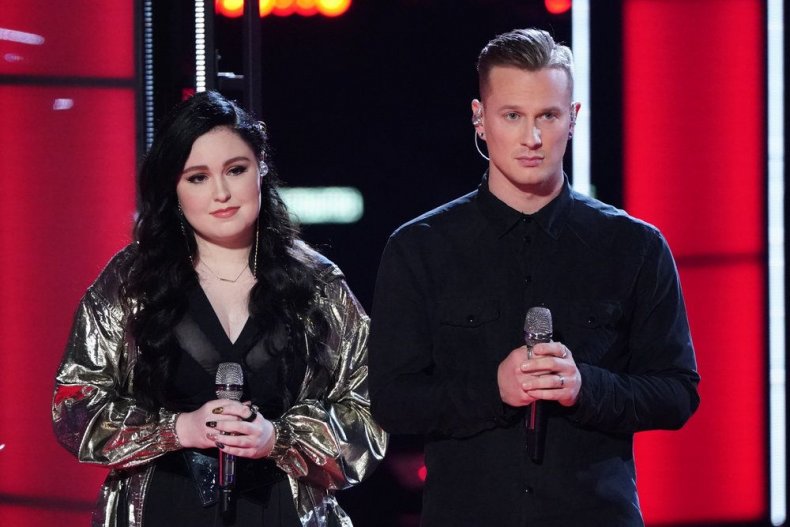 As with the Live Cross Battles, the audience once again plays a big role in who will make The Voice Season 16's Top 13. During tonight's show each of the 24 contestants from the four main teams will perform. After the performances, the audience will have the remainder of Monday evening through Tuesday at 7 a.m. ET to vote for their favorite artists either in the official The Voice app or online. Viewers can also vote for their favorite singers by streaming their songs on Apple Music. Each song can be streamed and counted up to 10 times per Apple ID. The singer with the most streams will earn an Apple Music Bonus which multiplies the number of streams they received by five and then adds that to the performer's total votes. On Tuesday night, Carson Daly will announce the Top 8 vote-getters. These singers will automatically move to the Top 13. The coaches will then each choose one additional performer from their teams to save, bringing the surviving artist count to 12. For the 13th artists, Comeback Stage coach Bebe Rexha will invite her final two contestants to the stage to perform for an Instant Save by America. Voters will submit votes for their favorite artist via Twitter and the singer with the most votes will earn the Instant Save and the final spot in the Top 13.
Tonight's show is sure to be a good one with tons of musical selections to enjoy. As soon as tonight's show kicks off, we'll be providing a live-blogged recap of each singer's performance along with our predictions for who will make it to the Top 13 tomorrow night. We'll also include video clips of each singer's performance in case you miss them. In the meantime, if you missed any of the Live Cross Battles performances, you can check out all our previous live-blogged coverage, here.
The Voice Top 24 Live Blog: Performances & Predictions For Who Will Be Saved or Eliminated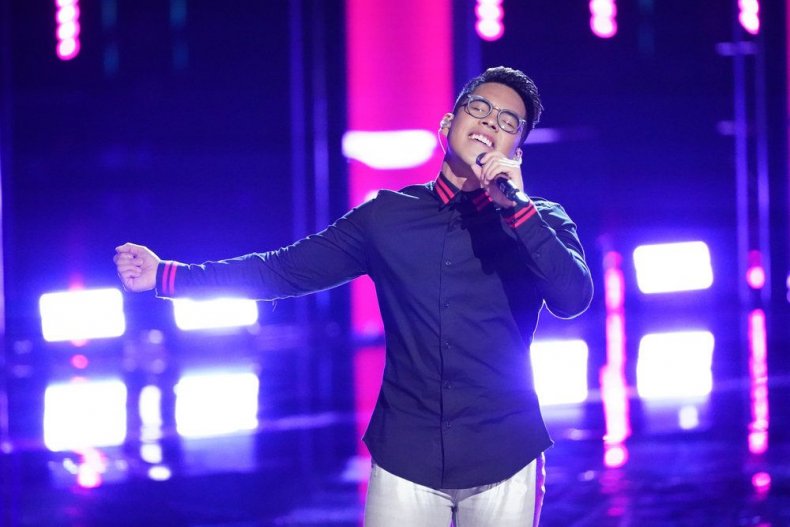 #1 Rod Stokes (Team Kelly)
First up is country singer, Rod Stokes performing "Midnight Rider" by the Allman Brothers. The performance is solid -- like always -- but we're not sure it'll be enough to move him forward.
#2 Matthew Johnson (Team Kelly)
Performed "Ordinary People" by John Legend. This was another solid performance. Johnson shows off his upper range several times throughout the performance, but it felt somewhat forgettable.
#3 Rebecca Howell (Team Kelly)
Performed "Wild One" by Faith Hill. Rebecca hits every note perfectly and has a great country sound. Every performance sounds polished and professional, though this one wasn't quite as engaging as last week's
#4 Pressley Tennant (Team Kelly)
Performs "Nothing Breaks Like a Heart" by Miley Cyrus. The version is slower and has more of a soul vibe to it. Pressley executes it so well. The audience cheers heartily.
#5 Abby Kasch (Team Kelly)
Performed "I Got the Boy" by Janet Kramer. There were some iffy spots in this performance where she went a bit flat.
#6 Jej Vinson (Team Kelly)
Performed "Love Lies" by Khalid. This performance was beautiful and moving. Jej never ceases to amaze.
#7 Lisa Ramey (Team Legend)
Performed "The Weight" by The Band. Lisa put on an electrifying performance that got the crowd on its feet. Lisa is a natural-born performer. She puts on a great show.
#8 Jacob Maxwell (Team Legend)
Performs "Total Eclipse of the Heart" by Bonnie Tyler. Jacob has a beautiful voice but this may have once again been a bad song choice. It feels boring, despite some beautiful moments. Towards the end, he does kick it up and gives us a better feel for what he can do. We hope it'll be enough to keep him in the competition.
#9 Jimmy Mowery (Team Legend)
Performed "Youngblood" by 5 Seconds of Summer. This song started off a little rough, but fans seem to love him. Once he hit the chorus and the second voice he really comes into his own and the song is enjoyable both to watch and listen to. Jimmy has a certain star quality about him that may save him tomorrow night.
#10 Celia Babini (Team Legend)
Performs "The Chain" by Fleetwood Mac. This was the perfect song choice for Celia. She puts on a fierce performance and is able to show off her unique vocal tone.
#11 Maelyn Jarmon (Team Legend)
Performed "Falling Water" by Maggie Rogers. This was a beautiful performance. Every time Maelyn takes the stage she puts on a killer performance and this one was no exception.
#12 Shawn Sounds (Team Legend)
Performed "Higher Ground" by Stevie Wonder. Sounds put on an energetic performance that would do Stevie Wonder proud. Every note is executed perfectly and professionally, though it seemed to be missing the "wow" moment needed to keep him in the Top 13. All of Shawn's performances are perfect so, it can be difficult to judge how this one ranked.
#13 Kalvin Jarvis (Team Adam)
Performed "Mine" by Bazzi. Kalvin's performance is so smooth. His upper register is beautiful and agonizing. No one else in the competition has Kalvin's tortured and soulful sound.
#14 Betsy Ade (Team Adam)
Performs "Are You Gonna Be My Girl" by Jet. This song was a better fit for Betsy's voice than her Cross Battles choice and she gave it all she's got. Betsy definitely knows how to work a stage and this performance allowed the audience to remember what they loved about her during the Blind Auditions.
#15 Mari (Team Adam)
Performed "Work It Out" by Tye Tribbett. Mari has been a favorite of our all along but this performance felt more like yelling than singing.
#16 Domenic Haynes (Team Adam)
Performed "Love is a Losing Game" by Amy Winehouse. Domenic didn't something really unique with this song. He managed to stylize his voice in a way that was reminiscent of Winehouse in certain places, while also managing to get in his own signature sounds. This is probably the most original performance of the evening. We loved it but it could have been a risky choice.
#17 Andrew Sevener
Performed "Boots On" by Randy Houser. I'm not sure why, but I always forget how good Andrew is until he hits the stage. He puts on a stellar performance every time and this one was no exception. It felt like we were watching a professional country singer's concert
#18 Selkii (Team Blake)
Performed "Iris" by The Goo Goo Dolls. This is probably my favorite performance by Selkii. It was soulfully performed but feels like it could be overshadowed by some of the bigger voices on Blake's team.
#19 Oliv Blu (Team Blake)
Performs "Girl from Ipanema" by Frank Sinatra. Oliv is one of the more unique performers in the competition, with her bluesy sound and scatty runs. Nerves seemed to be getting to her a bit tonight as there were some squeaky moments and at times her voice was a little shaky. We love Oliv, however, and hope she stays in the competition.
#20 Gyth Rigdon (Team Blake)
Performed "I Want to Be Loved Like That" by Shenandoah. Gyth and Maeylin's are easily the best performances of the evening. There is something so intimate about Gyth's style. He's an amazing storyteller and has a voice to match. We fully expect to see Gyth in the Top 4.
#21 Kendra Checketts
Performed "Bad Guy" by Billie Eilish. This felt like an unusual song choice, but Kendra does a great job with it. She gets some great moments where we get a taste of her range while also sampling her incredible rasp. She's a powerhouse singer and totally deserves to be in the Top 24.
#22 Carter Lloyd Horne
Performs "Heartbreak Hotel" by Elvis. Carter did a great job with this song, but we aren't sure it was the best choice for this stage in the competition. Younger audiences may not be able to relate to the song. Carter has been a favorite so we hope he stays in the competition.
#23 Kim Cherry
Performed "Waterfalls" by TLC. This is the first time we've really had a chance to hear what Kim has to offer as a singer and her range was surprisingly broad. Kim also showed off her piano skills in this performance as well. She is unique in this competition. We hope she sticks around.
#24 Dexter Roberts
Performed "Ain't Nothing Bout You" by Brooke's & Dunn. Dexter has a really nice tone and performed the song well. With the many country singers in this competition, however, we felt like this performance may have been a bit too "safe" and overall unremarkable.
When Does The Voice Air Next? Start Time and Channel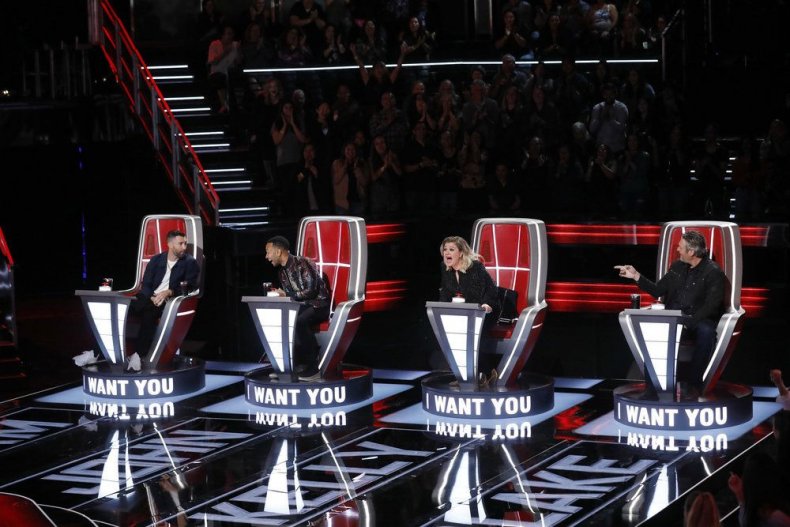 The Voice will return on Tuesday, April 30 at 9 p.m. EDT for the Top 13 results. You can watch it live on NBC, or catch up the day after it airs via Hulu or NBC.com.