'The Voice' 2020 Start Date: When This Year's Edition Will Air on NBC
The Voice is back for its 19th season this fall, with episodes beginning this October on NBC. Auditions will begin on the singing show on October 19, with Nick Jonas exiting the judges' panel after one season to be replaced by returning judge (and partner of The Voice judge Blake Shelton) Gwen Stefani.
When will The Voice 2020 start?
As ever, The Voice Season 19 will start with a few weeks of Blind Auditions. The first set of these will air on Monday, October 19 at 8 p.m. ET / 7 p.m. CT, and air for two hours. While Monday episodes are two hours long, the show only airs for one hour on Tuesdays.
For these auditions, sitting in the red chairs will be Blake Shelton, Kelly Clarkson, John Legend and Gwen Stefani—the same panel as Season 17, which aired this time last year. Later on in the season, it has been revealed that Kane Brown, Leon Bridges, Miguel and Julia Michaels will join Gwen, Blake, John and Kelly as battle coaches. Carson Daly, meanwhile, is returning as host.
This year, there will be at least four episodes of Blind Auditions, airing on Mondays and Tuesdays on NBC (October 19, 20, 26 and 27). These auditions were filmed at Universal Studios Hollywood in early August, with COVID-19 meaning that they will be without a studio audience – though they are expected to have some sort of "digital audience," as fans were able to sign up to be part of it earlier this year.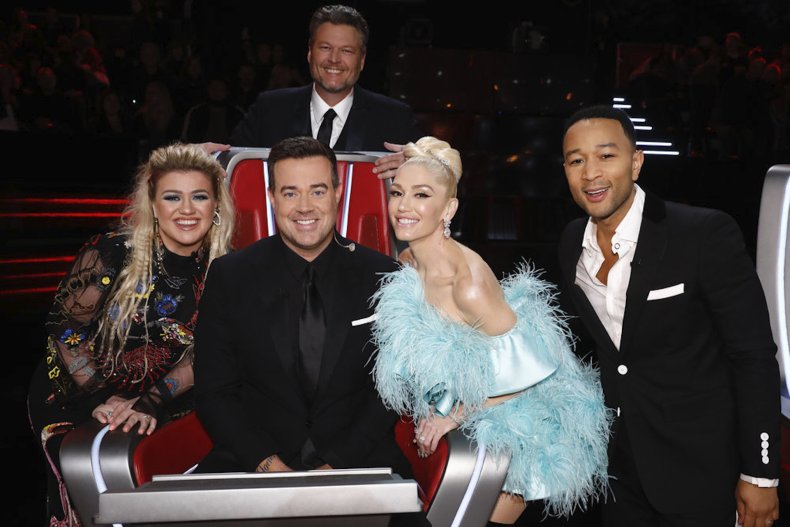 So far, when The Battles, Knockouts and live shows are airing has not been revealed by NBC. However, the health and safety regulations around the coronavirus might limit the number of contestants, which could mean a shorter season this year.
After airing, each episode will be available to watch on the NBC website and app. Clips of the best performers will also be made available on the show's YouTube page.
In the lead up to the first Blind Audition episodes, The Voice released footage of one of the first contestants of the fall 2020 season to get all four judges to turn their chairs around, as singer Tamara Jade wowed with her take on Lizzo's "Cuz I Love You". However, the clip did not reveal whether she picked Team Kelly, Blake, John or Gwen, which is sure to be revealed during the premiere of The Voice 2019.
The NBC website and app also have a live stream of the channel so that viewers can watch The Voice 2020 for free online in the U.S. Episodes are also likely to be made available to catch up with on the NBC website and app plus the network's new streaming service Peacock.
The Voice 2020 airs Mondays and Tuesdays at 8 p.m. ET / 7 p.m. CT on NBC.