Carter Rubin was destined to become the winner of Season 19 of The Voice from the moment that he first stepped onto the stage during the blind auditions. He was just 14 years old at the start of the NBC singing competition, but he displayed such control and ease while belting out the words of Lewis Capaldi's hit song "Before You Go," that it was immediately obvious that this teen would be big competition for even the most experienced contestants on the show.
Gwen Stefani was blown away by the Shoreham, New Yorker's pipes. John Legend, who also turned his red chair for Rubin during the blinds, was equally stunned. However, it was Stefani, who vowed to be a mom-like figure for Rubin, ended up snagging the singer for her team. With her help and guidance, Rubin coasted past the battle and knockout rounds, beating out fellow contestants Larriah Jackson and Chloé Hogan, respectively.
By the time Rubin found himself in the top five, he'd become a fan favorite. When he delivered an exceptionally heartfelt rendition of Miley Cyrus' "The Climb" and his inspirational original song "Up From Here," his fate was pretty much determined. Viewers by the thousands gave Rubin their votes, helping him edge out his adult competitors, including Desz, John Holiday, Ian Flanigan and the Season 19 runner-up, Jim Ranger.
In an interview with Newsweek on Wednesday, Rubin said he couldn't have made it this far without having Stefani to lean on. As an artist who skyrocketed to fame for being her true tomboy self, Stefani helped Rubin gain the confidence to fully be himself. And week after week, as her advice continued to seep in, the young contestant appeared more comfortable onstage. It looked like he was having fun, and, in turn, his performances got better and better.
"She's given me a lot of incredible advice, but I think my favorite piece of advice from her was for me to be myself because that's what Gwen did. She was always her own unique individual in this music industry," Rubin said. "She encourages the artists that she's coaching to do the same. She's helped me with my confidence. She's helped me believe in myself more. I learned the value of being your own unique individual because there's no one else like you. You have to own it."
Read Newsweek's full interview with the Season 19 winner of The Voice, Carter Rubin, below. This interview has been edited and condensed for the sake of clarity.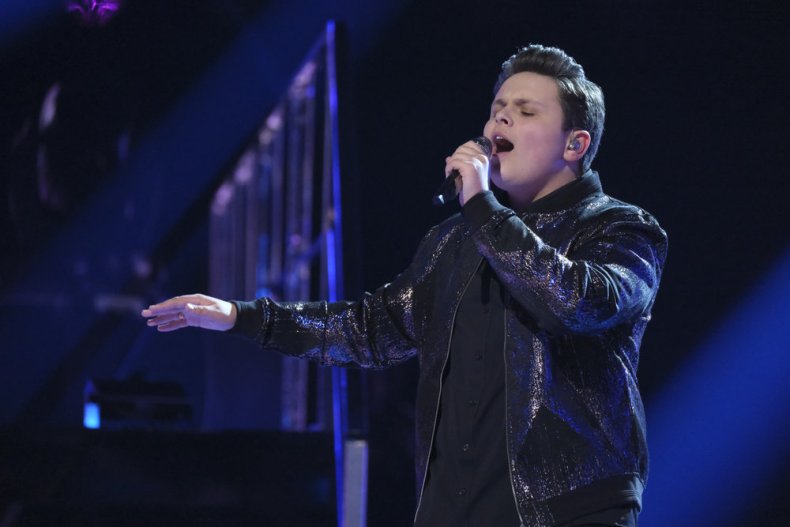 How did it feel waking up as the winner of The Voice?
It still has not hit me yet. I'm still in complete shock. This whole experience has been so incredible, so rewarding. I made so many friends, and I got to work with Gwen Stefani. I just can't believe I won. It's just so insane. I'm still kind of comprehending it all.
When you first auditioned, did you think you would make it this far on the show?
Absolutely not. I literally went into this experience just for some fun memories and hopefully getting a chair turn and making it as far as I could. I never imagined taking it all home. I was joking around with my mom when we were on a Zoom call with all the contestants like, "Oh my God. The winner is in here somewhere," not even realizing that it could be me. Then I made it to the top five and I was just like, "Wow, this could actually happen." It's so crazy.
What was your family's reaction when they found out you won?
They were all screaming and cheering and clapping and crying. They were so proud of me. I called all of them and they were going out of their minds. They had faith in me and they knew I could do it, but at the same time, they just couldn't believe it actually happened.
You've been away from them this whole time, right?
Yes. I'm going to go home [Thursday] and I'll get to see my family and my friends. That will be nice, because I definitely miss them.
Before The Voice, I've never been away from my family this long. For the blinds, battles and the knockouts, me and my mom were in L.A. for almost three months without going home—without seeing them in person—which was hard but we knew were there for a reason. We got to go home and see them before flying back to L.A. for the live shows.
A lot of the social media commentary surrounding the show has been about the comfort The Voice has brought so many people during an incredibly challenging year. How does it feel to know that you're part of something that's brought so many people some light in dark times?
It means so much to me. That's what music is all about for me. Music can heal people, can make people smile, can make people cry. That's what I want to do when I sing. I want to make people feel something and move them and touch them with my music. I think The Voice is what a lot of people need right now because the world is in a crazy situation. I think a lot of people need music right now because there are no concerts or anything. Just to know that I'm apart of the cast that's bringing people joy right now means everything to me.
I am thankful that I got to go out and do what I love with icons in the middle of a global pandemic. The world needs light right now, and I'm so blessed to be the light in some other people's lives. If you asked me a year ago about any of this ever happening, I would have told you no way. But I really got to go out there and live my dream, and I could not be more grateful for the opportunity.
On the season finale, Gwen said she really wants to learn an instrument and start writing songs. Is that your plan for the next steps of your career?
Absolutely. When I get home, I plan on writing some songs, getting in the studio and recording them. Once COVID is over, I definitely want to start performing in front of live audiences again.
The moment Gwen turned for you, she said she could be a mom-figure. Is that kind of the bond you guys fostered?
We always joked about how I had my real mom and my Voice mom. She was always so nurturing, always there for me with whatever I needed. She was always willing to drop everything to help me. She's such a phenomenal coach and I'm so happy she won.
You already got to perform with Gwen on the show, but is there another artist you hope to collaborate with in the future?
I have a celebrity crush on Ariana Grande. I'm such a huge fan of hers and I definitely think to sing with her one day would be so amazing.
Do you have any plans for what you're going to do with that $100,000 cash prize you've won in addition to the recording contract?
I haven't really thought about the money piece yet, but I know I want to spend it wisely. I know I want to use it for good.
Is there something you hope people can take away from watching your journey on The Voice?
I want people to be inspired to do whatever makes them happy and realize that what you want to do has no limits. As long it makes you happy and you have your heart set on it, just go for it because you don't want to look back on a life full of what if's and "I wish." So follow your dreams and do whatever makes your heart happy.