After a thrilling night of live performances on The Voice, the iTunes Top 10 chart may have a bit of insight on which of the Top 4 contestants may be named the Season 17 winner.
Jake Hoot, Ricky Duran, Katie Kadan and Rose Short pulled out all the stops during their final performances of the season with each of them taking the stage to sing a classic cover, an original single as well as a holiday duet with their respective coaches Kelly Clarkson, Blake Shelton, John Legend and Gwen Stefani. While they all put their best foot forward and delivered some of the best vocal moments of the season, only one singer managed to crack the iTunes Top 10 chart with all three performances by the deadline of Tuesday at 7 a.m. ET.
Hoot was The Voice's ring leader on the iTunes Top 10 chart for the final week of the competition, earning the No. 6 spot with his original single, "Better Off Without You." His cover of Lonestar's "Amazed" did even better, No. 5, while his holiday duet with coach Kelly—the only coach duet to land in the Top 10—ranked No. 3 on iTunes Top 10 chart.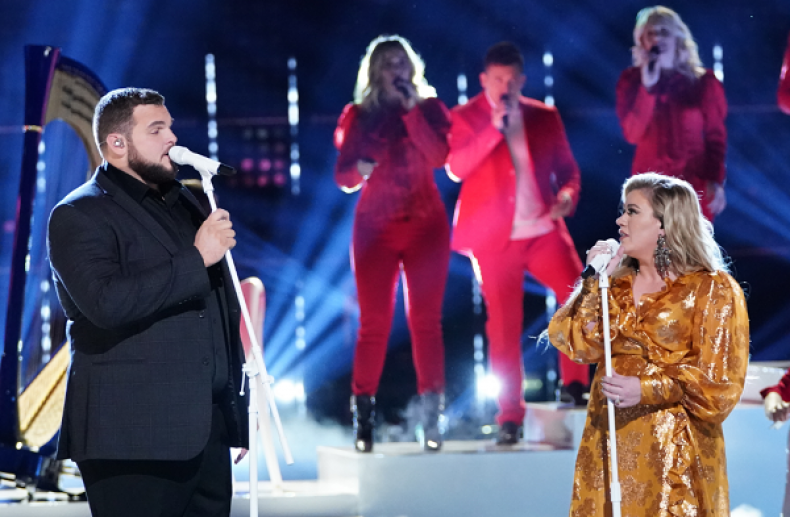 The single father's success on the iTunes chart marks his third straight week of having the highest ranking on Apple Music's streaming chart. His high ranking during the final week of the competition comes at a crucial time, considering the Apple Music Bonus was in effect—meaning in addition to America's votes, each contestants' streams and song sales on Apple Music and iTunes qualified them for a five-times vote multiplier.
Although the contestants' coach duet won't count for the multiplier, Hoot's original song and cover rankings put him in the lead, at least with regard to iTunes streams. Of course, viewers will have to watch the show to see if America's votes have affected the outcome, especially since some of Hoot's fellow contestants weren't too far behind in the iTunes Top 10.
In fact, Team Blake member Duran earned the No. 1 spot on the chart with his original single, "A Woman Like Her." It was the only song of his, however, to break the Top 10. His cover of "Runnin' Down a Dream" reached No. 30, while his duet with Blake landed at No.14.
Kadan had two songs in the Top 10 including her original single, "All Better," which ranked No. 4, and her cover of "I Don't Want to Miss a Thing," which reached No. 8. Her jazzy "Merry Christmas Baby" duet alongside Legend reached No. 13 on the chart.
Team Gwen member Short performed the lowest on the iTunes chart, with none of her songs reaching the Top 10. Her original single, "Steamroller," ranked No. 5 and No. 87, respectively.
The winner of The Voice will be revealed during Tuesday's finale at 9 p.m. ET.