'The Voice' 2019 Top 11 Performances & Predictions: Who Will Be Saved or Eliminated Tomorrow Night?
The Top 11 contestants from The Voice Season 17 are set to perform Monday night during episode 19. Check out our live-blogged recap of every performance, plus predictions for who will stay and who will be eliminated, here.
There are only a few more weeks to go before a winner is crowned on The Voice Season 17. The top 11 contestants are set to take the stage with hopes of making it through to the next round of the competition.
Last week's episode ended with a remaining three artists on teams belonging to coaches Kelly Clarkson, Gwen Stefani and John Legend, while Blake Shelton's team was thinned down to just two remaining members.
How the Top 11 Works: Your Votes Count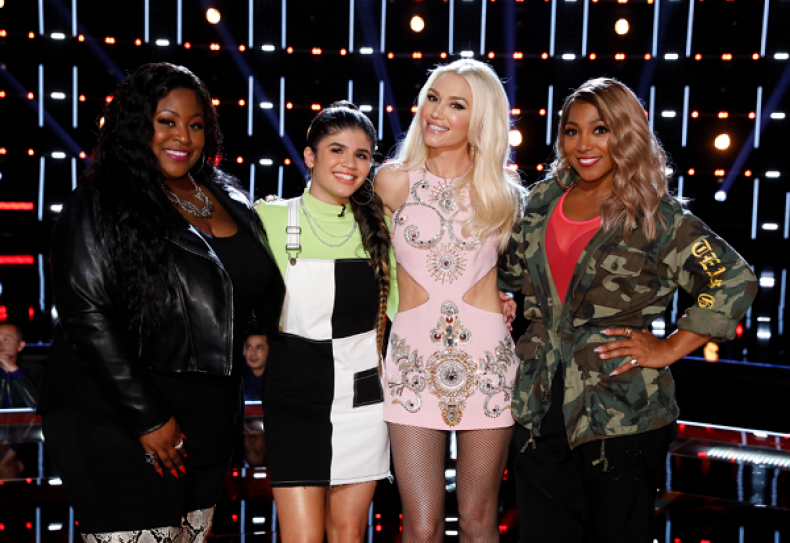 Just like last week, fans will have the opportunity to vote for their favorite performers directly after the episode airs. Viewers can vote online through NBC's voting portal or on The Voice's official app. Performers with the most votes will be revealed during Tuesday night's competition.
Those that make it through to the Top 10 will move forward on The Voice on while the bottom three will have to face off for their chance at an Instant Save just before Tuesday's episode ends. Live audience members and those watching at home will have approximately five minutes to vote for their favorite bottom three performers on Twitter. The artist with the most support will get to move ahead while the remaining one will officially end their time on The Voice.
We'll be keeping up with all the action as soon as tonight's show begins with a live-blogged recap of each artist's performance, keeping fans updated with videos and clips of their songs, in addition to sharing our elimination predictions.
The Voice Season 17 Episode 19 Live Blog: Top 13 Performances, Plus Predictions For Who Will Be Saved or Eliminated
#1 Katie Kadan (Team Legend)
Standing on a platform in a beautiful silver gown, Katie came from behind her keyboard and delivered a riveting rendition of Mariah Carey's "Without You," the song selection decided by the Chicago native's fans. The powerful performance earned her a standing ovation from the judges, and rightfully so. While Kelly thought Katie's cover was "how the song should be sang," no one was more proud to see the singer belt out moving vocals than her team coach John, who called her performance "utterly stunning."
Prediction: Katie will move on to the Top 10.
#2 Kat Hammock (Team Blake)
With her angelic and wispy version of the popular hymn, "I'll Fly Away." If it's one thing Kat has become known for since joining the competition, it's her unique style and voice. Both those qualities shone through during her Fan Week performance and her it certainly didn't go unnoticed by Gwen, who dubbed the 18-year-old California native the"pixie princess" of her coach Blake.
"Every week people are falling more and more in love with you, and they're starting to figure it out and understand how special your voice is and how unique you are to music in general," he gushed.
Prediction: It's early in the night, but with so many other big country voices coming up in the competition, it's hard to think this performance from Kat will help her move on to the next round.
#3 Shane Q (Team Kelly)
During the pre-recorded taping of Shane's rehearsal with Kelly, she suggested for the singer to just "let it go" while singing "Mercy" by Shawn Mendez. He did exactly that when he hit the stage and offered up bone-chilling vocals full of high notes. It may have been the most confident we've seen Shane since the competition started. John thought it was Shane's best performance on the show, and his coach was just as impressed.
"You have this soul in you and this passion and this fire and it's just waiting to get out, and it arrived today, So thank you," Kelly said.
Prediction: Shane will make it to the Top 10.
#4 Joana Martinez (Team Gwen)
After being saved from elimination during the Instant Save round last week, Joana got back to what fans loved her for the most—ballads. The Miami teen gave a sweet performance of Selena's chart-topping song, "Dreaming of You." Her cover landed her a ton of praise from Blake, whose team she originally belonged to before she was saved from elimination by Gwen during the battle rounds. Blake admitted he regretted booting her from his team, while Gwen joked that she thought maybe her country star boyfriend gave was merely giving her a present when he tried to ax Joana from the competition.
"You are unbelievable," Gwen said. "Just the way that you're able to sing those low notes so confidently and so calmly and go into your head voice and then your chest voice, it's unbelievable. I am blown away by you tonight.
Prediction: Although Joana definitely laid it all on the line with her performance tonight, we're just not too sure how it can compete with what's been seen so far on the show. She may be back at the bottom come Tuesday.
#5 Will Breman (Team Legend)
The Voice's designated blue-haired king of eclectic funk and style, Will certainly didn't disappoint with his energetic cover of "Light My Fire" by The Doors. The riffs, the scat-scat-scat vocals, it was all there. While Blake said he was a proud member of the Blue Crew—the nickname for Will's legion of fans—he noted he was never particularly fond of the song until he heard the 25-year-old sing it. His team coach was just as moved by his performance.
"I am an honored member of the Blue Crew because Will every week you impress me with your musicality. You're just on an advanced level as a vocalist, as a musician. Every week is unpredictable. Every week is inventive, and I'm just so proud I get to work with you. It was such an incredible rendition," Legend said.
Prediction: Will is moving ahead to the Top 10.
#6 Rose Short (Team Gwen)
The former corrections officer delivered a cover of "Maybe I'm Amazed" that was nothing short of, well, amazing. It was complete with powerhouse vocals and so much soul that every single one of the judges gave her a standing ovation. Even Sir Paul McCartney, the song's originator, would be proud with her dynamic and moving performance. Her team coach certainly was.
"I'm so moved by you tonight. It's almost like I was in a dream watching you walk toward me," Gwen said. "I can't find the words to describe how unbelievable that was. That was mesmerizing. I feel like I'm on drugs. I don't do drugs, but if I did them, it would be Rose."
Prediction: Rose will advance to the Top 10.
#7 Hello Sunday (Team Kelly)
It's easy to forget Hello Sunday are only 14-year-olds, especially when they're blowing out notes as soulful and strong as their adult-aged competitors. The girls' cover of "The Middle" by Zedd, Maren Morris and Grey wasn't lacking the poise and grace their fans have come to love them for or their signature flavor.
"I hate bringing the age up but I'll tell you," Kelly said, "You sing like women, but you're fun like 14-year-olds, but you're also so poised. To be that young, and to be so gifted and ready, you're an anomaly."
Prediction: Hello Sunday will proceed to the Top 10.
#8 Myracle Holloway (Team Gwen)
Myracle's biggest strong suit may be using her voice and music to encourage victims of domestic abuse, and she does it all in such a beautiful way. No doubt about it, her voice is one that certainly stands out, and her cover of R.E.M.'s "Everybody Hurts" was heartfelt and touching. Her team coach called it a "flawless" performance, exactly what she knew Myracle could deliver. However, it wasn't Myracle's best of the competition so far—in our opinion—and is more of a forgettable performance of a classic song, compared to what her fellow contestants have been delivering tonight.
Prediction: Miracle may end up in the bottom on Tuesday.
#9 Marybeth Byrd (Team Legend)
Marybeth has shown off her exceptional range and vocal ability since she first started on the show, and all that power shined through with a ton of bravado when she sang a cover of "Stars" by Grace Potter and the Nocturnals tonight. Team coach John was beyond proud of her performance, calling it her best so far. "You sounded so magical," he said.
Prediction: Marybeth will move on to the Top 10.
#10 Jake Hoot (Team Kelly)
There's something about Jake that just reeks of a country star. Maybe it's the way his voice reminds us of the comfort and happiness of home. His cover of "Every Light in the House" by Trace Adkins was oozing with nostalgia and warm-fuzzy feelings, and it definitely wasn't missed by Gwen, who hailed him as a diamond in the rough, or his team coach. "Every time you open your mouth to sing, I am reminded of every part of my childhood that was awesome," Kelly said.
Prediction: Jake will move ahead in the competition.
#11 Ricky Duran (Team Blake)
The soul-rocker of The Voice has done it again, folks. Singing "Downtown Train" made famous by Rod Stewart, the 29-year-old gave a performance worthy of a star. The vocals were there. The energy was there, and so was his phenomenal stage presence and pizzaz that only he seems to deliver. Ricky's obviously got the talent and all the makeup of an artist that will go on to have on a stellar career, regardless of what happens with him on the NBC competition. His team coach knows it too.
"When I tell you that everybody loves you, it's not just fans and people that I know. Literally people in the business are reaching out to me about you already," Blake revealed.
Prediction: Ricky will advance to the Top 10.