'The Voice' Season 18, Episode 1 Recap & Results: Every Contestant's Blind Audition Performance, Plus Who Made the Teams So Far
The Voice Season 18 starts on Monday evening at 8 p.m. ET. Find out everything you need to know about tonight's show including a live-blogged recap and results for who made the teams so far.
A whole new set of contestants will sing their hearts out for their chance to win The Voice. The NBC singing competition returns on Monday and kicks off with the first round of blind auditions, during which the coaches will pick contestants to fill spots on their teams.
Who are the Season 18 coaches?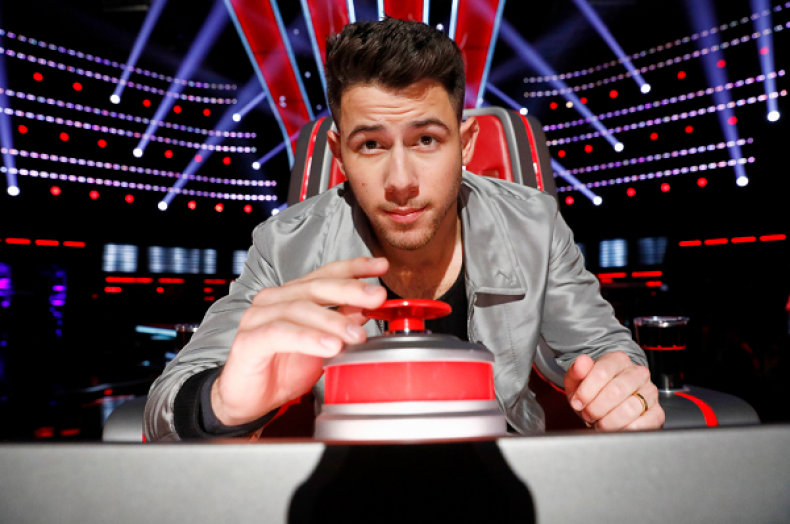 Blake Shelton, who's been with the show from the very beginning, returns to his famous red swivel chair on The Voice on Monday. Kelly Clarkson and John Legend are also back for the new season, and joining the group for the first time is new coach Nick Jonas.
Who are the Season 18 mentors?
After all the positions on Team Blake, Team Kelly, Team Legend and Team Nick are filled, the remaining contestants will additionally receive mentoring from a few hit artists. While Jonas has enlisted his brothers Kevin and Joe Jonas to serve as his team mentors, songstress Ella Mai will advise Legend's team, while Dua Lipa teams up with Clarkson and Bebe Rexha helps the artists on Shelton's team.
The season's mega-mentor—a celebrity artist who offers advice to all the contestants—has yet to be revealed.
Once the show kicks off, we'll be live-blogging the premiere event and recapping every contestant's performance. Plus, we'll be revealing who made it on a team during the first night of Blinds. Check back in with Newsweek during or after the show for all of The Voice Season 18 premiere details.
The Voice Season 16, Episode 1 Recap: Who Made the Teams So Far?
Team Blake: Todd Tilghman, Todd Michael Hall
Team Legend: Nelson Cada III, Darious Lyles
Team Nick: Tate Brusa, Nick Jonas
Team Kelly: Tayler Green, Megan Danielle
The Voice Season 18, Episode 1 Live Blog
8:00:
After new coach Nick Jonas came parasailing to The Voice's set, the judges got seated in their big comfy red chairs for the very first performance of the night. They're starting out the season strong because all four coaches turn their seats for Todd Tilghman as he belts out a soulful rendition of "We've Got Tonight."
John and Nick are battling hard to get 41-year-old Todd on their team, and they try to sell the pastor on their own backgrounds singing at church while Kelly tries to appeal to the father-of-eight's parental nature. Meanwhile, Blake showered Tod with compliments and said he was really impressed with the "not smooth" sound of the contestant's voice.
"I love your voice. I love your passion. I love your range," Blake said. "You are so amped up and it reminds me why I continue to be a coach on this show."
The country star's speech was the winning ticket, and the Mississippi singer ultimately decided to go with Team Blake.
8:14:
It's only the second act of the night and not only have all four judges turned in their seat for California singer Nelson but the first Block of the night has been handed out to Nick Jonas. John admits to blocking the "Jealous" singer. Despite not being able to add Nelson to his team, Nick still admits to being blown away by Nelson's cover of "Pride and Joy."
"You could probably win this competition. You are a star, and wow," Nick said.
When Nelson tells the coaches he's an experienced singer—as if his performance wasn't already a dead give away—and that he's been on the stage with Stevie Wonder, John attempts to secure him on Team Legend and says that he can get Nelson back on stage with the legendary Stevie once again.
Kelly says she loves Nelson's raspy voice and vibe but notes it's his personality that shines through the most, and Blake agrees.
Nelson, who says he was a classically trained pianist first and foremost, chooses to go with Team Legend.
8:26:
In his video reel, contestant 16-year-old Tate Brusa admitted he's been writing songs about girls he had crushes on since he was 11. He shows off his heart-throb-in-the-making charm by delivering a raspy rendition of Ed Sheeran's "Perfect" gets him chair turns from Nick and Blake.
Although he didn't turn his chair, John advocated for Tate to choose Nick's team, especially since the Jonas Brothers' singer has experience being a young professional superstar singer. Nick says he really wants to help Tate grow and develop as an artist.
"I heard the fight in your voice and I think I can help you hone in the parts that vocally weren't your best," Nick says before jumping on stage to give Tate an impromptu coaching session.
Nick's tactics cause Blake to take desperate measures. He brings out a puppy in an effort to convince Tate to choose his team. As cute as the good doggie is, Blake's methods aren't enough to persuade Tate.
He chooses Team Nick.
8:40:
Kelly is the first to turn her chair for Tayler Green, who's gorgeously singing a cover of "Issues" by Julia Michaels. It doesn't take long for Nick to turn his chair for the New Jersey singer too.
Nick instantly tries to win her over by noting that they're from the same state. "The moment I heard you go to the high notes in that song I knew you had a spectacular voice and it sounded to me like someone who could win this competition," Nick said.
Kelly reminds Tayler that she grew up singing opera and can help Tayler learn to push her vocals to the max.
"All that pretty whispery stuff that was really really beautiful, and what it explains to me is that you have control. But you're going to have to not only go for those head-voice notes, but those really really big ones too. And I know how to teach you the support of that," Kelly said.
In the end, Tayler picks Team Kelly.
8:51:
Singer by night and meter-reader by day, Ashley Plath takes the stage with a rocked-out version of "Baby It's You" by Smith. Despite a high energy performance, she didn't receive any chair turns. However, the coaches complimented her range and advised her to come back to the show again and perform something that would better showcase her skillset.
9:01:
We're introduced to Chicago native Darious Lyles, who shares the touching story of how he discovered he was adopted in a video reel. Despite losing his identity for a period of time, Darious said he finally came to understand why his biological mother had to give him up. After both of his adopted parents died, he fostered a relationship with his birth mother, and he dedicated his song choice of the night—Sam Smith's "How Do You Sleep"—to all of them.
The heartfelt performance earned Darious seat turns from John, who said he particularly loved the singer's low range, and Kelly who thought Darious' cover was tasteful.
The 30-year-old ends up choosing Team Legend.
9:12:
Megan Danielle hits the stage with a cover of "Remedy" and scores a turn from Kelly, which is great because she admits that Kelly is her musical influence. In fact, Kelly was her first choice.
Stunned by Megan's tone, range and control, Kelly is stunned to be the only one to turn her seat for the 17-year-old singer. "I feel so blessed right now, I thought you deserved four chairs," Kelly said. "You have a beautiful, beautiful voice."
9:24:
The daughter of Haitian immigrants, Brooklyn native Chrissy Joly is next to take the stage. She gives an upbeat and energetic performance of "Don't Let Me Down" full of high notes. Unfortunately, it wasn't enough to get any seat turns.
Nick said her ad-libs were impressive, but her song choice didn't show off the strength of her voice. John and Kelly agreed.
"There were parts where your voice was so on, but then there were parts that were pitchy," Kelly said.
The daughter of Haitian immigrants, Brooklyn native Chrissy Joly is next to take the stage. She gives an upbeat and energetic performance of "Don't Let Me Down" full of high notes. Unfortunately, it wasn't enough to get any seat turns. Nick said her ad-libs were impressive, but her song choice didn't show off the strength of her voice.
John and Kelly agreed. "There were parts where your voice were so on, but there were parts that was pitchy," Kelly said.
9:35:
It only took us an hour-and-a-half, but finally, a rock-star-in-the-making has arrived. Fifty-year-old Todd Michael Hall belts out a version of "Jukebox Hero" that convinces John to turn around and get up from his seat with a standing ovation.
Blake also gives Todd a chair turn. "That is incredible. That takes me back to the hair bands, man. That is what I love. That is a direct path to the finale dude," Blake said.
He added: "You like to rock. I like to party. Let's put those together."
John is moved by his range and his pizzaz and says he can lead Todd to the winner's circle, but overall, Todd chooses Blake.
9:46:
Emily Bass made a memorable impression on the judges with a drawing of all of the judges when she auditioned on The Voice last season, but she failed to secure any chair turns. Now she's back again after spending nearly a year undergoing vocal lessons and honing in on her craft. She chooses a cover of "Love Yourself" by Justin Bieber in hopes of better showcasing her range. Unfortunately, she didn't get any turns this time around either, but the coaches encouraged her to keep trying to achieve her dream.
"This is the toughest part of this job. I know this hurts, but it's going to be alright. You do have the raw talent," Nick said.
9:52:
Joanna Serenko is the final performance of the night, and she absolutely stuns the coaches with a syrupy and soulful, jazzy version of "All My Loving." Each of them—Kelly, John, Nick and Blake—turn their chairs for the 18-year-old.
"I don't know in what season we've heard such effortless, powerful vocals. I'm going, 'There's no way this girl's gonna choose me as her coach,' but at the same time I gotta hit my button when somebody is that great," Blake said before adding, "You're probably gonna go with John."
Everyone thinks she's going to choose John's team, but Nick makes an impassioned speech, determined to fight for Jonna and he seals the deal. The Missouri native picks Team Nick.