'The Voice' Live Shows Will Continue With Contestants Singing and Judges Appearing From Their Homes
On Monday, NBC's reality singing competition The Voice returns to television, but this season's live rounds will implement social distancing measures.
Carson Daly will host from the show's iconic four-chair set with no audience present. The remaining contestants will sing and the judges will deliberate from their respective homes.
Daly's segments will be recorded on two Universal Studios soundstages with around 30 crewmembers instead of the usual 450, according to Deadline. All on-set employees will wear filtered masks, have their temperatures taken twice a day and wear bracelets to show that they're healthy. Also, the craft services food table will be altered in such a way as to minimize possible infection.
Their mentoring sessions between the contestants and their coaches will have been pre-taped with coaches offering remote assistance from their homes—Kelly Clarkson from Montana, Nick Jonas and John Legend from Los Angeles and Blake Shelton from Oklahoma—to help contestants choose songs and arrange vocals.
For their home performances, all contestants have received state-of-the-art production kits with professional cameras and audio equipment so that they can pre-record their performances.
After their pre-recorded performances play on-air, their subsequent interactions with the coaches and hosts will be recorded live-to-tape so the audience can see them as they play out without any post-recording edits.
From then on out, viewers will vote for their favorite performances overnight on Mondays. On Tuesday, the contestants will learn live whether they'll compete for the Instant Save.
The series' semi-final rounds will air May 11 and 12 and the live finale performances will happen on May 18. The live finale results will be announced on May 19.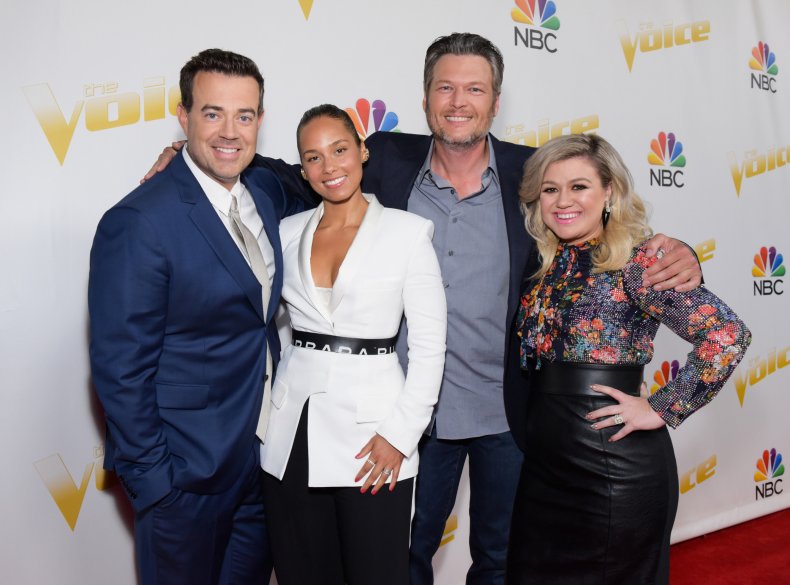 "Reinventing the live shows has allowed us to create innovative ways to bring 'The Voice' to life in a fresh and intimate way," said The Voice's showrunner and executive producer Audrey Morrissey.
"It has been an incredible team effort with the coaches, artists and their loved ones being involved in the process," Morrissey continued. "With Carson at the helm from the stage, we are excited to share a unique Voice experience that will feel both new and familiar."
The socially distanced version of the show represents one of the earliest attempts by a major studio to continue producing new episodes of a reality competition despite the production shutdown and work restrictions caused by the coronavirus epidemic.
ABC's reality singing competition American Idol began airing its live shows remotely on April 26, according to Deadline. Several late-night talk shows have also been operating remotely, as has the long-running sketch comedy show Saturday Night Live.
Correction: The previous headline to this article incorrectly said that contestants would be singing in a studio.