'The Voice' Coaches Nailed 'Let My Love Open The Door' And They Aren't The Only Ones
It was a festive Season 18 finale for The Voice on Tuesday night.
Of course, the biggest highlight of the night was the crowning of the winner—country singer Todd Tilghman of Blake Shelton's team. But before that bit of news was revealed viewers were delighted by several special performances from Season 18 artists, coaches Shelton, Kelly Clarkson, John Legend, Nick Jonas and many special guests.
One of the best performances of the night was the show opener, which brought back a few familiar faces. Shelton, Clarkson, Legend and Jonas were joined by former The Voice coaches CeeLo Green and Shakira for a supergroup performance of Pete Townshend's hit, "Let My Love Open the Door." Season 18 advisor Bebe Rexha, who gave Shelton's team some guidance during the Battles, was also featured in the performance.
The group knocked the song right out of the park and essentially set the lively tone of the results show. A real treat for viewers and likely Townshend, who celebrated his 75th birthday on Tuesday.
However, they aren't the first to cover the classic single. Townshend, who was one of the founding members of the British rock group, The Who, first released "Let My Love Open the Door" back in 1980. The debut single from his solo album, Empty Glass, the song was the first and only of Townshend's solo records to break the top 10 on the music charts in the U.S.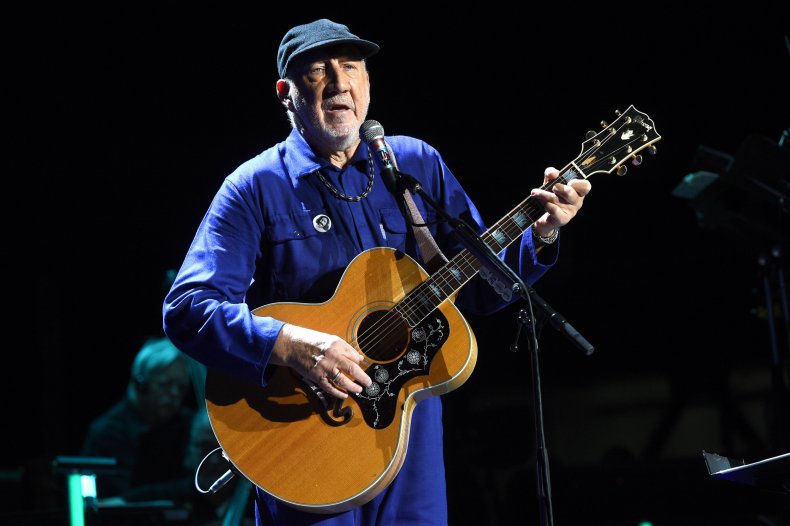 Since its release, "Let My Love Open the Door" has only continued to increase in popularity thanks to the many musicians who have covered the song over the ages. One of the most known remakes of the song was performed by Luminate on The Covers EP in 2013. But over the years, bands including Audio Adrenaline, Great Big Sea and Rouge Wave have covered the song.
Natalie Imbruglia released a version of "Let My Love Open the Door" on her 2015 album, Male, and John Mayer was known to perform the song regularly during his 2019 summer tour. Pearl Jam even gave an electrifying cover of the track during a concert in 1995.
The song isn't just famous for its many remakes, though. The original and covers have also been used in dozens of movies and television shows, whether included in soundtracks, used for trailers or a part of the closing credits. Some of the single's most notable features include films like Jerry McGuire, Mr. Deeds, Along Came Polly, Jersey Girl and Look Who's Talking.