'The Voice' Recap: Ariana Grande Promises to 'Have a Baby' for Contestant
Ariana Grande proved she's a natural in the big red chair on Episode 1 of The Voice by employing devious tactics to get the singers she wanted.
Grande is making her debut in Season 21 of the show replacing Nick Jonas. She's sitting alongside fellow coaches Kelly Clarkson, Blake Shelton and John Legend, and all four battled it out on last night's season opener to try and snag the singers they wanted for their team.
Grande will be hoping to become just the third coach to win in their debut season, following in the footsteps of Clarkson and Legend.
She made a big impact during her first show and promised more than she could deliver to one contestant in order to get what she wanted.
What did Ariana Grande say on The Voice?
International superstar Grande learned quickly that to get ahead on The Voice she needed to fight harder and be less nice.
She tried to recruit one of the early acts on the show, sibling trio Girl Named Tom but they ultimately chose Clarkson as their coach. At this point The Voice veteran Shelton told Grande that in order to give herself an advantage she needed to "lie" and "talk over people."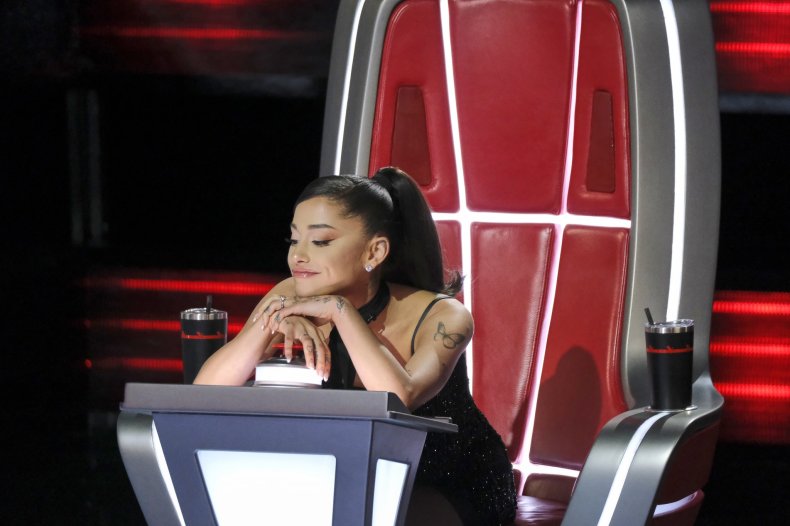 The next time Grande pitched for a singer she took Shelton's advice.
Katie Rae sang a rendition of "Bones" by Maren Morris and opened up about her struggle with postpartum depression. It looked as if Clarkson and Rae were bonding about being mothers but 28-year-old Grande told Rae she would "have a baby for you to be on my team." She quickly took back this promise though.
Grande also spoke over Legend as he was making his pitch by slamming her buzzer and playing a snippet from her song "Thank U, Next," sending the audience and Clarkson into hysterics
Ultimately, the antics paid off as Rae chose Grande as her coach. Grande also bagged singers Katherine Ann Mohler and Vaughn Mugol to be on her team, bringing her total to three. The rest of the coaches ended Episode 1 with 2 acts each -- Clarkson bagged Girl Named Tom and Kinsey Rose while Legend secured Jonathan Mouton and Jack Rogan. Shelton secured the services of Peedy Chavis and professional singer Wendy Moten.
The Voice coaches on social media
Grande shared highlights of the show on her Twitter account and took the time to thank her followers for watching, and the three new singers who chose her as their coach on The Voice.
The Ariana Grande fan accounts came out in force on social media during last night's show, praising her performance and sharing several memes from the show's biggest moments.
Each of the judges shared their reactions to securing their acts too.
The Voice Season 21 continues tonight with Episode 2 airing at 8pm ET on NBC.