'The Voice' Season 16, Episode 1 Recap & Results: Every Contestant's Performance, Plus Who Made the Teams So Far
The Voice season 16 starts on Monday evening at 8 p.m. ET. Find out everything you need to know about tonight's show including live-blogged recap and results for who made the teams so far.
The Voice is back on NBC with its two-night Season 16 premiere starting Monday, February 25. Tonight's show features the first of six rounds of blind auditions, during which the judges will choose 12 contestants to fill their individual teams.
Who are The Voice Season 16 Judges?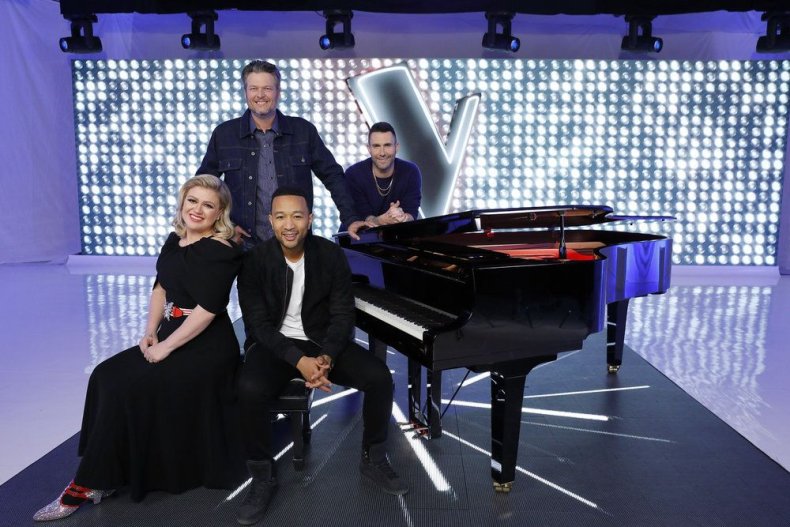 The notorious red judges swivel chairs will welcome three veterans and a newbie for Season 16. Original coaches Adam Levine and Blake Sheldon return for yet another year along with American Idol alum Kelly Clarkson, who has been on the panel since Season 14. The judges' circle also welcomes for the first time, award-winning singer and songwriter, John Legend. Carson Daly is also back on The Voice for hosting duty. Meanwhile, Charlie Puth, Brooks & Dunn, Khalid, and Kelsea Ballerini will serve as advisers.
The Comeback Stage digital series will return again to the show this year, with the second-chance stage contestants being guided by Coach Bebe Rexha.
As soon as the show kicks off, we'll be providing a live-blogged recap of every contestant's performance, plus results for who made it on the teams so far. Be sure to check back during or after the show for all those details.
The Voice Season 16, Episode 1 Recap and Results: All Performances Plus Who Made the Teams So Far
#1 Gyth Rigdon (Team Blake)
The first singer of the evening is 24-year old Singer, Louisiana native, Gyth Rigdon. Gyth grew up with a single father and considers him a hero and the inspiration for Rigdon's music. The singer performed "Drift Away" by Dobie Gray. He earned three seat turns from John, Kelly, and Blake but John ultimately got blocked by Blake which means he cannot be chosen as Rigdon's coach. In the end, Rigdon joins the ranks of Team Blake!
#2 Maelyn Jarmon (Team Legend)
The second performer of the evening is25-year-old New York resident, Maelyn Jarmon. According to Jarmon, she is deaf in one ear which makes it difficult for her to hear people talk but helps her with her music. Before her performance, Jarmon confides that she hopes to get a chair turn from John Legend. The singer performs "Fields of Gold" by Sting. Her voice is a beautiful blend of country and pop vibes and she gets an immediate three chair turn by Adam, Blake and Kelly. It doesn't take long before John joins in for the first four chair turn of the evening.
"What you did showed your skill and mastery but also your magic, said John Legend.
After quite a bit of courting from the coaches, Jarmon ultimately went with team John Legend.
#3 Karen Galera (Team Kelly)
19-year old Guadalajara, Mexico native Karen Galera takes the stage third. Galera moved to Dallas, Texas at age five. Galera contributes her interest in music to her older brother Eric who pulled her into his own music-making experience. Eric is now in the marines and Galera is devoting her audition to him. Galera performed "Mi Corazoncita" by Aventura. Galera is a beautiful latin music performer and just a few notes into her performance she got a chair turn from Kelly. About halfway through the chorus, John Legend also pressed his button. Kelly made a passionate plea for Galera — "I long for people like you. You're so special!" said Kelly. All the begging paid off — Galera joins Team Kelly!
#4 - Trey Rose (Team Adam)
Up next is a 26-year old singer from Hugo, Oklahoma. Rose feels an affinity with Blake Shelton who is from the same area. Rose's performed "Wake Me Up" by Avicii. Rose has a voice that is reminiscent of Rob Thomas from Matchbox Twenty. It's clear he could easily find a place across many genres. Adam Levine turns his chair just a few notes into the song but is later joined by Blake a moment before the audition came to a close.
"You blew me away," said Adam. "You are really, really good."
"There's an energy about your performance that is infectious," added Blake.
Although it looked like Trey was leaning towards Blake's team, in the end, he decided to go with the judge who turned his chair first. Team Adam gains his first team member!
#5 - Kim Cherry (Team Blake)
Up next is Kim Cherry — a singer that was teased in a YouTube clip over the weekend. Cherry performs TLC's "Scrubs." While the first part of the performance seems a little touch and go, mid-song Cherry jumped into a rap segment that appeared to impress John Legend, while ultimately winning over Kelly and Blake's button push.
"When you did the rap, you were owning it … I think you're amazing," said Kelly.
"The fact that you chose that song shows me how fearless you are … you're rapping is dope," said Blake.
Both judges put up a fight, but in the end, Cherry surprises everyone and picks Team Blake.
#6 - AJ Ryan (No Chairs Turned)
30-years-old from Brooklyn NY. Ryan grew up in a rough area, but music carried him through. He gained a music scholarship and managed to be the first college graduate in his family. Ryan performed "Love Runs Out" by One Republic. The song started a little low and slow for Ryan's range, but once he jumped into the chorus it got better. The audition was really short and, unfortunately, none of the judges turned their chairs.
"I think the high notes sold us on you, but the low notes scared us a little," said Legend.
"I think the range was a little big for you," said Kelly.
#7 - Rizzi Myers
This 29-year-old mother and full-time musician Rizzi Myers has a background as a professional songwriter from Kansas City, Missouri now living in Nashville, Tennessee. She performs "Breathin" by Ariana Grande. The version is somewhat different from Grande's version, but after launching into an impressive run, Kelly hits her button. Myers isn't done though. During the chorus shit nails her high notes so perfectly, it earns the button pushes of both Blake and John as well. John gets blocked, yet again, leaving just Kelly and Blake to squabble over Myers.
"You seem fun as hell," says Kelly Clarkson.
Myers confides she and Clarkson have met before, which ended in a big sisterly hug. It's not surprising to learn that she's joining Team Kelly.
#8 - Lisa Ramey (Team John)
Next up is a performer who first auditioned during season 15 — 33-year-old New York resident Lisa Ramey. Ramey is taking Kelly's advice from last year and is going with a slower song. She performs "Sex on Fire" by Kings of Leon. Ramey puts on a good performance and at the last minu,te John turns his chair.
"I thought the song choice was so rad," said Kelly.
"You're voice was so powerful, it just cut through everything," said John.
Lisa makes the second singer to join Team John tonight.
#9 - Jimmy Mowery (Team Adam)
The next singer has been performing in over 1000 shows in the last 16 years with different bands. Mowery is a 31-year-old singer from Altoona, Pennsylvania. Mowery's father instilled in him a love for music. After tragically losing his father as a child, he's vowed to carry on his father's musical legacy in the songs that he writes and sings. Mowery performs "Attention" by Charlie Puth. A couple notes in Adam Levine turns around. Mowery has a decent high register but it takes him a while to get into his flow. By the end though he earns another button push by John Legend.
"You have a phenomenal voice," said Adam Levine.
"Your chest voice is really rich and powerful … it's dope" said Legend.
Adam gave Mowery a lot of good feedback about how to get the most out of his voice and it paid off — Mowery is the latest member to join Team Adam.
#10 - LiLi Joy
15-year-old Chino Hills, California native, Lilli Joy doesn't come from a musical family, but that hasn't stopped her from reaching for her own musical dreams. Donning a pink wig, Joy performs "Cool" by Gwen Stefani. Joy has a voice beyond her years. Playing a ukulele to accompany herself, Joy's performance is both cool and unique. She gets a quick chair turn from Blake.
"That was so cool," said Blake. "I can't wait for her to hear that."
Lilli Joy makes the third contestant to join Team Blake.
#11 - Nathan and Chesi
20-something Paintsville, Kentucky couple, Nathan and Chesi are up next. The couple are country strong and hope to make a break into music as a couple. The pair perform "Waymore's Blues" by Waylon Jennings. The are a powerhouse combination and have a great country music sound. Both Kelly and Blake seem conflicted about the performance and in the end, no chairs are turned .
"I feel like the key was too high and that's why I didn't hit my button," said Blake.
"I wish it were a different song. I hope you come back because I really dig your sound," said Kelly.
Nathan and Chesi didn't get any chair turns, but they were invited by Bebe Rexha to the Comeback Stage, so we'll be seeing them again.
#12 - Matthew Johnson
The final performer of the evening is 25-year-old Jacksonville, Florida resident, Matthew Johnson. Johnson's day job is with a finance company but his passion is for music. Johnson performs "I Smile" by Kirk Franklin. Johnson doesn't even get through his first word of the song and both Blake and Adam have hit their buttons. Johnson has an incredible voice and performance persona, it doesn't take long before John and Kelly push their buttons too, making the second four chair turn of the evening. At the end Adam throws his shoe (in honor of Jennifer Hudson) — it's clear there will be a fight for Johnson.
"Everyone in this room felt what you just did," said Adam.
"Did you see how fast I pressed that button? I didn't want to miss one second of it," said Blake.
"I am just a fan. You're so joyful," said Kelly.
In the end, Johnson picks Team John.
What Time Does "The Voice" Come On? Start Time, Channels and Live Stream
The Voice airs every Monday and Tuesday night at 8 p.m. starting February 25. Viewers can watch the competition live on NBC or stream via the NBC app or the network's website. Folks with Hulu's Live TV service will also be able to stream the show in real-time, while those with basic Hulu subscriptions can watch the premiere on-demand after it airs. The Voice is also available for streaming on platforms such as FuboTV and Sling TV.