'The Voice' Season 16 Episode 4 Recap: Which Blind Audition Contestants Made the Teams Tonight?
The Voice 2019 Blind Auditions continue tonight during Season 16 episode 4. Check out our complete live-blogged recap and results, here.
On Tuesday The Voice returns again for its fourth round of Season 16 Blind Auditions. Last night 11 performers took the stage, with 8 singers joining the main judges' teams and one getting a second chance via Bebe Rexha's Comeback Stage. The favorite performers of the evening were Dexter Roberts and Jej Vinson who both managed to gain four-chair turns.
How The Blind Auditions Work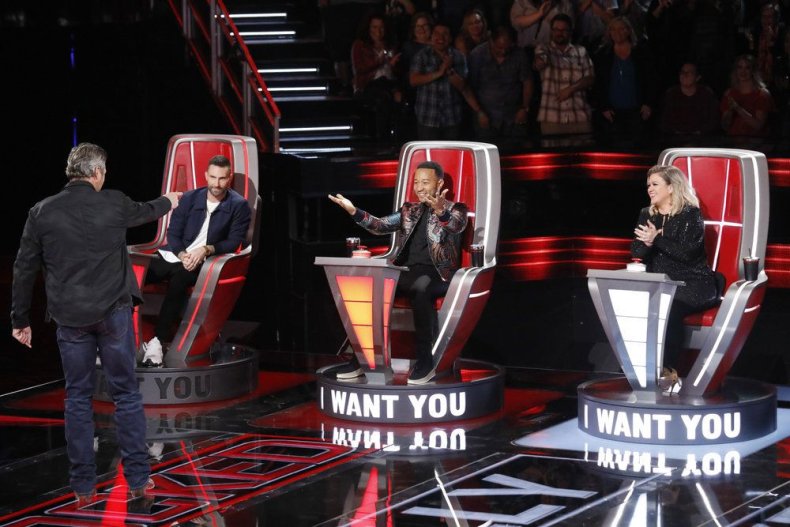 If you're new to the show, the Blind Auditions are the first round of the competition, during which contestants perform while the judges' chairs are turned. If the judge hear a singer they'd like to have added to their team, they may press a button on their chair which allows them to face the singer and vie for him or her. Each judge must put together a team of 12 singers. If more than one judge presses his or her button, the singer gets to choose which team he or she will join.
How Blocking Works
Each judge gets one block per season (all judges have used theirs this season). If there is a singer one of the coaches wants badly, he or she may press the Block button to block a specific judge from getting that singer. During episode 1, all three veteran judges blocked John Legend and in episode 2 he used his own Block on Adam.
Bebe Rexha's Comeback Stage
If performers don't manage to turn any chairs during the Blind Auditions, they still have a chance to be chosen for the digital companion series, The Comeback Stage. This year's Comeback Stage coach is Bebe Rexha. Rexha may choose up to six promising contestants during the Blind Auditions to add to her Comeback Team. These singers will get a second chance to return to the competition for the live shows. Mentored by Rexha, Comeback Stage contestants will compete against each other in the digital companion series, with the winner securing a spot in the Top 13.
The Voice 2019 Blind Auditions Recap: Who Made The Teams Tonight?
#1 Betsy Ade
The first performer of the evening is 40-year-old, Kenosha, Washington native. In her youth, Betsy started in a rock band with brother. They traveled together for a year and a half, but she had to put music to the side to care for her son. Betsy says she is hungry for a win and so she performs "Hunger" by Florence and the Machine. She has a kind of Annie Lennox vibe that is perfect for the kind of music she is performing. Betsy puts on an amazing show and before long she's managed to grab the chair turns of John and Adam.
"I think you are fantastic," said Adam.
I felt your power. I felt your energy. I love your energy and your vibe," said John. "You belong on this show."
It was clear both Adam and John really wanted Besty, but in the end, she went with Team Legend.
#2 Dalton Dover
Up next is 20-year-old Aragon, Georgia native, Dalton Dover. Dover works full time in a poacher plant along with all his family. Dover got married at 17 and loves being a family man. Dover has done music with his brother as a hobby but now hopes to find a place in music via The Voice. Dover performs "Don't Close Your Eyes," by Keith Whitley. He has an incredible country music sound, but his voice could translate across genres. Blake is surprised in the end when he's the only judges to turn.
"We all knew you were gonna pick Blake," said Kelly.
"Your voice is really beautiful and your tone is really rich … I'm really happy Blake chose you," said John.
Dover is the first singer of the evening to join Team Blake.
#3 Rebecca Howell
The intro for the next contestant is brief but her voice says it all. The Cochran, Georgia native performed "The Night the Lights Went Out in Georgia" by Vicki Lawerence. Howell's voice is classic country and Kelly is first to hit her button followed by Blake and John.
"The thing I love about Georgia vocalist is the whiny nasal sound that makes you great," said Blake.
All the judges seem to think Blake has this one in the hat but in the end, she chooses Team Kelly.
#4 Kendra Checketts
19-year-old San Diego, California native. Checketts has loved music her whole life but in fourth grade, her father had a brain hemorrhage. He was in a coma for several weeks and had to undergo surgery and a lot of therapy to recover. During that time Checketts turned to music as a comfort. Checketts performed "Sober" by Demi Lovato. She has a rich deep tone that Blake jumps on quickly. Her performance was solid but no other judges joined in.
Kendra is the second singer to join Team Blake tonight.
#5 - J.T. Rodriguez
Next on the stage is 28-year-old Chattanooga, Tennessee native, J.T. Rodriguez. Rodriguez struggled with his weight as a child and is now a personal fitness trainer. Though he loves working with people on their own weight loss journeys, Rodriguez hopes to find a career in music. He performs, "Higher Love," by Steve Winwood. The song starts off slow and the judges are listening carefully. Coming into the chorus, Rodriguez picks up the pace, but it isn't quite enough to earn him any chair turns.
"I was so close," said Kelly.
"Your voice is really interesting but I think you had a lot of nerves," said John. "Your voice is really special though."
J.T's journey isn't over yet. He was chosen to join Bebe Rexha's Comeback Stage.
#6 - LB Crew
The final singer of the night is 29-year-old Little Rock, Arkansas native. Crew grew up performing music in the church with his brothers. Crew performs by Mr. Probz. LB's voice is like silk and he easily grabs the only four-chair turns of the evening.
"From the first few notes, I could tell you had the range and the notes … it was very sexy and cool," said Kelly.
"You have a magnificent and powerful voice. You are among some of the best performers we've seen," said John.
All the judges vied hard for Crew but in the end, he chose Team Adam because of the constructive criticism given.
When Does The Voice Air Next? Start Time and Channel
The Voice airs every Monday and Tuesday evening at 8 p.m. EDT. The show will return Monday March 11. You can watch it live on NBC, or catch up the day after it airs via Hulu or NBC.com.