Who Was Eliminated, Saved and Stolen on 'The Voice': Everything to Know About Season 17 Battle Rounds Night 2
All of the teams on The Voice are a little bit thinner after the second night of battle rounds.
Judges John Legend, Kelly Clarkson, Gwen Stefani and Blake Shelton used their steals and saves sparingly, resulting in a few people having to leave the competition for good on Tuesday.
Both John and Kelly used saves during the first night of battle rounds, but all four judges still had steals to cling to. However, only one judge used the steal option during the latest episode, resulting in four artists being eliminated from the NBC singing competition.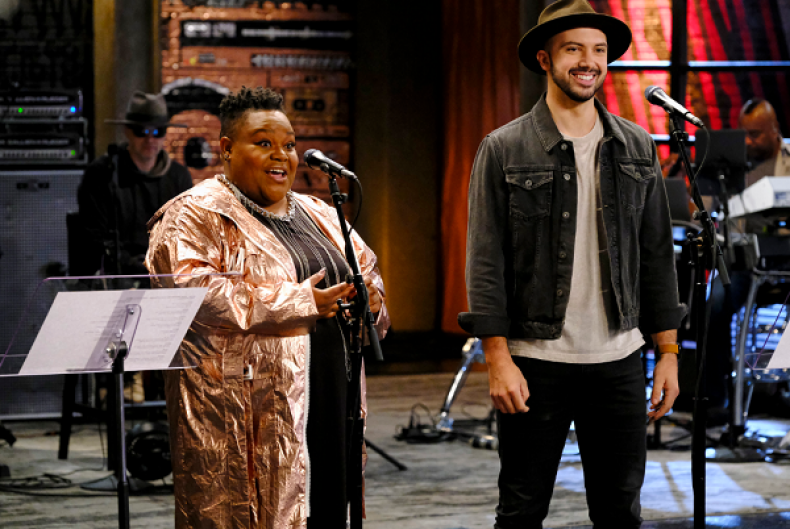 First up was Team Kelly member Alex Guthrie and Injoy Fountain, who belted out a cover of Marc Broussard's "Home." Although both singers offered up powerful and soulful vocals during their performance, Alex was deemed the winner and no judge opted to save or steal Injoy.
Team Gwen's Elise Azkoul and Myracle Holloway followed with their rendition of Ariana Grande's "Breathin." During practice, Gwen warned the singers of harmonizing, noting that when they synced their voices she couldn't differentiate the two singers. The advice was critical for Elise and Myracle, considering the point of the battles is to out-sing a fellow competitor. Overall, it was Myracle who managed to shine the brightest during their performance—although John advised the singer would need to take more risk with her range if she expected to go all the way. While Myracle was able to continue in the competition, no judge used a save or a steal to keep Elise in the competition.
Then came Team Legend competitors Katie Kadan and Destiny Rayne. The singers delivered a heartfelt cover of Elton John hit song, "Tiny Dancer." John ultimately chose Katie as the winner, and then shocked the other judges by using his save for Katie. However, their performance was so moving that Blake decided to save Destiny. Too bad for him, though, because Gwen decided to steal the singer from her boyfriend's clutches. Katie then chose to stay on Team Legend.
Although viewers didn't get to see a full-out performance from Team Legend members Matt New and Max Boyd, the EGOT winner decided to keep Max with no save or steal presented for the singer, while on Blake's team, country hopeful Cali Wilson was chosen over Ellie Mae.
That leaves Gwen with the option to save a contestant while Blake, John and Kelly are still holding on to steals. With a slew of performers still in the running, the current contender list will be shortened further come next week.
The Voice airs on NBC on Mondays and Tuesdays at 8 p.m. ET.