'The Voice' Season 17 Spoilers: Who Are the Contestants So Far and Whose Team Did They Choose?
The Voice Season 17's two-hour premiere got off to a thrilling start for many contestants on Monday. In total, nine performers convinced judges Blake Shelton, Gwen Stefani, John Legend and Kelly Clarkson to bang their red buzzers and add contestants to their teams.
The talent was undeniable on the first night of blind auditions. Judges blocked each other's bids, threw each other under the bus and—on more than one occasion—teamed up against Blake. There were even a few contestants who managed to get all four judges to swivel around in their famous red chairs and go toe-to-toe with one another to fill up spots on their teams.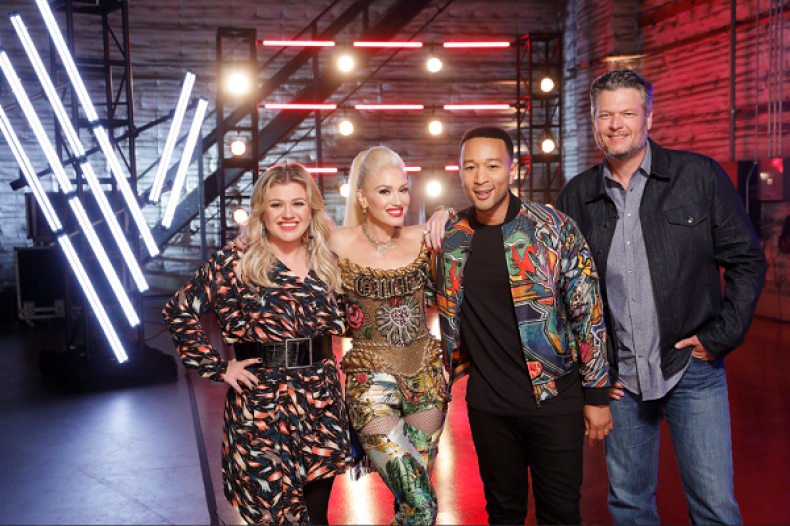 The first artist to have judges facing off was Chicago-based singer Katie Kaden, who kicked off the competition with a bluesy rock cover of the late Aretha Franklin's "Baby, I Love You." Her soulful voice and eclectic vibe instantly captivated John, who was first to push his red buzzer, but before her set was over Blake, Gwen and a blocked Kelly all wanted her on their teams. Ultimately, though, Kaden opted for Legend's team.
Charlotte, North Carolina native Jake Haldenvang rocked the socks off John, Gwen and Blake with his cover of "Wish I Knew You" by The Revivalists. Blake tried hard to convince the 24-year-old that his team would be the best place for him, while John ranted and raved over Jake's energy. When it came down to choosing though, it was Gwen—who admittedly thought the singer was a woman at first—to claim Jake for her team.
"You have so much range and so many different personalities in your voice. I don't know if you know this, but out of all the coaches here, I've been in a band—a band that plays rock. I feel like your voice could do anything," Gwen said just moments before the singer picked him.
All four judges wanted 20-year-old country singer Brennan Lassiter on their team, especially Kelly, who was utterly blown away by Brenna's country rendition of Jimmie Davis' "You Are My Sunshine," which she dedicated to her grandparents. "I won this show with Chevel [Shepherd, Season 15], who is a country female artist working on a record. She's fantastic. She picked me. I really want you to pick me," Kelly said.
Although all the judges thought Brennan would choose Blake, considering his country music experience and lengthy track record of leading contestants on to become The Voice winners, Brennan shocked them all when she chose to be on Kelly's team.
Former correctional officer Rose Short gave a riveting performance of John's hit single, "Preach," that resulted in two judges fighting over her. Despite growing up in a neighborhood not too far from Kelly's Texas hometown, the 34-year-old decided to choose a judge she's loved since the beginning of her career—Gwen.
Will Breman also had two judges—John and Gwen—ready to throw down over him with his creative, jazzy version of the Spice Girls hit, "Say You'll Be There." After referring to John as his musical inspiration and even performing a duet of "Ordinary People" with the EGOT-winning crooner, Will decided to go one John's team.
"I am really impressed with Season 17's talent, and I love Will. He's so creative. He reminded me of Bruno Mars in some ways, just being versatile. I think he could really be a successful artist," John said.
Then came professional singer and performer Alex Guthrie, who—despite only appearing on The Voice for the first time—already had a working relationship with one of the show's former judges, Jennifer Hudson. His cover of "Love & Happiness" by Al Green led to yet another showdown between Gwen and Kelly. While both women tried to bribe the Georgia native with their team jackets, Kelly was the one to claim the singer for her team and she was quick to call her former co-star Jennifer to spread the good news.
It almost seemed as though no one was going with team Blake during the first night of blind auditions, despite the many times the judge vied for singers. Finally, though, his streak of bad luck was broken with 18-year-old Kat Hammock, who chose Blake over his girlfriend, Gwen. Blake landed yet another team member shortly after with 37-year-old New Yorker Marina Chello.
Kyndal Inskeep nearly caused the end of Blake and Gwen's relationship with her cover of Three Dog Night's "Never Been to Spain." The lovebirds buzzed for her, along with Kelly, but it turned out Gwen blocked Blake from being able to add Kyndal to his team. In the end, Gwen got exactly what she wanted when the 22-year-old picked the Tragic Kingdom singer.
The judges will round out their teams during the second night of The Voice blind auditions, set to air on NBC on Tuesday at 8 p.m. ET.