'The Voice' Season 17 Spoilers: Who Was Eliminated During First Battle Round and Who Competes Next?
Season 17 of The Voice saw its first elimination on Monday. The NBC singing competition aired the first battle round of the season, which saw the demise of one member of longtime judge Blake Shelton's team.
Before that happened, though, a few more contestants rounded out the final remaining spot on Blake's team, as well as the teams of fellow coaches John Legend, Gwen Stefani and Kelly Clarkson.
Team Legend was first to fill its 12th seat after John snagged Nashville singer Zoe Upkins. Kelly and Blake were also vying for the 16-year-old following her rendition of Monica's hit single, "The Boy is Mine," but she ultimately chose John, joining fellow Team Legend members Will Breman, Preston C. Howell, Mendeleyev, Max Boyle, Matt New, Marybeth Byrd, Khalea Lyne, Katie Kadan, Jared Herzon, Destiny Rayne and twins Dane & Stephanie.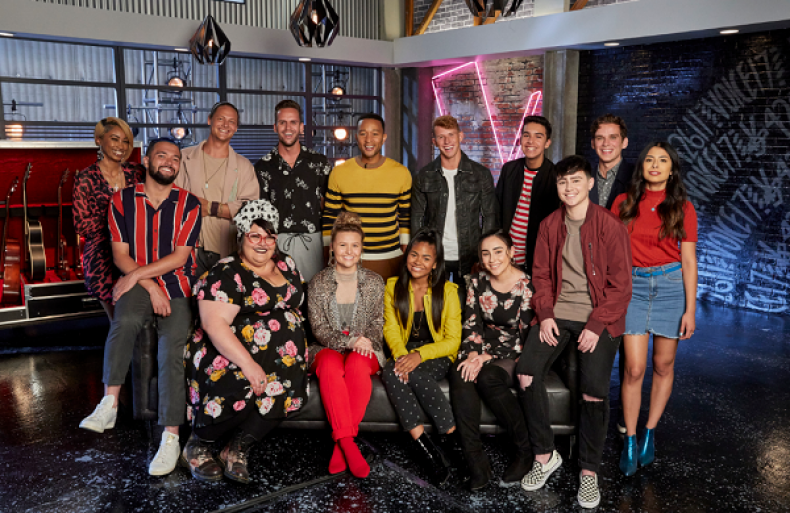 Newsweek subscription offers >
Meanwhile, Texas native Matthew McQueen, who sang "Someone You Loved" by Lewis Capaldi, joined Team Blake. His fellow teammates included Cali Wilson, Cory Jackson, EllieMae, Joana Martinez, Jordan Chase, Josie Jones, Kat Hammock, Marina Chello, Ricky Braddy, Ricky Duran and Zach Bridges.
Team Kelly also added another country crooner, Oklahoma born Gracie Shriver. She joins Alex Guthrie, Brennan Lassiter, Brooke Stephenson, Damali, Hello Sunday, Injoy Fountain, Jake Hoot, Lauren Hall, Melinda Rodriguez, Shane Q and Steve Knill.
As for the 12th spot on Team Gwen, that was secured by Caroline Reilly of Cumming, Georgia. The teen singer is the final addition to the team, which includes Royce Lovett, Rose Short, Myracle Holloway, Kyndal Inskeep, Kiara Brown, Jessie Lawrence, James Violet, Jake HaldenVang, Elise Azkoul, Calvin Lockett and Brennen Henson.
After the final slots on each coaches' team were filled, then came the battle rounds. Despite how nerve-racking the sing-for-your-life challenge is, the contestants put on a thrilling show as they sang side-by-side in attempts to move ahead in the competition.
Newsweek subscription offers >
The first artists to face off were Team Legend members Khalea Lynee and Zoe Upkins, who sang Brandy and Monica's single, "The Boy is Mine." Although Khalea won the round, Zoe was saved and remained on John's team.
Then came the first elimination of the night. Team Blake members Josie Jones and Kat Hammock went head-to-head with a cover of "Take Me Home, Country Roads," by John Denver. Kat was deemed the winner and sadly Blake, Kelly and Gwen opted out of using their only save for Josie.
Despite Josie's time on The Voice being cut short, the show ended on a happier note when Team Kelly members Melinda Rodriguez and Shane Q battled to Sam Smith's "Too Good at Goodbyes." Although Shane was named winner of the round, Kelly decided to save Melinda, allowing her to stay on the team for another week.
There's a possibility that another performer will be sent packing following Tuesday's episode of The Voice. The battle rounds are set to continue with the following constants singing against each other: Team Gwen members Myracle versus Elise; Team John members Max versus Matt followed by Destiny versus Katie; Team Blake members Cali versus EllieMae and Team Kelly members Alex versus Injoy.
The Voice airs on NBC on Mondays and Tuesdays at 8 p.m. ET.
'The Voice' Season 17 Spoilers: Who Was Eliminated During First Battle Round and Who Competes Next? | Culture