These Are 'The Voice' Top 13 Contestants Competing in Season 17 Live Playoffs
The competition is heating up on Season 17 of The Voice.
The top contestants on coaches Blake Shelton, Gwen Stefani, Kelly Clarkson and John Legend's teams will compete in the next round of live playoffs on Monday night. So far, there are still 13 artists in the running, however that number will soon decrease after fans cast votes for their favorites after the show.
Get to know a little bit more about the remaining contestants below.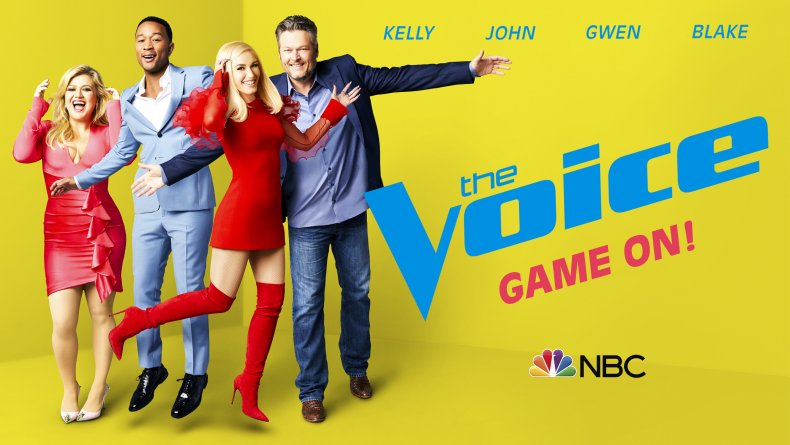 Team Blake
It was the Iowa native's mother who first sparked her interest in music. The daughter of a professional singer, Cali grew up performing in talent shows and singing at local events. However, she only decided to make a career out of her vocal talent when she turned 16 and learned to play the guitar. After graduating from college, 28-year-old Cali moved to Nashville to focus on music.
At just 18 years old, Kat has managed to wow all of the coaches with her vocal range week after week and none of them have been more thrilled with her performances than her own coach, Blake. The country superstar raved over the California singer's voice during the first round of live playoffs last week, and said Kat was "one of the most unique human beings I have ever worked with on this show."
Viewers may want to keep the tissues handy for Ricky's upcoming performance during the live playoffs on Monday. The theme of Monday's round is "Dedication," meaning each artist will likely perform a song in honor of someone close to their heart. Since he first debuted on the show, 29-year-old Ricky has noted his whole reason for pursuing music was in celebration of his late parents, and especially his father, who taught him how to play the guitar at 6 years old.
Team Gwen
Although she's one of the youngest contestants on the show at just 15 years old, Joana has proven that she's more than capable of running with the best of them. She has some experience performing in front of a live audience too, which may be why she managed to stun the coaches and audiences during the first round of live playoffs last week. Before appearing on The Voice, the Florida resident performed the national anthem at Miami Heat and Miami Marlins games.
Gwen has often commented on her team member's confidence in performing. However, it's a trait Rose said she gained from an unlikely source—her job at a maximum-security prison in Texas. "Working at the prison will definitely test your confidence. You'll have a day when you are walking and they will just call you a name out of nowhere," Rose, 34, told her Texas hometown NBC affiliate when she first landed a spot on Gwen's team in September.
It also doesn't hurt that she's got the vocal talent to match the confidence. She's been a singer since she was 6 years old and recently quit working as a corrections officer to solely focus on music writing and performing.
Born and bred in Los Angeles, 44-year-old Myracle has been singing since she joined her church choir at age 7. She even has some professional experience performing as a backup singer for the legendary American band Earth, Wind & Fire.
Twenty-three-year-old Max grew up singing but traded in his love of the arts for athletics when he reached his preteen years. It wasn't until he broke his arm during his freshman year of high school when his passion for singing was reignited. Forced to take a break from sports due to his injury, Max began singing again and was encouraged to join his school's choir by his coach. While he's blown Kelly away with his abilities—and the many fans who voted him through to the next round of live playoffs—Max, who was originally on John's team before Kelly stole him, was still shocked to have made it this far in the competition.
"I feel amazing. I'm feeling super pumped right now," he told his Toledo, Ohio hometown newspaper, The Blade, on Thursday. "I just didn't know what to expect. I try to stay positive and say that I can make it, but I just never knew what to expect."
The Voice wildcard winners, the best friend duo met through their love of singing. Both born and raised in Atlanta, 14-year-olds Chelsea and Myla first sang together two years ago at a performing arts camp and have continued to sing side-by-side ever since. The pair are the youngest duo to ever appear on The Voice.
Thirty-one-year-old single father Jake didn't just wow his coach Kelly with his impeccable rendition of Reba McEntire's song, "You Lie" during the first round of live playoffs—he won over all the judges with his unexpected performance of a song not typically sung by a man.
"That's one of my all-time favorite country songs," Blake said. "And obviously, everybody loves Reba. So that was a tall order for you. You did a heck of a job. That was big shoes to fill...I feel like you knocked it out of the park."
Coming from a musical household with a father who tunes pianos for a living, 29-year-old Shane was bound to have a passion for music. Although he played the drums and saxophone for his school choir, his incredibly shy personality kept him from showing off his vocal talents until the choir instructor helped him break out of his shell. He's been singing ever since and performs all around his hometown of Sacramento when he's not working as a United Cerebral Palsy driver.
Team Legend
The Chicago blues singer and keyboardist blew John away from the first moment she arrived on The Voice, but she's been impressing listeners with her unique voice and style long before she auditioned for the show. Katie got her first taste of performing professionally when she joined Chicago's All God's Children's Choir at age 10. Now the 38-year-old is a staple in Chicago's blues scene. Her rendition of Lady Gaga's "Always Remember Us This Way" during the first round of live playoffs made her an instant fan favorite last week, with dozens of viewers taking to social media to share their predictions that Katie will make it all the way through the competition.
Following his Asperger's syndrome diagnosis, Will began taking music lessons when he was just 3 years old to help with his development. Music has been a source of comfort ever since. Following college in Santa Barbara, the California native continued to pursue a career in music, performing as a one-man soul band along the West Coast.
While viewers wouldn't know it from her angelic voice, 18-year-old Marybeth once suffered from a terrible stutter when she was younger. However, music became her best form of speech therapy. The Arkansas native has since used her voice to perform at charity events and local fundraisers in her community.