'The Voice' Season 17, Episode 10 Battles Recap: Who Left, Who Got Stolen, Who's Headed to Live Cross Battles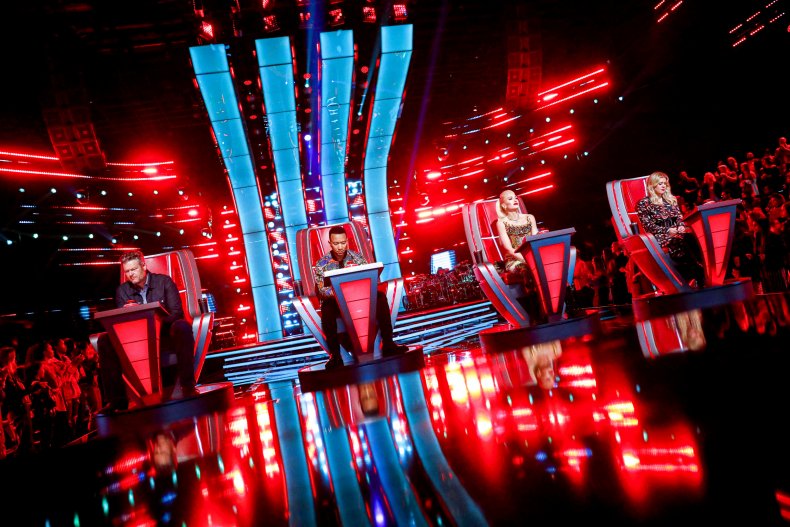 Having ended on an extremely unpopular cliffhanger last night, The Voice returns with more celebrity coaches and more head-to-head battles to determine who will make it to the finals.
Normani, Darius Rucker, Usher and will.i.am have been enlisted as guest coaches to help the artists go head-to-head tonight, as the rest of the paired teammates complete their scheduled duets. Only one member of each duet team may be chosen as the winner and will move on.
Who will rise and who will fall? Who will be swapped onto a different team? Who will be eliminated? What will Gwen Stefani wear?
8:07 p.m.: We're informed via recap of last night's results; Kyndal Inskeep won their duet battle but James Violet was stolen by John Legend; Stefani said she was excited for Violet getting to work with Legend but she still had her save.
First up is the battle of the country artists—Cory Jackson and Zach Bridges.
Introduced to Darius Rucker, Jackson waxed about his Hootie fandom.
"I've got underwear that's 29!" said Rucker.
Bridges talked about his job working nights as an x-ray tech; Jackson talked about his childhood working on a cattle farm.
Rucker said Jackson's "got it", while Blake Shelton waxed about their "straightforward country vocal" approach. He instructed them both on harmonies.
8:14 p.m.: Jackson and Bridges duet on the Toby Keith song "Should've Been a Cowboy" and Kelly Clarkson immediately recognized the song and was on her feet. The two men's voices blended quite well, and the duet was pretty powerful.
Clarkson said that she wished they were a duo, they were so good. Legend said they looked like stars up there on stage, complimenting Bridges' top notes and Jackson's harmonies. Stefani said she doesn't know what Shelton was thinking (he agreed). She said that Bridges has talent, but Jackson stole her attention away. Clarkson said she couldn't pick; they had different tones but blended so well. "I'm not picking!" she said.
"As always, Kelly contributed absolutely nothing," said Shelton.
"I was dancing and singing! I contributed something," protested Clarkson.
Shelton could not make a choice between the men either—going with his gut feeling, he picked Bridges, resulting in Jackson's elimination.
"Zach's got that deeper voice we don't hear a lot on The Voice," said Shelton.
8:25 p.m.: John Legend waxed about Usher's Confessions album while introducing him. It was a mutual admiration society—Usher liked Legend right back.
Marybeth Byrd waxed excitement about how "crazy" the situation is and was clearly excited to meet Usher. Byrd was pitted against (and singing with) twins Dane and Stephanie, giving Legend and Usher the challenge of arranging a three-part harmony vocal.
Legend said he's never had a country artist on his team, and never done a duet before.
Usher accused Dane of holding back vocally, and both men try to poke him into attacking the vocal. Dane said that he's getting used to his voice's changing, and we learn about his shared childhood with Stephanie.
Usher requested more projection from Stephanie, and more melody from Byrd.
Byrd talked about the suicide of her cousin Luke, and how trying out for the show and hopefully winning the vocal battle will be a tribute to his memory.
Usher and Legend briefly discussed the challenge of singing through a vocal change, and stressed the improvements they were hoping to see in all three singers.
8:35 p.m.: Byrd, Dane and Stephanie shared vocals on Cam's "Burning House," and Byrd nailed her high note; all three had beautifully blended vocals. As Shelton said, "Wow, that's good."
Kelly Clarkson was highly impressed, and so was Stefani.
"That was so beautiful... I just wanted to keep eating it," said Stefani. She picked out Byrd's voice in particular, calling it pretty and dynamic. She refused to pick.
Clarkson admitted she was about to cry, and gave Dane props for holding the low harmony. She went with Dane and Stephanie.
Shelton placed his bet on Byrd to be in the finale, and was impressed in the quick progress of all three singers.
Legend said they deserved the standing ovation he got, praised Byrd's maturity and the beauty of Dane and Stephanie's vocal blend.
Ultimately, Legend picked Byrd to advance.
Dane and Stephanie thanked Legend for the opportunity and he thanked them for choosing his team.
"If I had a steal," said Clarkson, "I would have stolen Dane and Stephanie," while Shelton said that Stephanie had an "it factor".
8:46 p.m.: Stefani said she was freaking out because she didn't know what to do about her next battle. She got advice from Shelton, and enlisted wil.i.am to help her.
Stefani said Rose Short had a "beautiful, God-given gift," and that she was excited to work with her.
Short said that her previous career as a corrections officer was swallowing her whole, and she quit her job to be there.
Jessie Lawrence spoke of a childhood bouncing between group homes and job to job.
Short had promised that she wouldn't be on tv and crying—but she saw wil.i.am and instantly cried. wil.i.am spoke about the Black Eyed Peas opening up for No Doubt, which was their big break. Lawrence was emotional as well.
Short and Lawrence were set to duet on The Weeknd's "I Can't Feel My Face," and wil.i.am and Stefani were both impressed.
"Can we be friends after this?" wil.i.am asked of Short. "I need that in my life... she powerful, she command attention," he added
Lawrence said he considered himself blessed to be singing with Short, and Short spoke about Lawrence's—she was fighting against ageism, size and other things.
Through tears, Short said she finally felt like herself and that she could "finally breathe."
wil.i.am was concerned that Short will "wash (Lawrence) away."
9:00 p.m.: Short and Lawrence blend decently, and Lawrence played a lot to Stefani.
"What a way to end the night!" Clarkson said. She pointed out it was very different from how The Weeknd does the song, but it was successful and unique in its own way. She could not pick.
"It may come as a shock to you, but I spend a lot of time away from the set with Gwen. Our relationship's just for publicity, though," said Shelton jokingly. He said that Stefani spoke about them a lot. "Probably from your awesome coach, whom I spend a lot of time with away from the show!" he said. He refrained from picking as well.
Legend called Short a "superstar" and said Lawrence hit it, having great vocal presence. "I haven't spent as much time with Gwen as Blake has," said Legend. He said he "leaned ever so slightly" toward Rose.
"How proud do i feel right now?" said Stefani. She called Rose special and said she needed to own it. "Jessie, the same thing goes for you," she said she heard something "raw and cool" in his voice. She called the decision "heartwrenching" and that she loved them both.
Ultimately, she picked Short, but Stefani used her save to keep Lawrence in the competition. He chose to stay with Stefani.
"Blake wants to sleep alone tonight!" Said Daley when Shelton made a move to save him.
"I have a really big spot in my heart for Jessie," said Stefani. "God had a plan. My plan worked and God's plan worked."
Next week, Taylor Swift will be on the show.