'The Voice' Season 17, Episode 11 The Knockouts Part 2 Recap: Who Left, Who Got Stolen, Who's Headed to the Playoffs?
It's time for the second to last round of live battles, subtitled the Knockout round, as the last of the teams are set in cement, and some more talented folks are sent home. Who will survive to move on to November's playoff round? Will Blake and Kelly banter? Will we hear yet more personal details about Blake and Gwen's personal lives? Will there be a sense of openness to the stealing or will the stealing be sneakier than ever? What will Gwen Stefani wear? Tune in to watch live and find out!
Last week, a lot of artists were pulled out of the competition during duo head to heads. Cory Jackson and Dane and Stephanie were eliminated. Gwen swiped Jesse Lawrence from Blake. Will.i.am, Normani and Darius Rucker sat in as guest coaches, each of them offering a varying amount of support to their competing contestants.
Rucker informed a singer that he had underwear older than he was. Will.i.am was moved by Rose Short to the point of crying. Normani was on Monday's episode! Zach Bridges and Cory Jackson should meet up after the show for the ultimate country duet, because as good as they sound solo they sound even better as a duo.
Rose Short owned the stage last week—she was the center of attention and, rightfully, the center of praise after dueting on "I Can't Feel My Face" with Lawrence.
There was a triple harmony vocal that knocked the socks off of everyone but only Byrd moved in from it. There were multiple machinations as the judges shuffled their decks and dealt out plaudits and praise. As the judges begin to run out of steals and the field narrows, only time will tell what ends up being the driving motivating factor as the pickings get quite slim.
8:10 p.m.: John Legend has Taylor Swift, who would act as mega-mentor for all of the singers this evening. He brought Khalea Lynee and James Violet to meet Swift first.
Lynee said she was living the dream.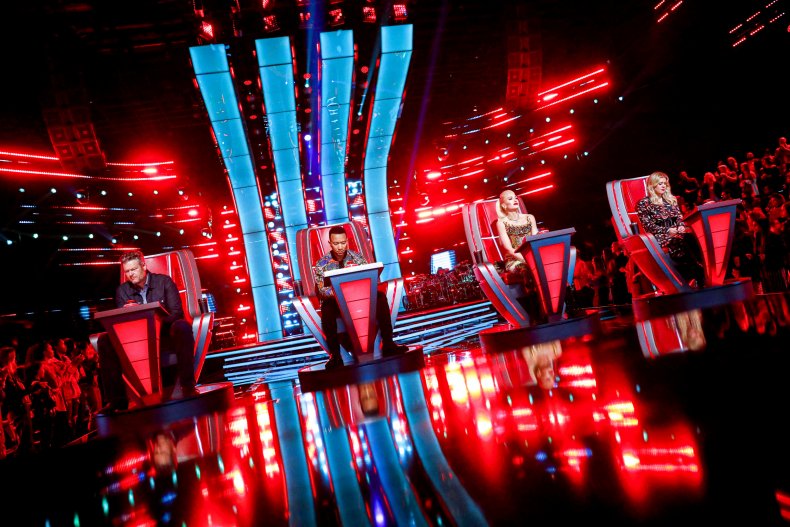 Legend talked about stealing James from Stefani's team. "I think she's mad at me," he said. "She's definitely is, both of you," said Swift.
James Violet spoke about his time working in a wholesale warehouse. He said he's going to do Post Malone's "Stay" which blends all of his influences into one song.
"And he really does it in a way that's like, tasteful," said James Violet.
Legend told Violet to be more emphatic, and Swift told him to beware of his phrasing.
Lynee said she's going to be doing Celine Dion's "Because You Love Me," a vocally difficult song that Swift said was beautiful, specifically mentioning her tone.
"You were doing your own thing," Swift praised, but warned Lynee to beware of countermelody, otherwise saying it was beautiful.
"You were so perfect that it sometimes doesn't feel like you're passionate," said Legend to Lynee.
Lynee started first, winning a standing ovation from Legend and tears from Clarkson.
8:17 p.m.: James Violet moved Stefani and Legend, who rocked in his chair to the tune of the music.
Stefani said Violet was trying to break free. She said it was amazing.
"You just made a Celine Dion song sound easy to sing," said Kelly Clarkson. "And it's not," said Lynee. She said this was her favorite James Violet performance yet.
Blake Shelton noted a hand gesture Lynee was making, like she was "slapping the notes wrong."
Legend said Violet hit the right approach to the song and he was happy for him. He said Lynee reminded him of Whitney Houston with her big pop ballads, "but she would put a little bit of gospel on it."
In the end, Legend picked Lynee.
Moving on: Khalea Lynee
Violet praised both Stefani and Legend. He later said he wanted Lynee to loosen up a little. "She's a little guarded," agreed Clarkson.
8:29 p.m.: Gwen's team was up next.
Jessie Lawrence is a little nervous to sing in front of Taylor Swift, but Swift tried to be comforting. "I had a dark past," said Jessie Lawrence, who said that music was a safe escape during his time in group homes as a child.
Both women were touched by his love of music, which caused them to speak admiringly of one another. "Gwen is a very eclectic artist...she's a real babe and I love spending the day with her," said Swift.
"It's not just about your voice. It's about you and how you connect with people, and that's why you're still here," Stefani told Lawrence to encourage him.
Lawrence was doing "Dancing With a Stranger" by Sam Smith and Normani. The performance was deemed technically great but he was told to put more personality into his vocals.
Kyndal Inskeep announced that she would be doing "Elastic Heart" by Sia. "This song's crazy 'cause Sia sent it to me for me to do, but it's so specific to her," Gwen admitted.
Inskeep spoke about being abandoned by her biological father, her depression and how she used Elastic Heart to get out of bed in the morning.
Both women were impressed by the performance. "Her voice has so many complexities and echelons," said Swift. Both were impressed by her vocals.
Inskeep went first, and earned a standing ovation.
8:38 p.m.: Then came Lawrence, who had the audience bobbing and weaving. Shelton in particular looked super into it.
"Please can there be a video of John singing 'My Heart Will Go On?' I want to see that, not Gwen," said Clarkson, who preferred Inskeep over Lawrence.
"In a surprising plot twist, I agree with Kelly," said Shelton, who praised Inskeep's great control and great form.
"I believe Kyndal had a stronger performance, though I feel that Lawrence did a great job," said Legend.
Stefani praised Inskeep's originality and Lawrence's smoothness. But ultimately she picked Inskeep to move on.
Moving on: Kyndal Inskeep
Lawrence told Stefani that she was his childhood, and she gave him a spark while thanking her.
8:51 p.m.: "She's a real person! She's like Captain Marvel, of music!" Said Shelton of Swift as he prepared to introduce her to his team.
Joana Martinez was extra excited to meet Swift. "I can't wait to throw that in my sister's face," she said while fangirling.
Martinez was doing "California Dreaming" to celebrate her life becoming a dream since moving on in the battle. Her parents and family were, she said, living it with her.
"She's singing notes that literally blow my mind. Somehow I ran out breath just watching her," said Shelton.
"Dynamics were perfect—we have a comfort zone motion we all do, but it can get a little repetitive," said Swift. Martinez floated in the glow of the performance while waiting.
Ricky Duran is doing "She Talks to Angels" by the Black Crowes. He brings up Shelton's YouTube cover version. "Don't let that influence you," said Shelton.
Flashback to Darius Rucker and Shelton comparing Duran to Chris Robinson of the Black Crowes. This is his girlfriend's favorite song and he's doing it in tribute to her.
After comparing to Springsteen and urging Duran to firmly hit the notes, Shelton and Swift kidded around. "You own a trucking company?" joked Shelton.
"No," said Swift.
"That's awesome," said Shelton.
The twosome take pictures with Taylor Swift. "Please God, get her this picture before she has a heart attack," said Shelton of Martinez as she waits.
Martinez was first off, and produced a vocally strong take.
9:00 p.m.: Duran was up next, and put in a strong performance.
"You could [be like] 'Oh, I wanna be like Ariana Grande!' But then to do a twist on it was pretty impressive," said Stefani. She admitted being fascinated by Martinez and wanting to save her.
"I think there's some spark in you that's very interesting. Ricky, you're good," said Clarkson. She said she 'can't wait to hear a record,
"My thoughts are empty," said Shelton when asked for them.
"Most of the time," said Stefani. "Just like when you were getting dressed this morning.
"Ricky, you're my only four-chair turn," said Shelton. Ultimately, Shelton picked Duran.
Moving on: Ricky Duran
Martinez said she was so happy to be standing there and thanked Shelton. She was making her way off the stage when Martinez was stolen by Stefani.
Next week: the final round of knockouts, followed by live shows.