'The Voice' 2019 Top 4 Finale Performances & Predictions: Who Will Win Season 17?
The Top 4 will perform Monday night during The Voice Season 17, episode 25. Find out everything you need to know about tonight's finale performances, plus predictions for who may be eliminated tomorrow evening.
The Voice Season 17 finals have finally arrived, and soon, one lucky artist from Blake Shelton, Gwen Stefani, Kelly Clarkson or John Legend's team will be crowned winner. The Top 4 artists of the NBC competition are set to take the stage one last time on Monday night before the Season 17 champion is named. The two-hour finale performances begin at 8 p.m. ET.
How the Finale Works: How to Vote For Your Favorite Performer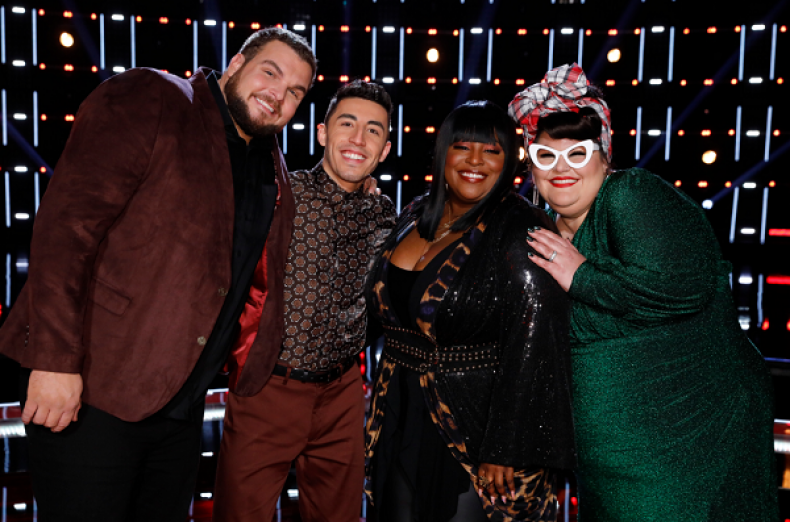 Unlike previous weeks of The Voice, in which contestants were only allowed to sing once on performance days, the finale round will see artists take the stage twice. They'll perform a new solo cover in addition to a special duet with their respective coaches and an original single.
Fans can vote for their favorite artists during and after the show by using the official The Voice app or NBC's voting portal. Voting polls will remain open until Tuesday morning at 7 a.m. ET. Then later that night, the contestant with the most votes will be dubbed The Voice champion and walk away from the competition with the $100,000 grand prize and a record deal.
We'll be keeping track of all the performances throughout the night with a live blog of the finale including all the songs performed and our predictions for the Season 17 winner. Tomorrow we'll be back with live updates for the final elimination show of the season.
The Voice Season 17 Finale [Live Updating Blog]
8:00 p.m. - The show starts right away with Carson introducing the coaches Blake Shelton, Kelly Clarkson, Gwen Stefani and John Legend. Carson says the voting polls are open before announcing the first performer of the night, Team Blake's Ricky Duran.
8:02 p.m. - Carson unveils a prerecorded interview with Ricky and Blake talking about the singer's experience so far on the competition. Blake says regardless of the outcome of tonight's show, he can tell Ricky will soon be on the radio.
8:05 p.m. - Ricky takes the stage with his first song of the night. It's Tom Petty and the Heartbreakers' hit "Runnin' Down a Dream."
8:08 p.m. - The coaches were full of praise for Ricky's rocking performance, and everyone agreed—it's great to hear some classic rock 'n' roll on the show. While Kelly noted Ricky's "incredible range," John thought Ricky's sound brought life back to the genre.
"A lot of people say rock is dead, but when you sing it, it sounds incredible," John said.
8:11 p.m. - Back from a quick break, Carson reveals the lineup of performances for tomorrow night's finale episode. Big Little Town, Lady Antebellum, Dua Lupa and Season 16 winner Maelyn Jarmon are among the many singers hitting The Voice stage. Carson then congratulates Blake and Gwen for the success of their new duet, "Nobody But You," which topped the iTunes Charts shortly after its release last week.
8:13 p.m. - Carson tosses over to another pre-recorded video of Team Kelly's Jake Hoot. He's next up to perform and he's starting with his own original song, "Better Off Without You."
8:18 p.m. - Jake's soulful country ballad blew the coaches away, and Kelly was particularly proud of his performance. "A great writer always pulls from their life experience," she said. I love that you got to showcase that today."
8:24 p.m. - Back from commercials, Carson announces the first coach/contestant holiday duet. It's John and Katie Kadan, and they're belting out a bluesy cover of "Merry Christmas, Baby."
8:29 p.m. - If that performance didn't put you in the holiday spirit, we're not sure what will. Carson says it certainly got him Christmas ready. He throws it back to commercials right after their performance.
8:33 p.m. - Fresh from commercials, Carson announces the next performer is Team Gwen member, Rose Short. She'll be singing an original song, "Steamroller," which Rose reveals is inspired by her life in the pre-recorded taping.
8:35 p.m. - Rose hits the stage with her original single.
8:38 p.m. - Rose's performance lands her a standing ovation from the audience and the coaches. Blake says the performance was one of the best original songs he's heard from a contestant in his 17 seasons on the show. Rose's coach was equally moved by her original.
"I can see that you were just so free and having a good time and enjoying the moment," Gwen said. "That song really just tells your story, and it was fun to see you do an original."
8:44 p.m. - The next coach/contestant duet is up, and it's Blake and Ricky. They're performing a rock-heavy rendition of Chuck Berry's holiday classic, "Run Rudolph Run."
8:49 p.m. - Carson thanks the guys for helping bring some yuletide cheer to The Voice. He reveals Katie is up next with her original song, but only after another round of commercials.
8:53 p.m. - Back from commercials, Carson unveils a pre-recorded video of Katie's studio recording experience at Capitol Records with her coach, John. She records her original number, "All Better," in the same room John recorded his Sam Smith collaboration, "Lay Me Down."
8:56 p.m. - Katie hits the stage to perform her original single.
8:59 p.m. - Katie blows the coaches away with her powerful original, and everyone in the building is hooting and hollering over her performance. Kelly said the song was headed straight to her "sexy playlist" while John thought the song was the "perfect marriage" of Katie's style with modern production.
"You sell that song so beautifully," John said. "It's just right there in your pocket. The attitude, the energy, the vibe—you are all better."
9:04 p.m. - After a round of commercials, Carson announces the next coach/contestant duet. It's Kelly and Jake, and they're performing "Wintersong" by Sarah McLachlan.
9:09 p.m. - Following Jake and Kelly's duet, Gwen and Rose hit the stage for their holiday performance. They're singing a cover of Gwen's very own holiday single, "My Gift is You."
9:18 p.m. - After a commercial break, Carson returns to talk to Kelly about the "one-chair-turn" for Jake during the blind auditions. A pre-recorded video airs of the pair talking about Jake's rise on the show, and Carson reminds Jake that Kelly was the only coach to turn for him. He's certainly come far in the competition.
9:21 p.m. - Jake hits the stage again. This time he's singing Lonestar's love song, "Amazed."
9:24 p.m. - Carson gets a few reactions from the coaches, and Gwen is first to say she's a fan. Of course, his coach Kelly is too.
"I love you Jake Hoot! I love you! You're everything I grew up on in country music," Kelly exclaimed. "Your voice is just magical. You're so gifted."
Prediction: Jake's been a fan favorite since the season began, and he's scored big with iTunes streams week-after-week. He could very well be crowned the winner of The Voice tomorrow night.
9:30 p.m. - Back from a quick commercial break, Carson encourages viewers to stream tonight's songs on iTunes. It's the first time in the competition that the contestants' iTunes streams will help with their standing. Then he unveils a prerecorded video interview of Katie and her coach John prepping for her final performance.
9:32 p.m. - Katie takes the stage to sing a cover of Aerosmith's hit, "I Don't Want to Miss a Thing."
9:26 p.m. - Carson gets feedback from Blake first, who is utterly speechless after Katie's performance. "There's nothing else to say about how incredible you are," Blake said.
John said he's just "so honored" for having the chance to work with the singer. "It's been magical, magical working with you," John said.
Prediction: Katie has remained true to herself throughout the season, and she's displayed incredible vocal talent. We think she has a chance of winning the competition.
9:38 p.m. - Carson reveals the last two singers of the night will be Ricky and Rose before tossing to yet another commercial break.
9:42 p.m. - Back from commercials, Carson thanks the band for all their hard work this season along with The Voice's camera crew. Then he tosses to a pre-recorded video of Ricky preparing for his original song, "A Woman Like Her."
9:44 p.m. - Ricky hits the stage for the last time tonight to sing his new original single.
9:47 p.m. - Kelly says Ricky reminds her of Bruce Springsteen while John said he was jealous he hadn't been pitched that song. "I have a feeling that's probably gonna be the most-streamed original song tonight," John said.
Blake was incredibly proud of Ricky and said it was his best performance this season. "America, Santa Claus wants one thing from you this Christmas season, and that's to vote for Ricky," Blake said.
Prediction: Ricky may have had the best original song of the night. If he doesn't win the competition, he's surely going to snag second place.
9:53 p.m. - After a quick commercial break, Carson returns to the stage and throws it straight to a prerecorded video of his interview with Rose and Gwen. They discuss Rose's rise on the show and the variety of genres she's performed over the course of the season.
9:56 p.m. - Rose hits the stage with her final performance of the night. She's singing Elton John's classic, "Border Song."
10:00 p.m. - Another standing ovation for Rose. John thought her performance was "very special." Her coach, Gwen was super proud.
"Sometimes God just puts a little extra drop of cool, a little extra drop of talent, and he definitely did that with you. You are just a magical human being," Gwen said.
Prediction: While Rose gave her very best throughout the night, thoroughly showcasing her vocal abilities and style, she's least likely to win the competition.
When Does The Voice Air Next?
The Voice will return Tuesday, December 17 at 9 p.m. EDT on NBC, where the Top 4 finalists will find out who won Season 16.