'The Voice' 2019 Semi-Final Performances & Predictions: Who Will Be Saved or Eliminated Tomorrow Night?
The Voice 2019's Top 8 are set to perform Monday night during the Season 17, episode 23. Check out our live-blogged recap of every performance, plus predictions for who will stay and who will be eliminated, here.
Season 17 of The Voice is getting down to the wire. There's only one more week to go before a champion is announced, but before that, the final remaining eight contestants will try to win fans over during the first semi-final round on Monday night. So far, John Legend's team is still in the lead with three remaining contestants, while Blake Shelton and Kelly Clarkson follow behind with two artists each. Meanwhile, there is only one singer left on Gwen Stefani's team.
How the Top 8 Works: Your Vote Counts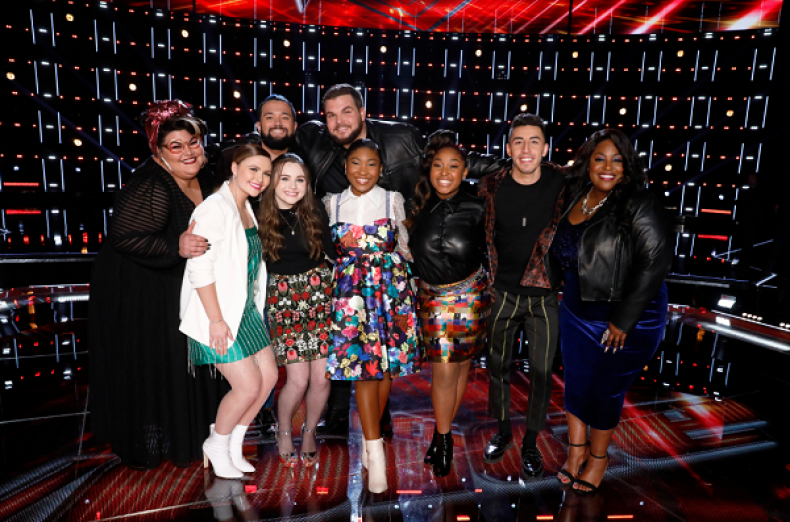 We're nearly at the end of the competition, but the remaining eight contestants will get a chance to sing their hearts out once more on Monday night before eliminations. Fans will be able to vote for their favorite artists online or through the official The Voice app following Monday night's show.
After the votes are counted, the top three performers with the most votes will be automatically saved while the two artists with the lowest votes will be immediately eliminated during Tuesday's show. The bottom two singers will perform in the final Instant Save round, during which the singer with the most fan votes on Twitter will be allowed to move on to the finale round and compete as part of The Voice Season 17's Top 4.
While contestants pull out all the stops to solidify their standing on the show on Monday, we'll be on hand providing a live-blog recap of each performance along with our predictions of who will head to the finals.
The Voice Season 17 Episode 22 Live Blog: Top 8 Performances, Plus Predictions For Who Will Be Saved or Eliminated
Performance #1 - Katie Kadan
First to take the stage is Chicago's own Katie Kadan, who belts out a powerhouse rendition of Labelle's "Lady Marmalade" picked specifically for her by Team Legend coach, John. Her performance is full of personality, spice, funk, and, of course, those soulful high notes that only Katie can pull off. It lands her a standing ovation from all the judges. Kelly said Katie was "so fun to watch" while Gwen claimed it was her favorite performance from the singer thus far in the competition.
"Everything she sings she makes it sound like her song," John said. "You own every performance."
Prediction: Katie will move on to the Top 4.
Performance #2 - Kat Hammock
Next up, Team Blake member Kat Hammock with Keane's chart-topper, "Somewhere Only We Know." While we've got to hear her angelic falsetto often throughout the competition, the 19-year-old offered a raw and heartfelt rendition of the song with her full voice that was unique and completely different from anything heard from her thus far in the competition. It was a risky move suggested by Blake, but one that definitely caught everyone's attention. Regardless of what happens on the competition, she'll likely still have a future in music.
"When I hear your voice, it's pure and innocent. Your voice can make you happy and break your heart all a the same time. You have this magical gift. And I want you to know—we keep talking about what happens after the show—I'm not going anywhere. I'm gonna see this through with you. You're going to be making records," Blake said.
Prediction: While we'd love to see Kat go to the final four, we can't say we'll be surprised to see her in the bottom tomorrow night.
Performance #3 - Marybeth Byrd
After being the Instant Save during last week's elimination, Marybeth Byrd and her coach John decided it was time to go back to her country roots, which called for a rendition of "Before He Cheats" by Carrie Underwood. Being in the bottom two last week must have lit a fire under Marybeth because she pulled off what may be the sassiest performance of her time on The Voice so far. It didn't go unnoticed by the judges either.
"You were like a new artist today. You really got into the character so well and I thought it was your best vocal performance so far," John said.
Prediction: While it was certainly one of Marybeth's most entertaining performances thus far, we're not too sure it was strong enough to push her through to the finals.
Performance #4 - Hello Sunday
Even Hello Sunday's coach Kelly admitted their song selection of "Don't You Worry Bout a Thing" by Stevie Wonder was a tough choice, but the best friend duo performed the hit song like they were born to do it. Their performance was full of energy and those incredibly strong vocals that the 14-year-old singers have become known for. Even show host Carson Daly pointed out how much fun it was watching the pair sing together.
"Y'all did so well. I"m such a proud stepmom right now," Kelly said. "This was the perfect song. The perfect time. America, they are 14 years old and just nailed that!"
Prediction: Hello Sunday will move on to the finals.
Performance #5 - Ricky Duran
Team Blake member Ricky Duran surprised fans with his cover of "Let It Be" by The Beatles by starting the solo ballad off on the piano before rocking out on his guitar. He showed off some vocal riffs we haven't seen before, which resulted in a truly enjoyable and moving performance that only highlighted his undeniable talent. What can we say? Ricky was as great as always. Regardless of what happens with the competition, this guy is headed to rock superstardom.
"You just gave the vocal performance of your life. No question about it. Great job," Blake said.
Prediction: Ricky is going all the way to the final four.
Performance #6 - Will Breman
As expected, Will Breman brought his A-game during his energetic performance of Bruno Mars' "Locked Out of Heaven," and it was very obvious he was having a really good time just being up there on stage. Will's team coach John couldn't take his eyes off of him, noting the singer was just "so much fun to watch."
"Will, every week, you impress me so much. Your stage presence is just so electric and magnetic," John said.
Prediction: We certainly want to see Will head to the final four but we're unsure if his performance can top some of what's been seen tonight on the show.
Performance #7 - Rose Short
If anyone from Team Gwen deserved to be the last person standing, it was meant to be Rose Short. Her rendition of "I Want to Know What Love Is" by Foreigner only further proved that. Her voice is so powerful and flexible—there isn't a high or a low note Rose can't hit. This may have been her most vulnerable performances so far, but it was completely electrifying and utterly flawless.
"That was unbelievable. I'm so in awe of you. I am so honored to work with you," Gwen said before bursting into tears over the performance.
Prediction: Rose totally deserves to the final four.
Performance #8 - Jake Hoot
In Jake Hoot's pre-recorded rehearsal, his team coach Kelly didn't have one single note of change or critique simply because she was blown away by his performance. When he took the stage tonight, he only continued to leave Kelly (and the rest of the judges) shell-shocked with his heartfelt cover of The Eagles' "Desperado."
"You are an incredibly gifted [singer]," Kelly said. "You are so perfect and I am so lucky to have you on my team."
Prediction: It's hard to imagine the competition continuing without Jake, but unfortunately only four can move ahead.
When Does The Voice Air Next?
The Voice will return Tuesday at 9 p.m. ET on NBC, where the Top 8 semi-finalists will find out who made the Top 4.