Who Are the Top 11 Contestants on 'The Voice' Season 17? Remaining Contestants and More Spoilers
It's getting down to the wire on Season 17 of NBC's singing competition, The Voice. The top 11 remaining contestants will attempt to woo over viewers with their special performances on Monday night.
This week's performances will be all about The Voice viewers and voters as a part of the competition's annual Fan Week. It's during this time when artists will sing songs picked specifically by viewers. During Monday's show, artists will perform songs selected by fans. Then on Tuesday, the teams will be cut down once again with the next round of voter eliminations.
So far Kelly Clarkson, Gwen Stefani and John Legend still have three acts on their teams, while Blake Shelton—who has lead The Voice contestants to victory six times—only has two artists, Ricky Duran and Kat Hammock, still in the running.
Remaining Team Kelly members include Hello Sunday, Jake Hoot and Shane Q while Team Legend rounds out with Katie Kadan, Marybeth Byrd and Will Breman. Myracle Holloway, Rose Short and Jonan Martinez are still competing on Team Gwen.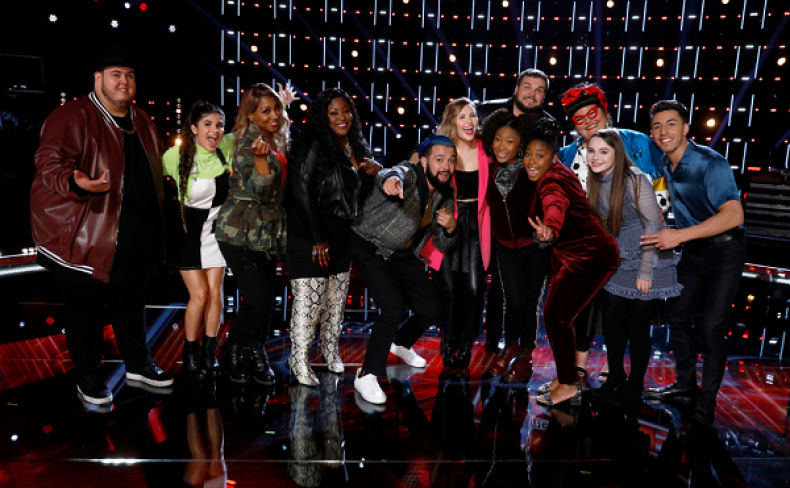 During last week's competition, singers performed songs dedicated to their biggest inspirations and loved ones. Legend's team sailed through their performances, without one person being eliminated while Shelton, Stefani and Clarkson all saw team members in the bottom three. The week ended with Team Blake's Cali Wilson belting out a fierce rendition of Fleetwood Mac's 'The Chain,' against Team Kelly's Max Boyle, who performed Ed Sheeran hit, 'Thinking Out Loud.'
Despite Blake and Kelly's urging of Americans to vote for their contestants, it was Team Gwen member Joana Martinez who got the final save from voters following her powerful cover of 'Superwoman' by Alicia Keys.
While Joana was saved by America's voters last week, she'll have to bring her A-game if she expects to supersede fan favorites including Jake, Will, Rose, Marybeth and Myracle. Fans have been vocal on social media with their hopes to see those particular artists make it to the Top Five. While those five competitors were first to make it through eliminations last week, they were proclaimed fan favorites by plenty of viewers on the show's YouTube channel.
The Voice airs on NBC on Monday and Tuesday at 8 p.m. ET.