'The Voice' Season 17 Singer Dane Becomes Second Transgender Contestant in Show History to Place on a Team Following Duet With Twin Sister
A pair of twins made history during the fourth round of blind auditions on The Voice on Tuesday night.
Twenty-one-year old siblings and best friends Dane and Stephanie blew judges Blake Shelton and John Legend away with their pitch-perfect harmonizing of The Lumineers' "Angela" during blind auditions, receiving chair turns from both music superstars. However, it was the twins' endearing support and acceptance of each other that touched the hearts of not only Blake and John, but fellow judges Gwen Stefani and Kelly Clarkson, particularly during the moment Dane revealed he is transgender.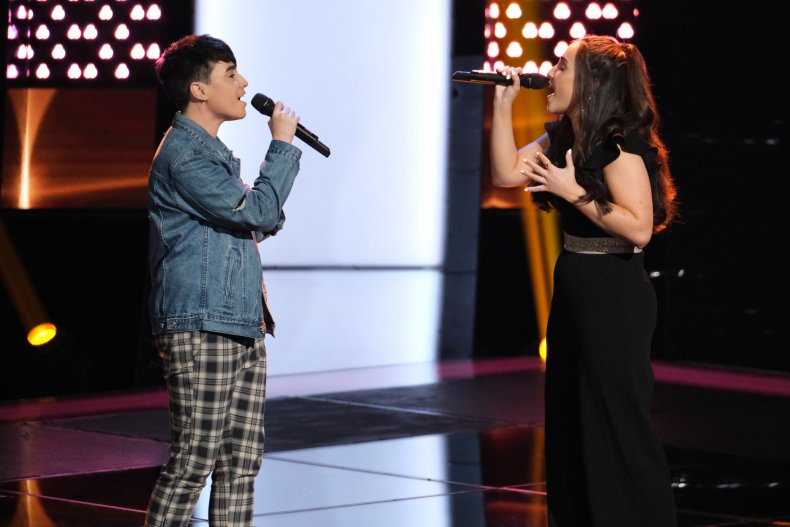 "I was born female, I always remember, in elementary school, I would vividly daydream about being a boy and how I would look," Dane, who was born Dana, explained. "I was 14 when I realized I was transgender. I was so closed-off about who I was and in a really bad place with myself... It took me a while just to tell Stephanie. There were so many times that I wanted to, but I was scared of the reaction I was going to get."
Despite admittedly growing up in a super religious household, the New Jersey singer's family were in full support of his transition, especially his twin. "He deserves to be happy just as much as anyone else does," Stephanie said while explaining why the pair were so adamant about joining The Voice in the first place.
"I love the whole idea behind the coaches not seeing you and just hearing your voice. And for us, it's based on how we sound together," she said.
While The Voice has long supported LGBTQ artists, the show is historically driven by the vocal talent of the contestants. Hence why judges have their backs turned on singers at the start of each performance. Luckily, for Dane and Stephanie, the duo had the pipes to win over Blake and John, who thought their story was only a bonus to their incredible talent.
Although Blake has experience leading duet performers to victory on The Voice, Dane and Stephanie ultimately chose to be on Team Legend, making them the first duo with a transgender member to appear on the NBC singing competition.
Angel Bonilla, who chose to be on former judge Adam Levine's team during Season 14, was the first transgender person to compete on The Voice. However, her blind audition and battle round were montaged, limiting her full story from being told. Whereas Dane's inspiring journey and family testimony have already been given the full primetime treatment during the blind auditions.
Of course, Dane and Stephanie weren't the only people to land a spot on The Voice during the final round of blind auditions. Along with the twins, Preston C. Howell joined Team Legend. Team Kelly picked up Injoy Fountain, while James Violet opted for Team Gwen. As for Team Blake, the country star's final spots were filled by Cali Wilson and Jordan Chase.